Garcia Lopez's award caps remarkable path to parity for Para taekwondo
Para taekwondo continued its remarkable path to parity with able-bodied taekwondo in November as Mexico's Juan Diego Garcia Lopez and his coach Jannet Alegria picked up the most prestigious awards at the Pan American Taekwondo Union's Gala Awards – in competition with able-bodied athletes – to cap a stunning year for the Paralympic champion
01 Dec 2022
Imagen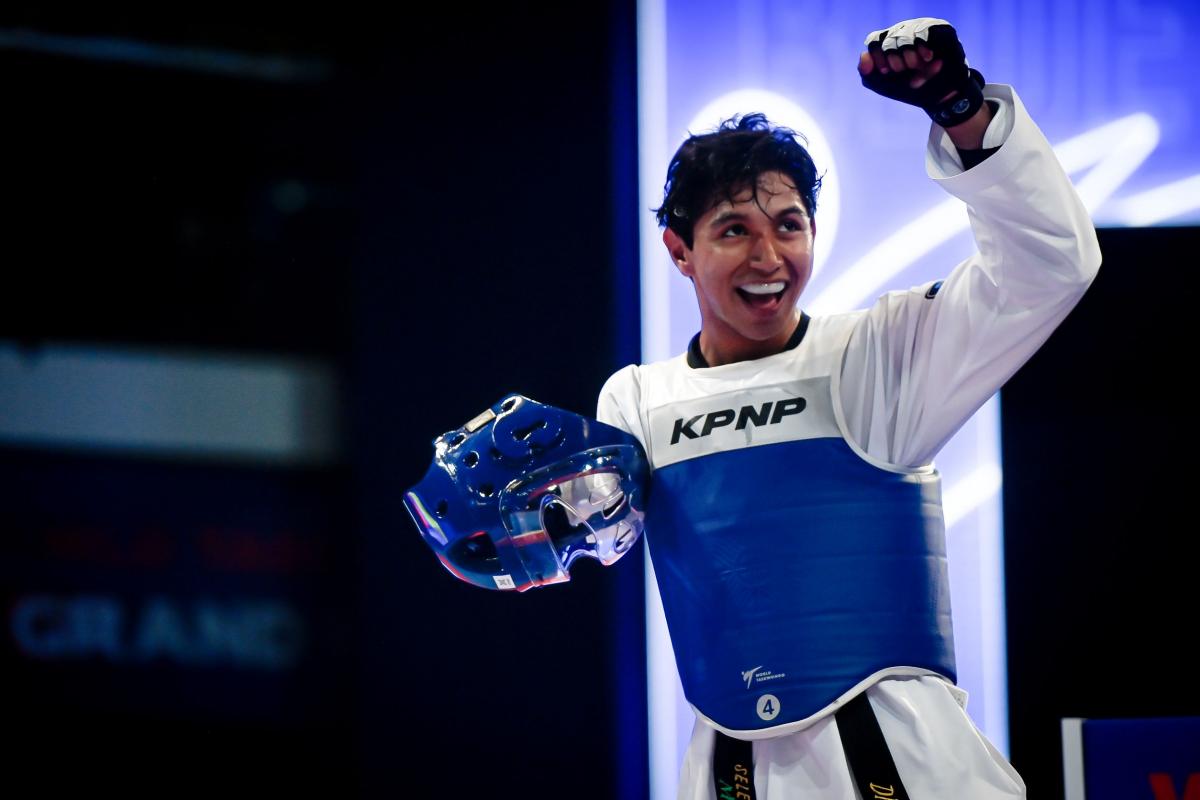 ⒸWorld Taekwondo
By Lee Reaney | For the IPC
They say that success breeds success. Juan Diego Garcia Lopez has success in spades.
The Paralympic champion from Mexico broke new ground in November by being named the Top Male Athlete at the Pan American Taekwondo Union (PATU) Gala Awards, in competition with every able-bodied and Para taekwondo athlete in the Pan American region. 
His coach Jannet Alegria was named the Top Female Coach at the same ceremony, in competition with coaches for able-bodied taekwondo from the region. 
The award caps a dominant four-year run that has seen the young superstar win nearly every tournament he has competed in to become, quite possibly, the most recognisable Para taekwondo star in the world. 
Now he is being recognised alongside his able-bodied colleagues. 
"I was at training when they gave me the news," Garcia Lopez said. "It is important for federations to recognise Para athletes to make us feel like part of an inclusive family. That motivates us to continue seeking to be the best."
Simply no one has been better than Garcia Lopez after he won his first world title as a teen in early 2019. Since then, he has added Paralympic gold, Parapan Am Games gold, a pair of Pan American Championships and three Grand Prix titles to his collection.
He lost only twice in the past four years – last-second defeats at the 2019 European Championship and 2021 World Championship. 
He has also been named Mexico's Top Para Athlete for three years running. The Olympic Channel has profiled him on multiple occasions.
But don't tell the young champion he has nothing left to prove. 
"I am motivated by the challenge of achieving the same results I had during the entire Tokyo 2020 qualifying cycle in the up to 75kg weight category," Garcia Lopez said, referring to the former weight categories in use at Tokyo 2020. "Now I want to be world champion in the up to 70kg and Paralympic champion in the up to 70kg. Those are my new goals."
Alongside the whole way, bobbing and weaving from the sidelines as Garcia Lopez kicks his way to title after title, is coach Jannet Alegria.
She says that her journey with Para sports has shaped her career. 
"Para sports have been fundamental in the growth of the careers of my athletes and mine as a coach," Alegria said. "I get emotional when I see them achieve their goals and transform their lives."
Para taekwondo's path to parity
There has been plenty of opportunity for life-changing transformation for Para taekwondo athletes over the last 15 months. 
The party started when Para taekwondo made its debut at the Tokyo 2020 Paralympic Games, giving athletes like Garcia Lopez the platform to showcase their skill to a worldwide audience.
And it turns out that Para taekwondo's Paralympic debut was just the beginning; 2022 saw the sport make enormous strides toward parity with able-bodied taekwondo.
The 2022 European Championships fully integrated Para taekwondo, showcasing Para finalists in the same programme as their able-bodied teammates in primetime on Great Britain's national broadcaster BBC. 
Garcia Lopez won gold there, too, with a thrilling golden point win over Azerbaijan's Imamaddin Khalilov.
World Taekwondo then introduced Para taekwondo to its prestigious, invite-only Grand Prix Series, at first as a standalone event and later included along with able-bodied taekwondo.
Only the world's top fighters earn invites to each event. Garcia Lopez competed in all three Grands Prix. He won every fight while picking up three gold medals against the world's best.
This month Para taekwondo will be added to the Grand Prix Finals, to be staged in Riyadh, Saudi Arabia. Para fighters and coaches will also participate in the year-end World Taekwondo Gala, with Para athletes and coaches eligible for year-end awards for the first-time, although in separate categories than able-bodied fighters.
PATU Gala breaks ground
The Pan American Taekwondo Union went a step further. 
Not only did the organisation nominate Para fighters alongside able-bodied athletes, but the federation also handed out two of its top awards to the Para community. 
Garcia Lopez was named Top Male Athlete alongside Canada's able-bodied star Skylar Park, who was named Top Female Athlete. 
Alegria was named Top Female Coach, along with Brazil's coach for able-bodied fighters, Diego Guimaraes Ribeiro.
Held in Guadalajara, Mexico, the Gala Dinner officially kicked off the able-bodied World Championships. Winning the awards at home were special experiences for Garcia Lopez and Alegria.
"The ceremony was luxurious, a great experience with the best champions of World Taekwondo," Garcia Lopez said. 
"The awards and recognition are the result of all the work that has been done with the Mexican Para Taekwondo team, the dedication and effort that my athletes make to improve every day," Alegria added. "That the awards were held in Mexico, and that my athlete Juan Diego and I were recognised by PATU, fills me with motivation to move to my next goals."
The Gala event handed out several awards, including an Appreciation Award to World Taekwondo President Chungwon Choue for "Support to Pan American Taekwondo Development". Ten members were also inducted into the PATU Hall of Fame.
At just 22 years old, with as many as four Paralympic cycles to go, Garcia Lopez has already put together a resume worthy of the Hall of Fame. His ground-breaking achievements will lead to a new generation of Para athletes competing at the highest levels. 
So, what would he say to that next generation?
"Remember that limits are in your head. You set the limits!"