Thailand's Phuangkitcha overcomes poverty and family tragedy to become world's best
Extreme poverty, family tragedy, and personal disaster could not keep Thailand's Khwansuda Phuangkitcha from becoming the best in the world – twice
18 Nov 2022
Imagen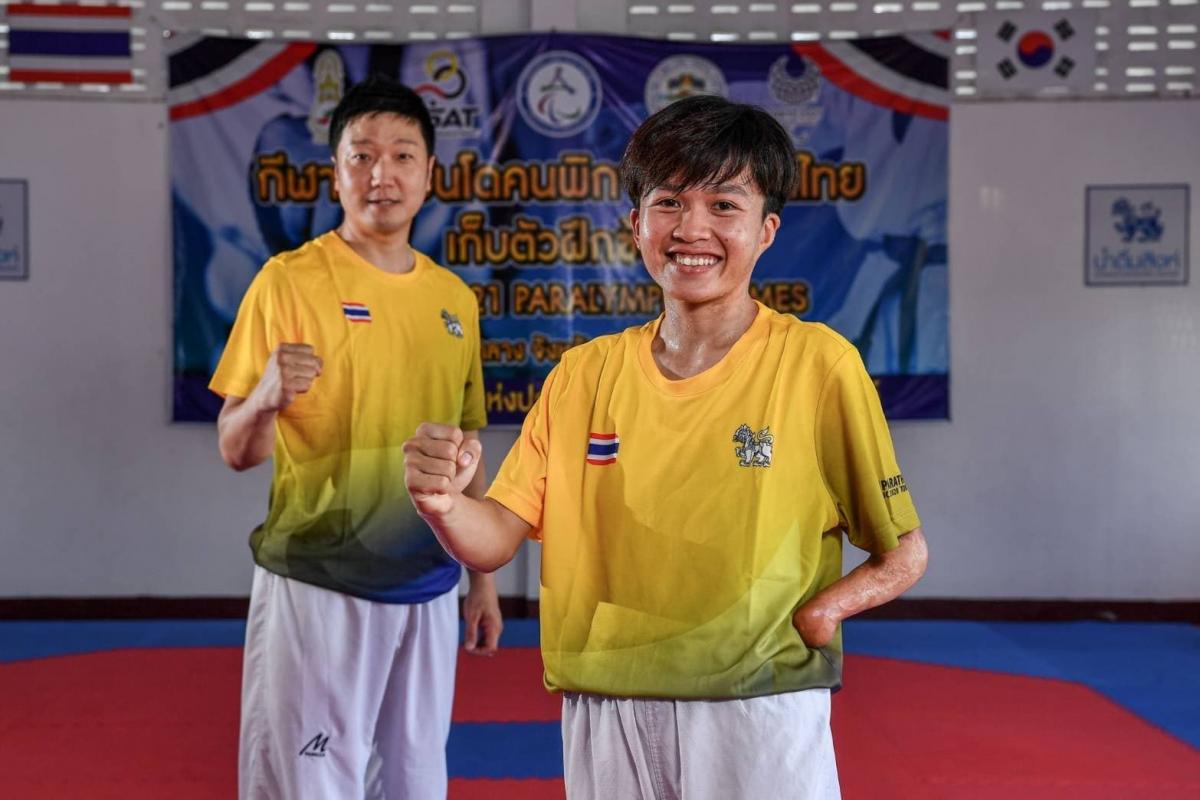 ⒸTaekwondo Association of Thailand
By Lee Reaney | For the IPC
Nothing in life comes easy, but some have it far more difficult than others. 
Take Thailand's two-time world champion Khwansuda Phuangkitcha as an example. 
Before almost independently putting Thailand on the Para taekwondo map, the young phenom had to overcome a tremendous amount of personal tragedy, including extreme poverty, the murder of a sibling, and separate accidents that left both her and her mother impaired.
A chance meeting with a taekwondo legend, the diligent commitment of a dedicated coach, and the full support of Thailand's National Paralympic Committee has seen the little girl from the shed in the Thai highlands climb all the way to the top of the Para taekwondo world. 
It has been an impressive run for Phuangkitcha. Since winning bronze in the women's up to 49kg event at the Tokyo 2020 Paralympic Games, she added a second world title at the 2021 World Para Taekwondo Championships, took silver at the Asian Youth Para Games, and captured gold in memorable fashion at the inaugural Para Grand Prix in June 2022.  
But things were not always so rosy for Thailand's tenacious teen, as she had to get through great personal tragedy before becoming the world's best. 
Tragedy strikes – again and again
Born into extreme poverty in the foothills of the Himalayas, Khwansuda Phuangkitcha's life was forever changed when she was two years old.
A gust of wind blew through an open window and knocked a candle into her crib. 
The resulting fire destroyed a good portion of the dwelling and left Phuangkitcha with severe burns. Doctors wanted to amputate her entire arm, but her father convinced them to amputate at the wrist. She still wears the burns from that fire on her left arm.
Wanting the best for his daughters, Phuangkitcha's father sent her and her sister to live with a relative when they reached school age. While there, she experienced two more tragedies that shaped the rest of her upbringing.
Her sister was murdered by a drug addict and her mother was in a serious car accident that left her permanently impaired and in a hospital. 
Her father had Phuangkitcha move home shortly thereafter. 
"Her father was afraid of losing his only daughter," Phuangkitcha's coach Shin Yeong-kyun said. "So, he cut her hair short and had her dress like a man. She's lived like that ever since."
Sport saves a life
Phuangkitcha finally caught a break after a chance meeting in high school with Shin, head coach of Thailand's new national Para taekwondo team. 
"I didn't know Para taekwondo – I had never done any sports other than running before," Phuangkitcha said. "I hadn't even decided whether to try when he showed up at my house the next day."
Shin had lived in Thailand for nearly two decades. He was a Poomsae coach with the Taekwondo Association of Thailand and was pivotal in helping develop Thailand's Para taekwondo programme in 2017.
As part of that effort, he traveled to Phuangkitcha's mountain village to discuss the opportunity of training the 17-year-old future world champion.
"My father said, 'My family is poor, and I can't raise a daughter'," Phuangkitcha recalled. "'Coach, can you help my daughter grow up well, to take care of her just like you would your own?'"
Shin agreed and took Phuangkitcha into his own home. 
"We ran together in the morning," he said. "And after school, we did taekwondo training in the gym."
Training a champion
Small and fast, Phuangkitcha proved to be a natural athlete and picked up Para taekwondo quickly. She credits the training she received as instrumental in her future success. 
"We do a lot of physical training because you need strong stamina to be competitive for the full five-minute round," she said. "We have the best training facility [in Thailand], with beaches, mountains, and all the amenities."
It took some time before Phuangkitcha started to see the results on the mat. She did not win medals at either the 2018 or the 2019 Asian Para Championships, falling out in the quarterfinal round both times.
This made her triumph at the 2019 World Para Taekwondo Championships even more remarkable. 
Still a teenager at the time, the unseeded Phuangkitcha shocked the world by winning Thailand's first-ever world title and beating some of the world's top fighters along the way. 
She stunned Turkey's No. 2-seeded Meryem Cavdar in the quarterfinal, Azerbaijan's No. 6-seeded Royala Fataliyeva in the semifinal, and Mongolia's reigning world champion Enkhtuya Khurelbaatar in the final, after a disqualification for an illegal kick. 
"Winning the 2019 title was lucky and is even a miracle for us now," Phuangkitcha said. "It was the first time Thailand had even competed at the World Championships."
The win put Phuangkitcha on the radar for a Tokyo 2020 medal, but the COVID-19 pandemic threatened to derail her newfound frontrunner status by forcing the postponement of the Paralympic Games until 2021. Phuangkitcha found it to be a blessing in disguise. 
"COVID-19 caused great misfortune worldwide," Phuangkitcha said. "But for our team, it allowed us to train more over that period."
Overcoming the pressure of entering Tokyo 2020 as the reigning world champion, and the disappointment of falling to Turkey's Cavdar in the semifinal, Phuangkitcha rebounded to win bronze with a convincing 18-2 win over Uzbekistan's Ziyadakhon Isakova. 
"(The coach) told me, 'Don't be sad about losing. We're not done yet'," Phuangkitcha recalled. "Winning the bronze was a great honour for us, especially after facing both frustration and joy."
Triumphing over tragedy
Even more than her first world title, Phuangkitcha's Paralympic bronze medal caused a sensation back home.
Para sports are well-established in Thailand. Thai athletes won 18 medals at the Tokyo 2020 Paralympic Games, including five gold, but Phuangkitcha's was the first in martial arts, beloved in the country renowned for its kickboxing.
"Martial arts are important in Thailand," coach Shin said. "A young Thai girl winning a Paralympic medal gave many people with impairments in Thailand great confidence that they can do it too, and for this she gave a great gift to Thailand."
Phuangkitcha basked in the acclaim she received. 
Television stations and newspapers from across the nation clamoured for an interview with the Paralympic medallist. Her Facebook and Instagram following exploded. Her village threw her a big celebration and her fans chipped in to buy a car and renovate her house.
There was a financial benefit too. Phuangkitcha received $83,700 USD for her bronze medal. While less than the $146,060 USD a Thai Olympic bronze medallist receives, it was still a life-altering amount for a young woman born into extreme poverty.
Phuangkitcha did not take the money as a lump sum, choosing instead to receive it as a monthly stipend. She now has a fixed income and earns slightly more than the average Thai salary. She also managed to pay for her mother to be moved into a nicer nursing home. 
Following these accolades, Phuangkitcha backed up her status as one of the world's best by winning her second straight world title. The 2021 World Championships solidified her as a bona fide star in Thailand and she was named Thailand's Best Woman Para Athlete for 2021. 
She has continued that success in 2022, winning gold at World Taekwondo's prestige, invite-only Para Grand Prix in June. 
As someone who knows all too well the misfortunes that life can bring, Phuangkitcha is especially grateful for the role that sport played in helping her triumph over that tragedy. 
"Taekwondo changed my life and there are now many things I can do in the future," Phuangkitcha said. "Taekwondo is my new life."