Para taekwondo world champ Enkhtuya Khurelbaatar on a mission to inspire
The single mother may be a favourite for Para taekwondo gold at Tokyo 2020 but the Mongolian has something bigger in on her mind
29 Jan 2021
Imagen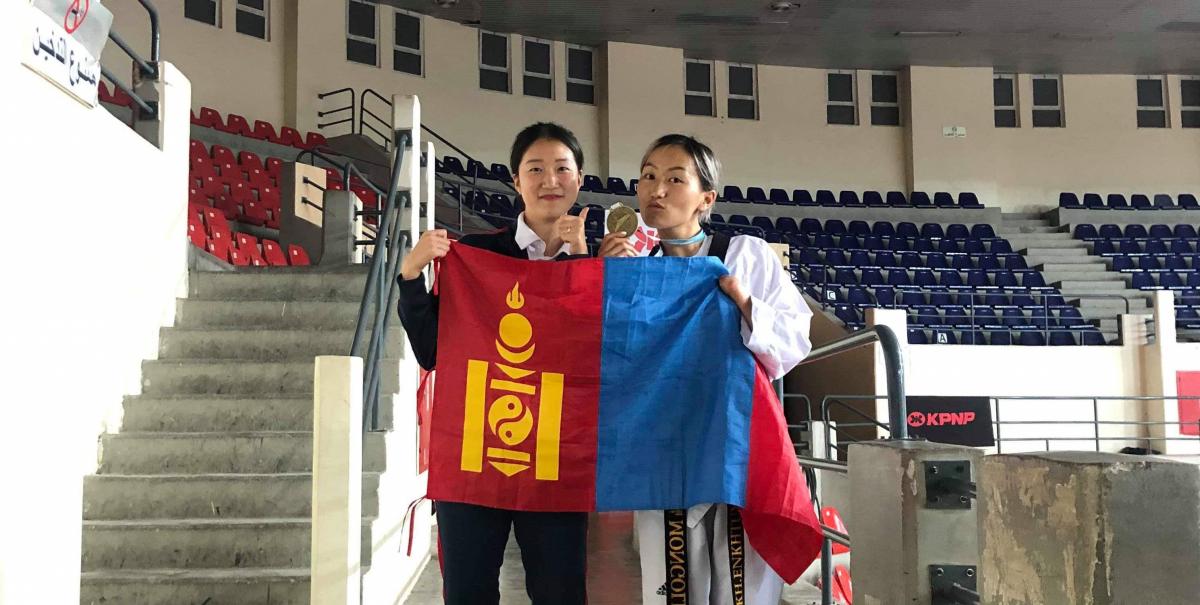 By AMP Media I For The IPC
Mongolia's Enkhtuya Khurelbaatar is aware that her status as a young single mother with a disability, competing in taekwondo, attracts attention. And she welcomes people's questions as it lets her send across a strong message. 
"I think, yes, I am a single mother and I am 29 years old, but this question motivates me. I want to impress people and want them to understand me," said the K44 World Champion  . "It doesn't matter if you are single, you are divorced, you have a child. I want to give the message that as a woman I can do it."
Right from the moment she decided, as a young married mother, to change her life by taking up Para taekwondo, Khurelbaatar has had a single focus. 
"I want to say to people you have this chance, you have this opportunity, just take it and believe if you want to change your future," she explained. 
The Mongolian is a living, breathing example that change can start with sport. Timid and retiring after having her hand amputated aged 13 in an accident, Khurelbaatar was determined to carve out a career in finance after graduating from high school. Time spent studying abroad seemed the perfect start but at the final stage of approval for a Chinese government scholarship she was turned down due to her disability. 
Devastated and dispirited, Khurelbaatar shelved her ambitions until a great friend came to her rescue. 
"She said some things that made me understand I needed to change my life. First, she said, 'You think you are a disabled person but if you want to change this, you should become an athlete. You should change the nickname you give yourself'. Secondly she said, 'Athletes inspire a lot of people and maybe you will have many achievements and you can inspire youth and children, your son, your family and society,'" Khurelbaatar recalled. 
The friend's brother was a taekwondo coach, and within weeks Khurelbaatar's life turned. But, her husband could not appreciate the direction she wanted to take. So she took the difficult decision to go it alone. 
"At that moment I looked at my son and I wanted to give him a strong message that his mother is not a disabled person but is a professional athlete who is doing everything and has a big goal," she said. "I do not want to just be a good mother but a good model for him and his friends."
Within three years of starting out as a total novice, Khurelbaatar won gold in the women's up to 49kg K44  at the 2017 World Para Taekwondo Championships in London. 
"Some people said I very quickly got my World Championship title but I say no. I trained very hard every day, every moment, every hour to achieve this goal," Khurelbaatar said. "When I stood on the tatami I said to myself, 'OK, this is your time, now you must show you can do it."
Not all of it has been smooth. In 2019 she was, while ranked No.1, disqualified from the World Championships for an illegal kick. But she learned from the experience. 
"I lost my title and one thing I really understood in that moment was that life and sport are teamwork. I cannot do everything," she said. "Maybe I was very selfish in that moment. I was thinking, 'Oh you are World Champion, you are amazing, you can do anything.'"
She now wants to be Mongolia's first Paralympic champion in the sport. But even if that does happen, she has no intention of stopping her story there. 
"I don't want to be a coach but maybe a psychologist. I want to help the people who cannot believe in themselves, to find their belief," Khurelbaatar said. "I want to help many people, women, disabled people, young people, to find the right way in their lives."