Imagen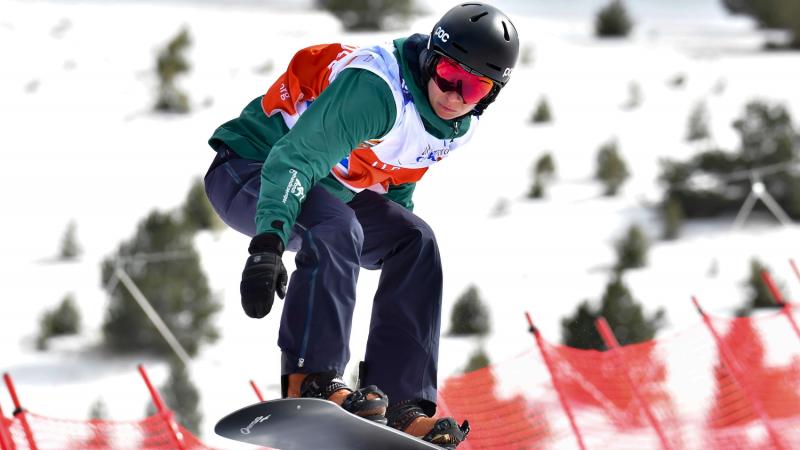 Lisa Bunschoten
Snowboard | Alpine Skiing
This season is Lisa Bunschoten's to lose. After silver and bronze at the PyeongChang 2018 Paralympic Winter Games, the Dutch snowboarder appears more motivated and in the form to take her first major gold medal.
Previously she had been riding in the shadows of the woman who brought her into the sport – Bibian Mentel-Spee. At PyeongChang 2018, the two went head-to-head in the snowboard-cross final. The race was a nail-biter, with both riders' boards almost touching each other. Both crashed coming to a turn, with Mentel-Spee recovering quickest to take the gold.
Since Mentel-Spee's retirement after double gold in PyeongChang, Bunschoten has been dominating the 2018-19 season; she has won all but two of her five World Cups so far.
Bunschoten was always a gold-medal contender at each race she showed up to, being the strongest to take down Mentel-Spee. She saw one of her strongest seasons in 2016-17, when she finished at the top of the World Cup rankings in the banked slalom and second in snowboard-cross. The 2017 World Championships in Big White, Canada, saw her capture double silver behind Mentel-Spee.
Bunschoten made her Paralympic debut at Sochi 2014, finishing seventh in the women's snowboard-cross after falling in the last turn of the final run. The next season she was stronger. She took the banked slalom World Cup title in 2015-16 and finished that season second overall in the World Cup rankings. It was a progression from finishing third in the overall World Cup rankings in both 2013-14 and 2014-15.
The Dutch rider captured her first major medal with bronze in snowboard-cross and just missed the podium with fourth in banked slalom at the 2015 World Championships in La Molina, Spain.
Bunschoten was born with fibula aplasia, which caused her left leg to grow shorter than her right. She eventually made the decision to have her left foot amputated at 16, but soon returned to her board as she began the sport at 14 years old.
Results
2015 IPCAS Para Snowboard World Championships La Molina (La Molina, Spain)

| Event | Medal | Unit | Date | Rank |
| --- | --- | --- | --- | --- |
| Women's Snowboard Cross SB-LL2 | | Race 1 | 2015-02-24 | 3 |
| Women's Banked Slalom SB-LL2 | | Race 1 | 2015-02-28 | 4 |
2017 IPC Snowboard World Championships Big White, CAN (Big White, Canada)

| Event | Medal | Unit | Date | Rank |
| --- | --- | --- | --- | --- |
| Women's Snowboard Cross SB-LL2 | | Race 1 | 2017-02-04 | 2 |
| Women's Banked Slalom SB-LL2 | | Race 1 | 2017-02-07 | 2 |
Pyha 2019 World Para Snowboard Championships (Pyha, Finland)

| Event | Medal | Unit | Date | Rank |
| --- | --- | --- | --- | --- |
| Women's Banked Slalom SB-LL2 | | Race 1 | 2019-03-27 | 1 |
| Women's Snowboard Cross SB-LL2 | | Race 1 | 2019-03-30 | 1 |
Lillehammer 2021 World Para Snow Sports Championships (Lillehammer, Norway)

| Event | Medal | Unit | Date | Rank |
| --- | --- | --- | --- | --- |
| Women's Banked Slalom SB-LL2 | | Race 2 | 2022-01-14 | 1 |
| Women's Snowboard Cross SB-LL2 | | Race 2 | 2022-01-21 | 1 |