Imagen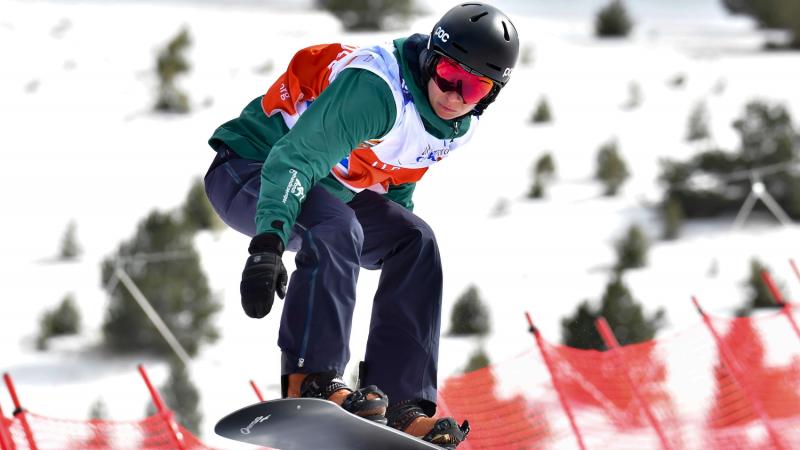 Lisa Bunschoten
Snowboard | Alpine Skiing
This season is Lisa Bunschoten's to lose. After silver and bronze at the PyeongChang 2018 Paralympic Winter Games, the Dutch snowboarder appears more motivated and in the form to take her first major gold medal.
Previously she had been riding in the shadows of the woman who brought her into the sport – Bibian Mentel-Spee. At PyeongChang 2018, the two went head-to-head in the snowboard-cross final. The race was a nail-biter, with both riders' boards almost touching each other. Both crashed coming to a turn, with Mentel-Spee recovering quickest to take the gold.
Since Mentel-Spee's retirement after double gold in PyeongChang, Bunschoten has been dominating the 2018-19 season; she has won all but two of her five World Cups so far.
Bunschoten was always a gold-medal contender at each race she showed up to, being the strongest to take down Mentel-Spee. She saw one of her strongest seasons in 2016-17, when she finished at the top of the World Cup rankings in the banked slalom and second in snowboard-cross. The 2017 World Championships in Big White, Canada, saw her capture double silver behind Mentel-Spee.
Bunschoten made her Paralympic debut at Sochi 2014, finishing seventh in the women's snowboard-cross after falling in the last turn of the final run. The next season she was stronger. She took the banked slalom World Cup title in 2015-16 and finished that season second overall in the World Cup rankings. It was a progression from finishing third in the overall World Cup rankings in both 2013-14 and 2014-15.
The Dutch rider captured her first major medal with bronze in snowboard-cross and just missed the podium with fourth in banked slalom at the 2015 World Championships in La Molina, Spain.
Bunschoten was born with fibula aplasia, which caused her left leg to grow shorter than her right. She eventually made the decision to have her left foot amputated at 16, but soon returned to her board as she began the sport at 14 years old.
Biography
Impairment information
Type of Impairment
Limb deficiency
Origin of Impairment
Congenital
Further personal information
Residence
Zuidoostbeemster, NED
Occupation
Athlete, Student
Higher education
Psychology - Radboud University: Nijmegen, NED
Sport specific information
When and where did you begin this sport?
She began snowboarding at age 13 on an indoor slope in the Netherlands and in Austria. She was eager to get back on a board following her operation at age 16.
Why this sport?
Her brother Jasper suggested she try snowboarding. "As a family we wanted to go on a winter holiday but I couldn't find ski boots that would fit me, so my brother came up with the idea of trying snowboard boots and that worked. After trying snowboarding I really liked it and fell in love with the sport."
Name of coach
Pepijn van Schijndel [snowboard, national], NED; Hansjoerg Berger [snowboard, national], AUT
General interest
Hobbies
Outdoor sports. (Athlete, 04 Mar 2022)
Memorable sporting achievement
Winning silver in snowboard cross and bronze in banked slalom at the 2018 Paralympic Winter Games in Pyeongchang, and claiming gold at the world championships. (Athlete, 04 Mar 2022)
Most influential person in career
Dutch Para snowboarder Bibian Mentel. (paralympic.org, 21 Mar 2019)
Injuries
She suffered a cut to her cheek after colliding with her Dutch teammate Bibian Mentel in the women's SB-LL2 snowboard cross final at the 2018 Paralympic Winter Games in Pyeongchang. She got up to win the silver medal, while Mentel claimed gold. The medal ceremony was delayed for one day as Bunschoten had to go to hospital after the race for treatment. (teamnl.org, 13 Mar 2018)
Sporting philosophy / motto
"Have fun." (Athlete, 04 Mar 2022)
Awards and honours
She and fellow Para snowboarder Chris Vos were named flag bearers for the Netherlands for the opening ceremony of the 2022 Paralympic Winter Games in Beijing. (teamnl.org, 03 Feb 2022)

She was named Sportswoman of the Year for 2019 in Utrecht, Netherlands, at the Utrecht Sport Awards. She also won the award for 2018. (ad.nl, 12 Feb 2020; sportprijs-utrecht.nl, 29 Mar 2019)
Famous relatives
Her partner Chris Vos has also represented the Netherlands in Para snowboard and won a silver medal in the SB-LL1 snowboard cross at the 2018 Paralympic Winter Games in Pyeongchang. (SportsDeskOnline, 18 Nov 2021; Instagram profile, 19 Sep 2021; toyota.nl, 02 Oct 2019)
Ambitions
To win gold at the 2022 Paralympic Winter Games in Beijing. (paralympic.org, 26 Feb 2022)
Impairment
She was born with fibular aplasia, which caused her left leg to grow shorter than her right. A frame was attached to the limb when she was young, and she also had surgery to try and lengthen it. She eventually made the decision to have her left foot amputated, and the operation was performed six days after her 16th birthday. (lisabunschoten.nl, 02 Sep 2013)
Other information
BEIJING HONOUR
She and her partner, fellow Para snowboarder Chris Vos, were named flag bearers for the Netherlands ahead of the opening ceremony of the 2022 Paralympic Winter Games in Beijing. The honour was made even more special for Bunschoten as friends and family of the athletes were not permitted to travel to the Games due to the COVID-19 pandemic. "We are really proud of this. It will be a very special moment to walk into the stadium with the Dutch flag. It also feels a bit of a reward for our hard work. I feel extra lucky we can share these moments because family and friends cannot come over so we are lucky enough to have each other there. We can stay together in the [Paralympic] Village. I'm really happy to be there together again." (paralympic.org, 26 Feb 2022)

ADAPTIVE BOARD CHICKS
In April 2019 she and fellow Dutch Para snowboarder Renske van Beek launched Adaptive Board Chicks, a series of training camps for female Para snowboarders in various locations in Europe. "Renske and I had the idea that we have to do something ourselves. We really want to inspire other girls to ride, not only in competitions but just ride and have fun, so that's how it started. At first we were thinking only about a camp, but then we wanted to make a whole platform for inspiring. Maybe some girls think that board sports are a little bit more extreme and a little bit more for guys, but I don't think that's true because it's super fun, so why not try it? Maybe some people also don't know that there are competitions and it is possible for people with a disability to ride on a snowboard, and what we really want to do is to show everybody that snowboarding is for everybody." (teamusa.org, 21 Apr 2021; Adaptive Board Chicks Instagram profile, 11 May 2020; paralympic.org, 06 Apr 2020)

FURTHER EDUCATION
In 2016 she began studying for a degree in health and nutrition at NTI University in the Netherlands. "I love to have the opportunity to focus on something next to training. It can be hard sometimes but it is pretty flexible and very nice to learn more about those subjects." (Athlete, 04 Mar 2022; paralympic.org, 26 Feb 2022; Instagram profile, 07 Nov 2021; LinkedIn profile, 01 Jan 2019)
Results
2015 IPCAS Para Snowboard World Championships La Molina (La Molina, Spain)

| Event | Medal | Unit | Date | Rank |
| --- | --- | --- | --- | --- |
| Women's Snowboard Cross SB-LL2 | | Race 1 | 2015-02-24 | 3 |
| Women's Banked Slalom SB-LL2 | | Race 1 | 2015-02-28 | 4 |
2017 IPC Snowboard World Championships Big White, CAN (Big White, Canada)

| Event | Medal | Unit | Date | Rank |
| --- | --- | --- | --- | --- |
| Women's Snowboard Cross SB-LL2 | | Race 1 | 2017-02-04 | 2 |
| Women's Banked Slalom SB-LL2 | | Race 1 | 2017-02-07 | 2 |
Pyha 2019 World Para Snowboard Championships (Pyha, Finland)

| Event | Medal | Unit | Date | Rank |
| --- | --- | --- | --- | --- |
| Women's Banked Slalom SB-LL2 | | Race 1 | 2019-03-27 | 1 |
| Women's Snowboard Cross SB-LL2 | | Race 1 | 2019-03-30 | 1 |