Imagen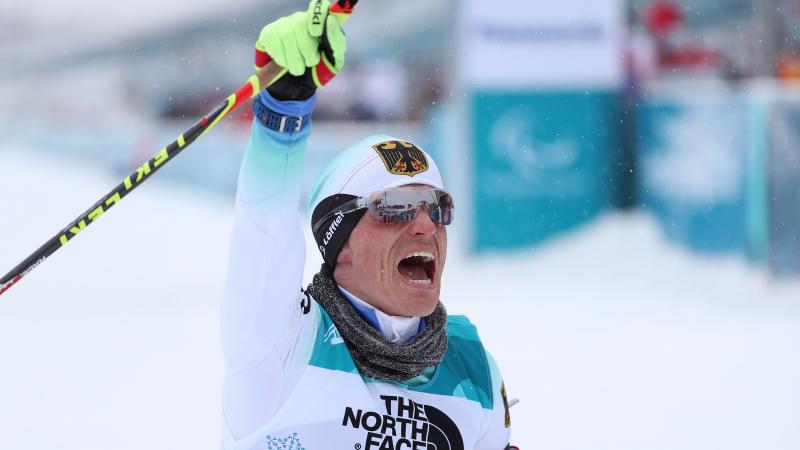 Martin Fleig
Nordic Skiing
Martin Fleig is hoping to defend his two world titles in the men's biathlon middle and long distance sitting at Prince George 2019.
The German showed good signs at the beginning of the 2018/19 season, taking one silver and two bronze in biathlon, and one bronze in cross-country skiing across two World Cups.
The 2017-18 season was no ordinary milestone in his career. Fleig claimed his first Winter Paralympic medal, gold in the men's biathlon long distance sitting. It was one of Germany's seven titles at PyeongChang 2018.
Two years ago, he got the chance to compete at his home World Championships in Finsterau, Germany, with the crowd carrying him to his first world titles - two biathlon golds and one bronze as well as bronze in cross-country long distance.
He not only claimed his first world titles, but also finished top of the biathlon World Cup overall rankings, helped by two victories at the PyeongChang 2018 Test Event.
It will not be easy for Fleig to repeat such performances in Prince George, Canada, as the field gets more competitive.
Fleig began skiing at the age of nine and started competing just two years later at the tender age of 11. His senior international debut for Germany came in 2006.
Results
IPC Nordic Skiing World Championships Solleftea (Solleftea, Sweden)

| Event | Medal | Unit | Date | Rank |
| --- | --- | --- | --- | --- |
| Men's Sprint - Classic Sitting | | Final | 2013-02-25 | 7 |
| Men's Short Distance Sitting | | Final | 2013-02-28 | 13 |
| Men's Middle Distance Sitting | | Final | 2013-03-01 | 9 |
| Men's Long Distance Sitting | | Final | 2013-03-03 | 19 |
| Men's Middle Distance - Classic Sitting | | Final | 2013-03-05 | 16 |
2015 IPC Nordic Skiing World Championships Cable (Cable, United States of America)

| Event | Medal | Unit | Date | Rank |
| --- | --- | --- | --- | --- |
| Men's Short Distance Sitting | | Race 1 | 2015-01-24 | 8 |
| Men's Middle Distance Sitting | | Race 1 | 2015-01-27 | 3 |
| Men's Sprint - Classic Sitting | | Race 1 | 2015-01-28 | 7 |
| Men's Long Distance Sitting | | Race 1 | 2015-01-30 | 13 |
| Men's Middle Distance - Classic Sitting | | Race 1 | 2015-01-31 | 4 |
| Open Relay | | Final | 2015-02-01 | 6 |
2017 IPC Nordic skiing World Championships Finsterau, GER (Finsterau, Germany)

| Event | Medal | Unit | Date | Rank |
| --- | --- | --- | --- | --- |
| Men's Middle Distance Sitting | | Final | 2017-02-11 | 1 |
| Men's Sprint - Free Style Sitting | | Final | 2017-02-12 | 11 |
| Men's Long Distance Sitting | | Final | 2017-02-14 | 1 |
| Men's Long Distance - Classic Sitting | | Final | 2017-02-16 | 3 |
| Men's Sprint Sitting | | Final | 2017-02-18 | 3 |
| Men's Middle Distance - Free Style Sitting | | Final | 2017-02-19 | 5 |
Prince George 2019 World Para Nordic Skiing Championships (Prince George, Canada)

| Event | Medal | Unit | Date | Rank |
| --- | --- | --- | --- | --- |
| Men's Middle Distance Sitting | | Final | 2019-02-16 | 4 |
| Men's Middle Distance - Free Style Sitting | | Final | 2019-02-17 | 1 |
| Men's Sprint Sitting | | Final | 2019-02-20 | 2 |
| Men's Long Distance Sitting | | Final | 2019-02-21 | 2 |
| Open Relay | | Final | 2019-02-23 | 4 |
| Men's Long Distance - Classic Sitting | | Final | 2019-02-24 | 1 |
Lillehammer 2021 World Para Snow Sports Championships (Lillehammer, Norway)

| Event | Medal | Unit | Date | Rank |
| --- | --- | --- | --- | --- |
| Men's Middle Distance - Classic Sitting | | Final | 2022-01-13 | 10 |
| Men's Sprint Sitting | | Final | 2022-01-15 | 5 |
| Men's Middle Distance Sitting | | Final | 2022-01-16 | 5 |
| Men's Long Distance Sitting | | Final | 2022-01-20 | 15 |
| Men's Sprint - Classic Sitting | | Final | 2022-01-22 | 10 |
| Open Relay | | Final | 2022-01-23 | 4 |