Day 5 review: Edlinger golden as Para Ice Hockey semi-finals set
Austria, Canada, China and France pick up golds in Para Cross-Country Skiing
Para Ice Hockey semi-finals decided
China join Sweden at top of Wheelchair Curling standings heading into final day of round robin play
09 Mar 2022
Imagen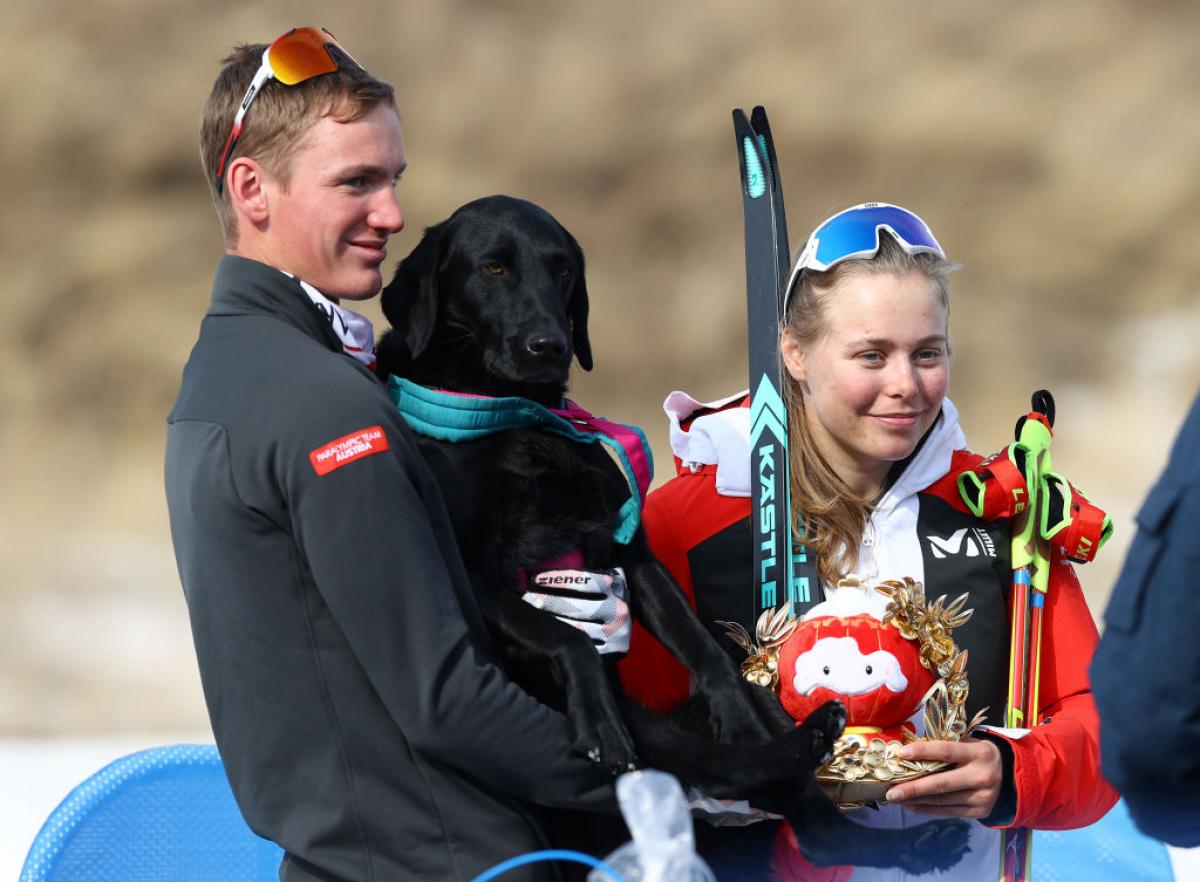 ⒸMichael Steele/Getty Images
By The IPC
Austria's Carina Edlinger finally got the gold she had been longing for in the women's Para Cross-Country sprint vision impaired at Beijing 2022 on Wednesday (9 March), as exciting semi-final match-ups were decided in Para Ice Hockey.
In wheelchair curling, China moved to the top of standings with one more day of round-robin play to go, joining tournament surprises Sweden.
Edlinger gets her gold
Carina Edlinger overcame a less-than-ideal build-up to Beijing 2022 – which saw her finish out of the medals at January's World Championships – to top the podium with guide Josef Lorenz Lampl.
Finishing nearly seven seconds ahead of Ukraine's Oksana Shyshkova, 2019 world title winner Edlinger cast off the heartbreak of a fourth place finish from PyeongChang 2018.
Edlinger has struggled with her health and did not finish Sunday's long distance, as well as having to adapt to new guide Lampl who came on board just 10 days ago, making the win even more impressive:
"I still can't believe that. Four years ago I had similar problems that I've had now, with my legs, and I collapsed multiple times here and right before the journey here.
"It was a difficult situation because a few days ago I was completely paralysed below the neck, lying on the wax cabin floor. That was one of the lowest points I've had in my sport life.
"With two times not finishing that was more than frustrating because I knew what I can do. But today, winning gold like this, is freaking amazing.
"I knew I came here as one of the big favourites and it's a big relief to win here today. And to win together [with Lampl] it's even more nice, to share the thing.
"My ambition was always that if I can't win the skating sprint, I should retire. So it's better that I win that one, it's just amazing."
Shyshkova's silver is her second medal from the Para Cross-Country this week with guide Andriy Marchenko. Germany's Linn Kazmeier, guided by Florian Baumann, also doubled-up her medal haul with bronze.
Canada's Brian McKeever took one stop closer to equalling Gerd Schoenfelder's record of 16 golds as the most decorated Winter Paralympian of all time in the men's vision impaired.
Having won his 14th gold in the long distance, McKeever went head-to-head with the USA's Jake Adicoff, managing to ski the best line into the finish with guide Russell Kennedy.
"This is the race that is hardest for us to win. My least favourite race," McKeever said. 
"I said yesterday that I think I would rather race a 220km in Sweden next month than do another sprint, but here we are. It was fun.
"Russ skied that race to perfection and the skis were amazing. That was a big key, just to make sure we had some competitive boards."
Adicoff trailed by just 0.8 seconds with guide Sam Wood to take his second silver of the competition. Sweden's Zebastian Modin was third, guided by Emil Joenssen Haag.
France's Benjamin Daviet took his first Paralympic title on the third time of asking in the men's standing. 
Daviet's gold joins his win from the team relays at PyeongChang 2018. Ⓒ OIS/Simon Bruty
Having made his debut at Sochi 2014 Daviet won silver in the long distance at PyeongChang 2018, winning team gold in the relays.
It was finally time for the Frenchman to step into the limelight on his own on Wednesday as he blew away a fast field. Germany's Marco Maier was only 1.3 seconds behind to take silver ahead of Ukraine's Grygorii Vovcynskyi, himself only trailing by 0.5 seconds.
"Of course, it's amazing," Daviet said. "Now I would like to say the next races will be like a bonus. I came here to win one gold medal. I've done the job, it's so amazing."
Canadian 21-year-old Natalie Wilkie cemented her status as one of the top skiers in the women's standing, winning her second gold medal of Beijing 2022.
Norway's Vilde Nilsen was leading the race but Wilkie caught her just in time, pushing her into silver medal position. The USA's Sydney Peterson was third. All three women are 21 or younger, showing a bright future for the event.
"I don't want to sound too confident, but I was fairly sure I had a good chance of winning a medal today and it was just a matter of deciding the colour," Wilkie said.
"I was actually super surprised. Norway had a massive lead on me heading into the finish area, but I ended up catching her up on the downhill, and I was faster in the finish chute which ended up earning me a gold medal."
History repeated itself in the men's and women's sitting as the same athletes from the long distance stepped onto the podium in the same order.
This meant a double-double for the hosts as Zheng Peng and Yang Hongqiong pocketed their second titles.
Zheng put on an impressive display in the men's following a close battle with teammate, and eventual silver medallist, Mao Zhongwu.
Canada's Collin Cameron came home third. 
"This was a really tough and close race. I'm really glad to get this gold because I might not have got it if I wasn't as stable as I was today," said Zheng, who also thanked the vocal Chinese fans for backing him all the way.
"I'm not sure about any tactics, but because all the fans outside have been cheering for us, the rhythm they've been giving us is really great.
"We've been encouraged by that support and got strength from that."
Yang Hongqiong was delighted with her second gold. Ⓒ Lintao Zhang/Getty Images
The women's sitting also saw a Chinese athlete pick-up where they left off.
Yang managed to see off the USA's defending champion Oksana Masters for the second time, with Masters finishing just 1.7 seconds behind to take silver.
China's Li Panpan bagged the bronze.
 "For sprint, winning or losing depends on even a few seconds. During the race, I didn't care whether my opponents were catching up," Yang said.
"No matter what sound I heard, no matter whether it was far or near, I was keeping my own pace. Anyway, I was the only one on the field. I skied my own way."
Para Ice Hockey semi-finals to have Asian flavour
The Paralympic Winter Games Para ice hockey tournament will see two Asian teams in the semi-finals for the first time in history after South Korea and hosts China booked their places.
Widely regarded to be the best game of the tournament so far, two goals from Zhidong Wang helped China beat Czech Republic 4-3. It was a fast, furious and physical qualifying final, sending a noisy crowd off into the night dreaming of glory and a semi-final against four-time gold medallists USA.
China are growing in confidence having made it into the semi-finals. Ⓒ Carmen Mandato/Getty Images
When Yifeng Shen gave China a 3-1 lead early in the third period the game appeared safe but Czech replies from Vaclav Hecko and Miroslav Novotny tied the game to set up a tense finale. Wang's goal with less than two minutes remaining settled it.
With a fourth victory in four matches, belief is growing among players, rivals and fans that Paralympic debutants China can do something special at the National Indoor Stadium.
No team other than USA or Canada have won Paralympic gold for 20 years, but China are quietly fancying their chances of pulling off a huge shock.
As far as Shen is concerned, their success is largely down to the team on the sidelines.
"We have the very best coaching team," the 23-year-old said. "The reason we have progressed so fast is that we are very diligent."
Wang agrees:
"We spent a lot of time on strategy. And we do everything according to plan."
South Korea beat a spirited Italy 4-0 in the other qualification final and will now face Canada for a shot on gold, a team they have never beaten before.
Dong Shin Jang scored twice with Seung Hwan Jung and Jong Kyung Lee adding one goal each.
"I'm so excited that we won the game today. We always considered Italy a really strong team. At PyeongChang 2018, we played with them in the bronze-medal game. We have trained hard to be well-prepared," said Jang.
South Korea will play in their second-straight Paralympic semi-final on Friday.
All to play for in Wheelchair Curling
It is too close to call at the Wheelchair Curling with little to separate teams heading into the final day of round robin play.
Defending champions China share first place on the leaderboard with Sweden at the end of day six. 
The Chinese won both of their games on Wednesday including a 7-5 win over Slovakia and a 7-4 win over Norway.
Sweden meanwhile won their morning game against Norway 8-6 but faltered later on with 6-5 loss to Slovakia.
China put themselves in the best position to qualify for the semi-finals. Ⓒ Getty Images