Dutch delight as Vos and Mentel-Spee land world titles in La Molina
Chris Vos and Bibian Mentel-Spee secured their second world titles of the week on the final day of the IPC Para-Snowboard World Championships in La Molina, Spain.
28 Feb 2015
Imagen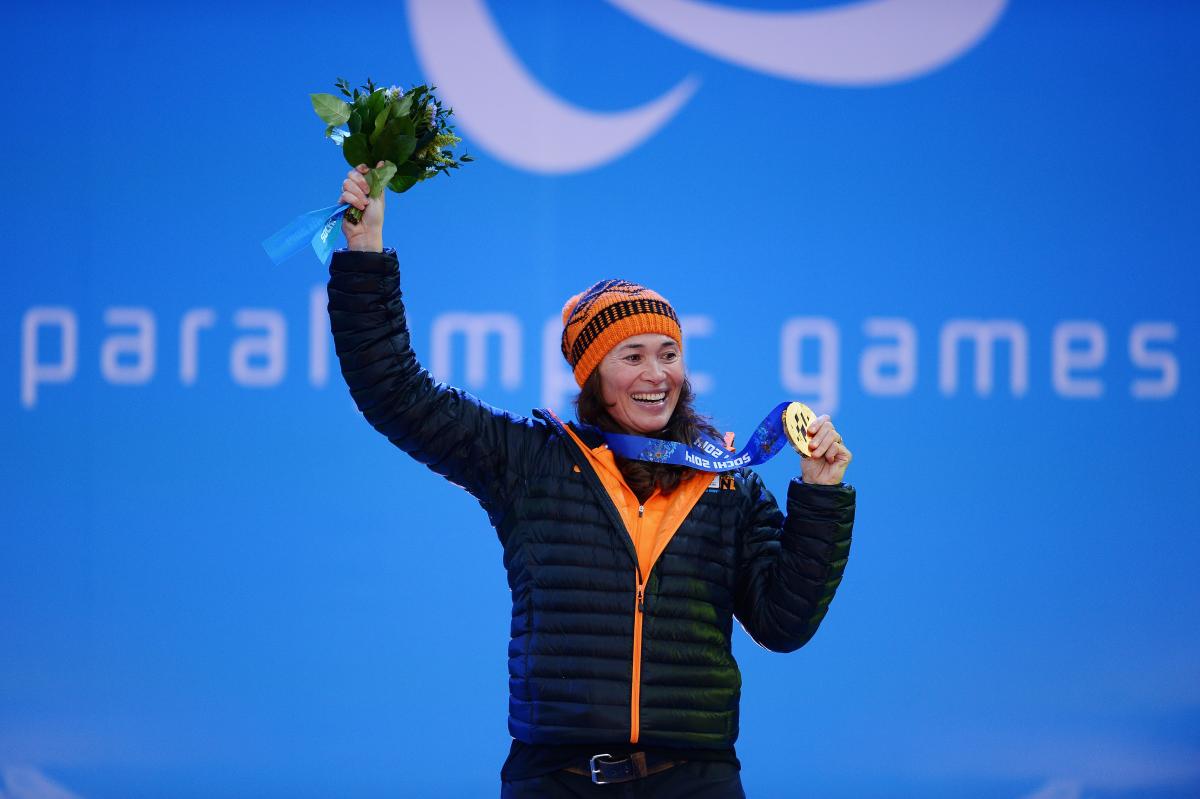 ⒸGetty
By IPC
Dutch duo Chris Vos and Biban Mentel-Spee are riding high after becoming double world champions, having both won their second gold medals at the IPC Para-Snowboard World Championships in La Molina, Spain, on Saturday (28 February), this time in banked slalom.
Vos, who finished top of the podium in the SB-LL1 category, has been in sublime form at these championships and rode with an assured confidence having claimed the world snowboard cross title earlier in the week.
The 17-year-old was fastest in all three of his runs, and with his best two counting towards his final result he posted a time of 1:36.41). Russia's Serafim Pikalov (1:44.61) improved on his snowboard cross bronze medal and moved up one place on the podium to claim the silver. Making up the podium was Denmark's Daniel Jorgensen (1:46.44).
"My training was pretty bad. On my first training run I broke something in my shoe, so that came open and caused me to fall, so I was a little bit stressed going into the first timed run," revealed Vos. Not that you would have known it from the smooth run he was able to put down "In my first run I just thought this is just a confidence round, so I went slow to make sure I got the turns in. The second round was much better because I had my confidence and could go faster, and by the third round I went my fastest."
Crossing the finish line Vos was not sure whether he had done enough to secure gold, before he saw the faces of his supporters.
"I knew I was on the podium, but I didn't know what Pikalov's time was, so I had to look first. But when I saw all the faces of my family I thought 'It must be ok!', and to win two golds has been amazing."
Mentel-Spee (1:33.41) is the undisputed Queen of para-snowboarding. Claiming her second world title of the week in the women's SB-LL2 category, the victory means that the Dutch rider will once again complete the season undefeated. Australia's Joany Badenhorst (1:42.87), who was racing with a cast on her arm after a fracture last week, raced her way to an impressive silver medal. The USA's Heidi Jo Duce (1:44.65) completed the podium in bronze.
"It feels awesome! I really set my goals to this for this season, so I am really stoked it has happened," said Mentel-Spee, who will undergo surgery on Thursday. "I'm always pushing myself, because that's what I love doing and I just love snowboarding. Snowboarding has progressed so much this season, the level of riding ever since Sochi has progressed enourmously. I'm just so proud of all the riders here, especially my team – who have been training really hard, and they deserve these results."
The men's SB-LL2 category was a straight dual between US teammates Evan Strong and Mike Shea. The final result saw the gold and silver medallists from the Sochi 2014 Paralympic Winter Games swap places on the podium, with Shea (1:23.80) claiming the world title by just 0.26 seconds. Paralympic champion Strong (1:24.06) settled for his second silver of the week, one place ahead of Finland's Matti Suur-Hamari (1:26.95).
Great Britain's Ben Moore had looked on course to secure gold in the men's SB-UL category until Austria's Patrick Mayrhofer (1:31.65) put in the fastest run of the day, nearly a second and half quicker than the field, to snatch gold. Moore (1:32.02) finished with silver, whilst Italy's Manuel Pozzerle (1:32.70) – who claimed the snowboard cross world title earlier in the week – was third.
France's Cecile Hernandez-Cervellon (1:39.76) came back from disappointment in the snowboard cross on Tuesday (24 February), which saw her defeated for the first time this year, to be crowned world champion in the women's SB-LL1 category. Team USA's Brenna Huckaby (1:42.63) and teammate Nicole Roundy (1:47.07) completed the podium in silver and bronze positions respectively.
Banked slalom is a new discipline this season and has been an instant hit with the riders and spectators alike. Each rider is given three runs of a slalom course and the combined time of their two fastest runs counts as the final result. The slalom gates are set in either natural banking terrain, or in this case man-made berms inside a half-pipe, with riders required to make tight radius turns.
Saturday was the final day of the 2015 IPC Snowboard World Championships, which featured 42 of the world's best para-snowboarders from 18 countries. For more information from the event, including complete results, as well as news, features, photos and video, please visit www.ipc-alpineskiing.org