Erica Gavel: 'It will be the best Games ever'
The Canadian athlete juggles a high performance career in wheelchair basketball, PhD studies plus a goal to help her team recapture their crown at Tokyo 2020
06 Sep 2020
Imagen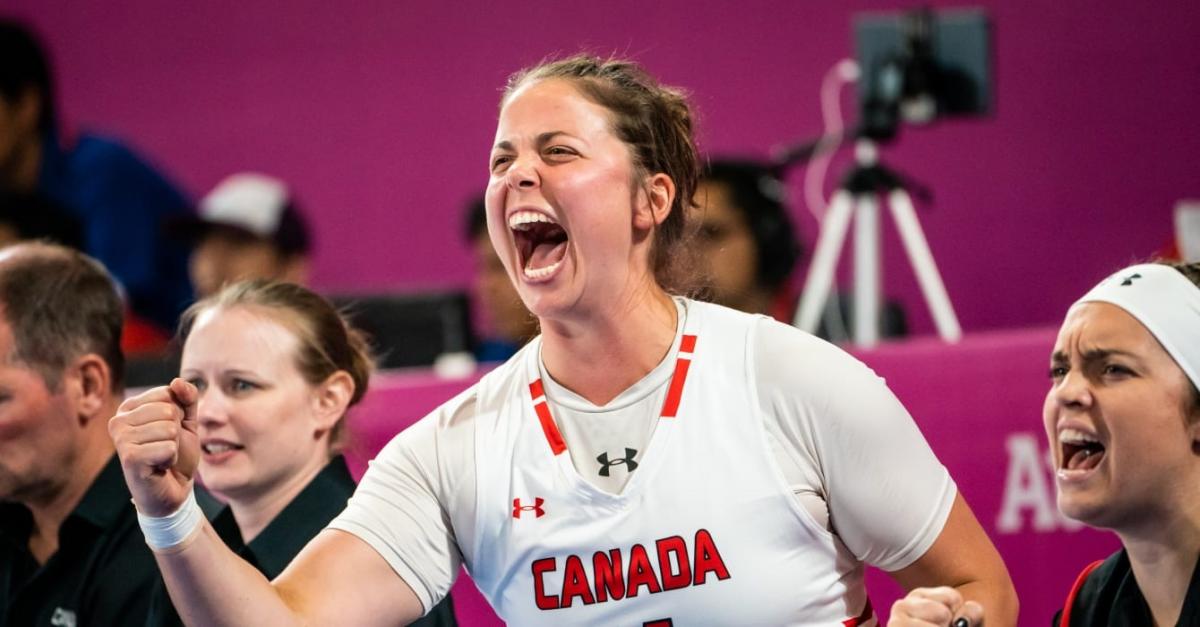 Ⓒ Dave Holland/Canadian Paralympic Committee
By Tokyo 2020
Canada reigned supreme between 1992 to 2000, winning three consecutive Paralympic gold medals in wheelchair basketball, while also dominating the World Championships, winning four consecutive gold medals from 1994 to 2006.
Despite that winning streak, Athens 2004 was the last time Canada medalled at a Paralympic Games, even though they came close at Rio 2016 with a fifth place finish.
However, according to Erica Gavel, who has been with the team since 2014, Team Canada are now in their best shape ever to recapture their former Paralympic glory.
"I think we are definitely podium potential," Gavel said confidently.
"If we can really dial in to our training and grooming, and we just focus on the process and not worry about the outcome - everybody genuinely believes that we should win."
And they can really deliver. In 2014, they were hailed World Champions again - eight years after they lost their crown. They have also beaten their USA rivals in the gold medal match at the 2019 Lima Parapan American Games and secured their rightful spot for Tokyo 2020.
"The thing about the national team sport is that there's always ebbs and flows," she explained.
"I think like in the early 90s and early 2000s, there was a solid group of people who play together for a long time and work really well together for a long time and those athletes started to retire. [Now] I think we have another wave of athletes who are all kind of around the same age where we played with each other for a few years now. It's part of that process."
And that for Gavel means the team have now come full circle.
"We're definitely going to win a medal. Last summer, we played against a lot of the top teams and we beat every team in the world except for China."
And with this newfound footing, Gavel believes Tokyo 2020 is all theirs for their taking.
From able-bodied sport to wheelchair basketball
Passionate about basketball since she was young, Gavel had always envisioned herself playing for Team Canada.
So much so that she enrolled in University of Saskatchewan to be in contention for the national team as an able-bodied player. At that time, the university basketball coach Lisa Thomaidis was already the head coach of the Olympic women's basketball team.
But little did Gavel know that her true destiny lied in Para sports. After a string of knee injuries which ended her basketball career, her coach recommended her to try out wheelchair basketball.
"I started training the next day with the goal of making the team for the real Paralympics. And then I made the team."
Through the sport, Gavel got her second wind as an athlete and finally fulfilled her dream of representing her country.
She missed out on the 2014 World Championships because of a broken hand but was able to make her appearance at Rio 2016 - her first Paralympic Games.
"I always wanted to play for Team Canada, no matter what sport it was. And so for me to make the Paralympic team and represent Team Canada is the most amazing thing in the world. When I made the team [in 2014], I cried for three hours."
"It was hands down the most amazing thing in my entire life. And it was one of those moments where as hard as it was all those years with my knee injuries, all of that was worth it. just for that singular moment."
A high performance athlete and a PhD student
When Gavel got her knee injuries back in 2012, she reached a low point in her life and suffered depression.
To divert her attention away from the reality of her impairment, Gavel turned to another passion - education.
"I think after my knee injury was a really big wake up call for me. I was so lost. I didn't have anything else that I was interested other than basketball."
"The semester I had my career ending injury, was the same time I took my exercise physiology courses. I fell in love with physiology, studying and learning!"
During the 2019 Parapan Games, she finished her master thesis in exercise science - amidst the pandemonium of trying to seal qualification for the Games.
Her master research tackled the connection between menthol and how athletes performed when exposed to high temperature conditions - something that may come handy for athletes next year when they arrive for the Games in the middle of summer.
"Menthol has been shown to improve performance in both men and women. What it does is the mechanism behind it is it's supposed to change thermal perception," she explained.
"It actually turns on the reward centres in the brain and increases motor output. It's been shown to improve performance during an endurance exercise in terms of short term or high intensity exercise in our study."
The research earned Gavel the Own the Podium Dr. Gordon Sleivert Young Investigator Award, given to students committed to performance sciences, research and innovation.
Now, Gavel is working towards a PhD in environmental physiology and Paralympic performance at Ontario Tech University.
"In all honesty, before my knee injury, I actually didn't really care much about school and actually did very poor so it's actually quite hilarious that I am doing my PhD now. A lot of people back home can't believe it," she laughed.
A tight-knit team for Tokyo 2020
Not everyone can juggle a highly-demanding sport like wheelchair basketball with PhD studies, but for Gavel, it is a balancing act through hard work and discipline.
As a high-performance athlete, Gavel said there were a lot of adjustments and choices to make in her life to get to where she is.
"I think high-performance [sports], it's not a lifestyle that most people understand. I don't want to say hard, I would say the expectations are always really high and every decision you make influences your performance."
"A lot of us have to move away from our families because we have training centres in Canada. You really do pick up and leave all your friends and your families in holidays might be short and you miss a lot of holidays."
With now a year to prepare for Tokyo, Gavel and her teammates are adjusting to the training restrictions in Canada but are trying their best to maintain a positive team spirit.
"I guess the positive for us is that this is the first time where we interact with each other so much without it being in a practice setting. So I think that this summer actually was really positive, as I think we got to know each other from a different perspective."
While they can train in the facility individually, by 1 October, the team might be able to start training in small groups.
"The plan is to move into like really small training groups but it will be like a very gradual approach just because of how contagious (COVID-19) is."
It might still be year's wait but Gavel is very excited to be back at the Paralympic stage, and this time in Tokyo.
"I've only been to Rio and I haven't been to other Games, but I really feel that it's is going to be the best Games ever. I'm so excited. I love Japan."
"The thing I find so cool about multi-sport games is just like I can't think of anything else in the world where it brings the entire world together. The entire world is fixated on it for a positive thing."