Injury "will not rule" Jon Santacana out of Sochi
Reigning world champion aims to be back on the slopes just one month before Sochi, after injury strikes again in first part of the season.
13 Oct 2013
Imagen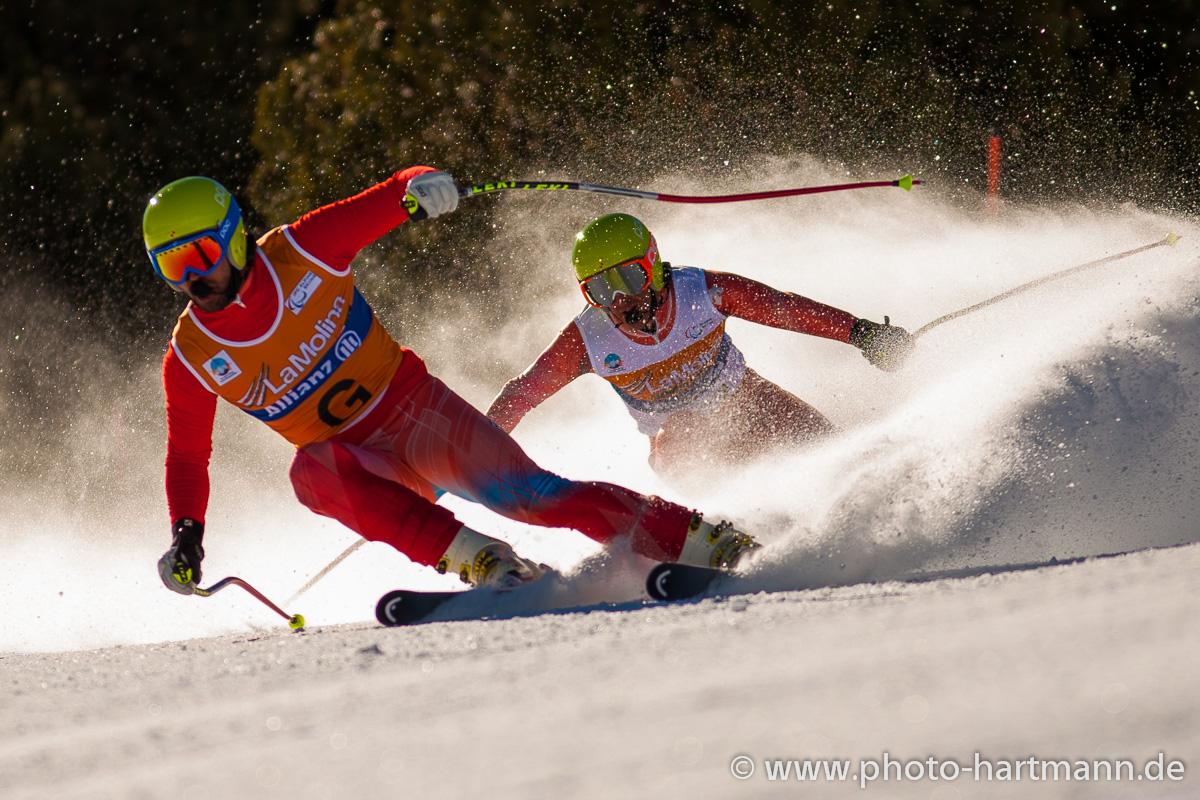 Ⓒwww.photo-hartmann.de
By Jake Duhaime | For the IPC
"The recuperation time is a bit tight, however I have a great medical team and all together, we will try and make it quicker"
Spanish slalom, super-G and downhil world champion, Jon Santacana, has revealed his recovery plans after sustaining an injury in the early part of the 2013-14 season, just months before the Sochi 2014 Paralympic Winter Games.
During a training run in September's IPC Alpine Skiing World Cup in Australia, Santacana tore his Achilles tendon, sidelining one of the world's top visually impaired skiers until at least February.
"I felt like I had been hit by a stone or a kick," Santacana said. "I wasn't yet aware that it wasn't a simple hit, but that I was truly injured."
The visually impaired skiier has also revealed that it was a 'miracle' that he was able to compete at the 2006 Paralympic Winter Games in Torino after breaking his tibia and fibula two months before the event, an injury with similarly bad timing.
After meeting with team doctors in the resort town of Thredbo, Santacana was put on a plane and sent home for surgery. Once a favourite for multiple medals at the 2014 Paralympic Winter Games in Sochi, the defending Paralympic downhill champion just hopes to compete - like he did in Torino.
"I was in shock since I couldn't believe that the same nightmare was happening again," Santacana said. "Everything did go well with the surgery. The doctors are happy and very optimistic."
The road to recovery (and the 2014 Paralympic Winter Games) started with 22 stitches on Santacana's leg. He'd like to avoid any long term repercussions, something that plagued him from a rushed timetable eight years ago.
"I suffered pains for four years, every time I trained or competed. The pain didn't disappear until 2010," Santacana said. "So this time, I want to get recovered as soon as possible, but I want to do it in a proper way, to avoid that pain again."
His coaches and teammates stand behind him and that plan.
"My expectations for Jon are hard work and patience," said his coach Jordi Carbonell. "He knows our team is working very hard for him in the best way. We are on the same page."
Doctors have told Santacana that the typical recovery time would take seven or eight months. The Sochi Paralympic Winter Games are less than six months away. If all goes smoothly, he hopes to be back on the mountain in February for the 2013-14 IPC Alpine Skiing World Cup finals in Tarvisio, Italy.
"The recuperation time is a bit tight, however I have a great medical team and all together, we will try and make it quicker," Santacana said. "In any case, we have to accomplish completely each recuperation step/phase before going on to the next one.
Should there be no setbacks, Santacana, who has recently been named as One to Watch by the International Paralympic Committee (IPC) for Sochi, would become a four-time Paralympic Winter Games participant at age 33. Though his season was placed in jeopardy, the motivation to add more hardware to a collection that includes six Paralympic medals is still very strong.
"In the meanwhile, I will do all my best to make my dream come true and compete at the 2014 Sochi Paralympic Games" he said.