IPC expands family by welcoming new members
NPCs of Kiribati, Maldives and Paraguay ratified as new members, while Malta returns, following first day of General Assembly
26 Oct 2019
Imagen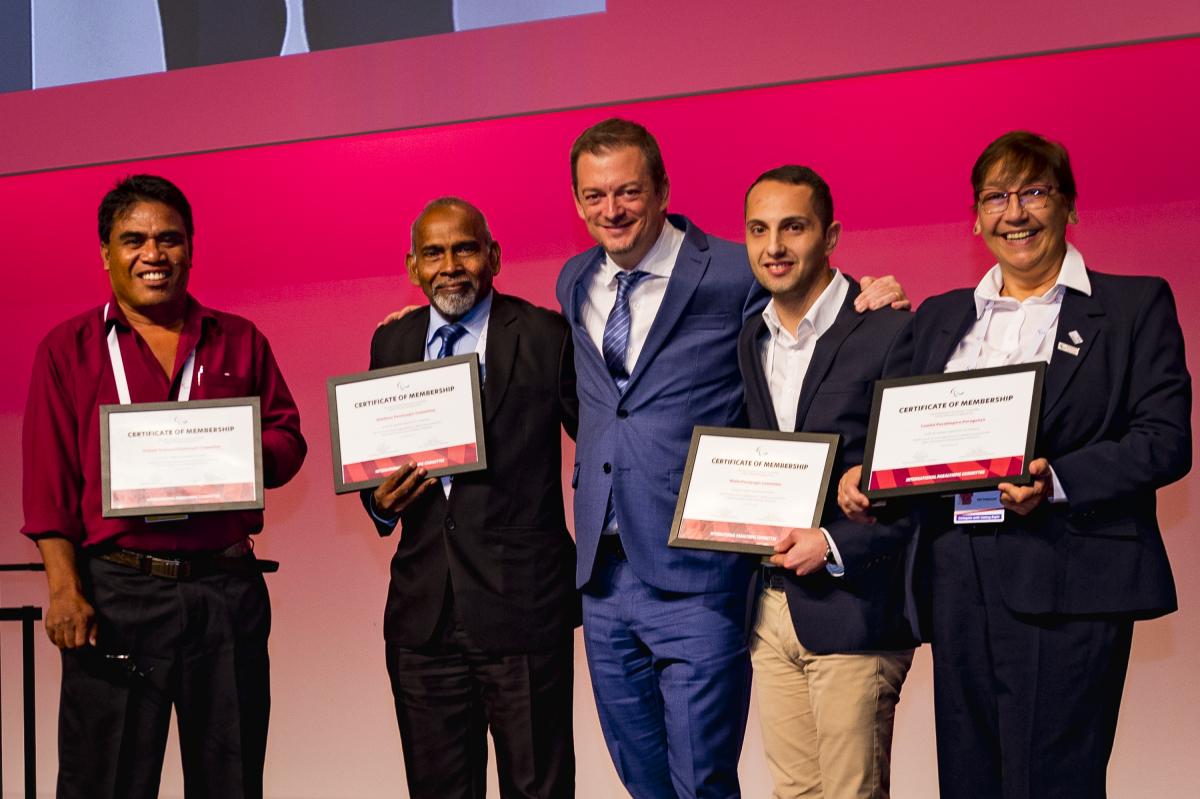 ⒸRalf Kuckuck / IPC
By IPC
The International Paralympic Committee (IPC) welcomed four National Paralympic Committees (NPCs) into its family at the 2019 IPC General Assembly in Bonn, Germany, on Saturday (26 October).
The NPCs of Kiribati, Maldives, Malta and Paraguay were officially ratified on the first day of the General Assembly, bringing the IPC's membership to 205 (182 NPCs). 
Kiribati becomes the ninth member nation from the Oceania region; Maldives is the 44th NPC from Asia; Malta the 48th from the European region; and Paraguay marks the 33rd from the Americas. 
"It is an exciting and very enjoyable moment to our NPC and also to our country, Kiribati as a whole as this recognition by IPC will not only allow us to be recognised internationally but also will open the bright future for our Para athletes," said NPC Kiribati President Tekoaua Tamaroa. 
"NPC Kiribati will work closely with both [Oceania Paralympic Committee] and IPC in trying to maximise our support to all Para sports and Para athletes in our country," Tamaroa continued. 
"Our KNPC will ensure to take this mission forward by working also with other partners internally and externally, and even our government to fully support the Paralympic Movement nationally and internationally.
"I want to take this opportunity to thank firstly the IPC authority in getting this membership finally approved. I also would like to extend our gratitude to the OPC President in his effort to support us through the Oceania region and also through the support from other partners."
Ibrahim Ismail Ali, President of NPC Maldives, said: "It is in fact a dream come true. It gives our athletes and people with a disability the opportunity to compete in sports and show their courage and talent.
"We have a huge task ahead of us," Ali continued. "We need to educate, train and produce athletes and support our members.
"Our NPC will work hard to fulfil our objectives through the following: Conducting awareness programmes through education; developing coaches; training athletes; strengthening management of our members; and organising and participating in competitions locally and internationally."
Julian Baiada, NPC Malta President, commented: "Without a doubt, membership with the IPC will unlock a world of opportunities for Para sport and Para athletes in Malta, from participation in international competitions, to access to expertise and resources for the benefit of our athletes.
"The over-arching objective is to shape the foundations for the long-term sustainable development of Paralympic sport by building up suitable and adequate resources and support. Our driving mantra is to ensure that the work we do in the short-term will have a long-lasting impact and serves as both a learning curve and a model for more ambitious projects.
"As the IPC celebrates its 30th anniversary, we look towards the future guided by the values of the Paralympic Movement - ambition, courage, and determination."
For Higinia Giosa, NPC Paraguay President, being recognised as a full member by the IPC is an honour, privilege and a challenge.
"Moving forward, we are full of energy and hope. We want to continue growing. It is not an easy task, but we do it wholeheartedly," said Giosa, who looks forward to bringing more experiences like that of August's IPCbig event to her country. 
"The Lima 2019 Parapan American Games were our first international competition with three Para athletes. We are so proud to be part of the Paralympic Movement."