Nathan Torquato tops teenage invasion
Brazilian among new wave of rising Para taekwondo stars
21 Feb 2019
Imagen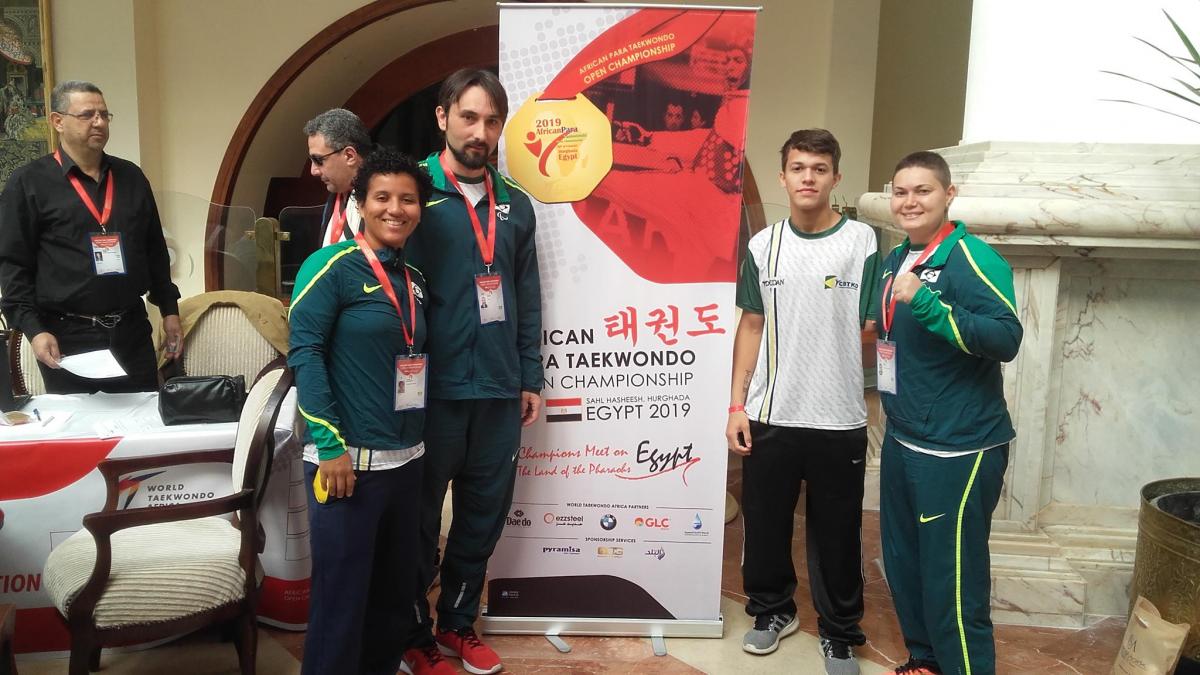 ⒸNathan Torquato
By Lee Reaney | For the IPC
Brazil's Nathan Torquato picked up his first international title at the African Open Championships in Hurghada, Egypt, completing a wild February that saw Para taekwondo teenagers shine.
The 17-year-old's win comes just weeks after 16-year-old Mexican Juan Diego Garcia Lopez became the first world champion from the Americas.
Torquato clawed past some of the sport's top fighters in the men's up to 61 kg K44, besting Turkey's world No. 2 Mahmut Bozteke, Russia's* No. 3 Daniil Sidorov, and Spain's former world champion Aythami Santana Santa by five combined points to win the title.
Perhaps the biggest surprise came from hometown teen Salma Ali Abd Al Moneem Hassan. The 15-year-old knocked off USA's No. 2 Brianna Salinaro on her way to a surprise silver medal in the women's up to 58kg K44; it was her first international competition.
Turkish teen star Meryem Betul Cavdar got back on track after a disappointing Worlds. The 18-year-old No. 2 topped the women's up to 49 kg K44.
Her 23-year-old teammate Gamze Gurdal won gold in the women's up to 58 kg K44, while 21-year-old Mahmut Bozteke bested 17-year-old friend and rival Ali Can Ozcan in the men's up to 61 kg K44 semi-finals before falling to Torquato.
Champions in form
Bopha Kong added a 2019 African crown to his world title from earlier this month. The French fighter has now won seven straight tournaments in the men's up to 61 kg K43.
Ukraine's Vika Marchuk also has dominated her division in the women's up to 49 kg K43. The six-time world champion added her first African crown to her collection with a 39-0 demolition over Serbia's Danijela Jovanovic.
Great Britain's Amy Truesdale got back on track in Egypt, topping Azerbaijan's Aynur Mammadova in a tight over 58 kg K44 final. After a shock quarter final exit at the 2019 Worlds, she made a statement with a convincing win over Brazil's 2019 world champion Debora Menezes in the semi-finals.
Ataev emerges
Russia's Zainutdin Ataev is attempting to bring some stability to the wild men's over 75 kg K44.
Ataev ended a run of eight major international tournaments with a different winner in the division by adding 2019 African Open gold to his 2018 European title. He nearly added his first world title earlier in the month before falling in a close finale to Great Britain's Matt Bush.
Alongside Ataev and Bush, other recent winners include Croatia's Ivan Mikulic, Iran's Hamed Haghshenas, the USA's Evan Medell, Iran's Asghar Aziziaghdam and Russia's* Aliskhab Ramazanov.
*Editor's note: The International Paralympic Committee suspended the Russian Paralympic Committee on 7 August 2016 for its inability to fulfil its IPC membership responsibilities and obligations, in particular its obligation to comply with the IPC Anti-Doping Code and the World Anti-Doping Code (to which it is also a signatory). As a result of the suspension, Russian athletes cannot enter IPC sanctioned events or competitions, including the Paralympic Games