PyeongChang 2018: What's next in Para ice hockey?
Top storylines to keep an eye on following the Paralympic Winter Games
26 Mar 2018
Imagen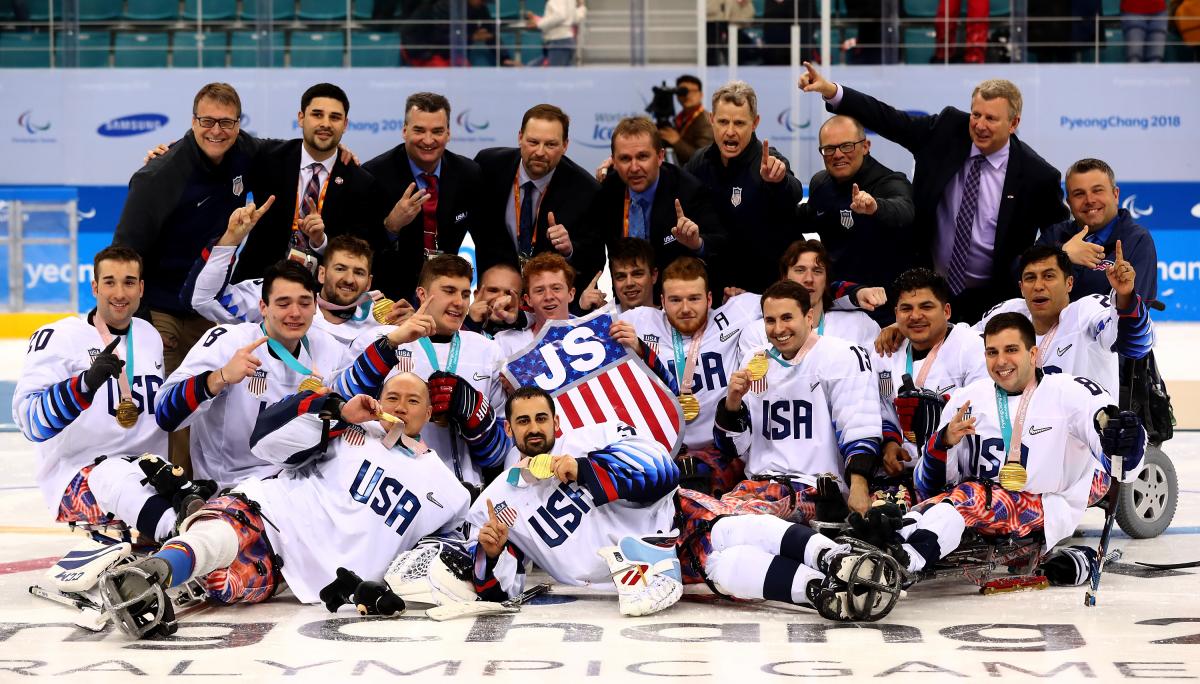 ⒸGetty Images
By Stuart Lieberman | For the IPC
The medals have been awarded, the locker rooms cleared out and athletes' village vacated. So what is next for Para ice hockey's top teams after an historic PyeongChang 2018 Paralympic Winter Games?
The World Para Ice Hockey Championships are on the horizon next year across all tiers — A-Pool, B-Pool and C-Pool — but first, let us explore some of the more immediate questions Para ice hockey fans may have following these Games.
How is the USA celebrating its historic three-peat?
Across America, the NHL's teams have been inviting USA's players to stadiums to honour them with pre-game ceremonial puck drops in front of tens of thousands of fans. The St. Louis Blues honoured Steve Cash, Josh Pauls and Billy Hanning; the New York Rangers welcomed Luke McDermott and Jack Wallace to Madison Square Garden to drop the puck; and the Buffalo Sabres had McDermott and Adam Page in their building.
Several other US players have been making appearances in their childhood schools, including Josh Misiewicz. Seven years after losing his legs while serving in the US Marines in Afghanistan, and just five days after winning Paralympic gold, he returned to his first-grade classroom outside Chicago to share his story with students.
Between appearances, the media coverage for the US squad has soared, and their gold medal victory was the finale of NBC's post-Games highlights show.
Can Canada bounce back?
Despite having to settle for silver, Canada definitely made a statement that it can keep up with any team in the world, not allowing a single goal all tournament until the gold medal game. Even Canadian Prime Minister Justin Trudeau took notice, tweeting about the team.
Arguably no team will come back stronger over the next Paralympic cycle, believing it has everything to prove.
Five-time Paralympian Billy Bridges has repeated his outlook often over the past week: "I don't think there's much motivation needed moving forward for us than coming just a minute short of winning gold at the Paralympics."
South Korea invested everything in PyeongChang 2018. Now what?
For nearly a decade, South Korea had been building up to its historic bronze medal finish at the Paralympics. The programme built itself for the PyeongChang 2018 Games. Immediately after collecting himself following his bronze medal-winning goal, without hesitation, Dong-Shing Jang was eager to talk about the next steps for the programme.
"I think we inspired people at these Paralympic Games, which is a really good thing, and think we inspired the next generation of South Koreans to take an interest in Para ice hockey and maybe even take up the sport," he said. "I'm very excited about it, as I now want to be someone who can help teach the next generation how to play the sport the next few years, while also preparing myself to compete at the next Paralympics in Beijing."
After exceeding expectations, how can Sweden and Italy turn into regular podium contenders?
Italy's fourth-place finish was its best finish at a Paralympics, while Sweden's seventh place was its best finish since 2006. Both teams return to Europe with a similar mindset.
Sweden's Maximillian Gyllsten, a former able-bodied ice hockey player, said: "We need to find more young players in Sweden who want to make something of themselves and really go for something with this program."
Italy's Andrea Macri, also the World Para Ice Hockey Athlete Liaison, said: "Half of our team is more than 40 years old, so for a lot of them this might have been the last Paralympic Games. We have to move forward from here by recruiting new, young players."
Will some of the sport's stalwarts retire or stay on for Beijing 2022?
US goaltender and four-time Paralympic medallist Steve Cash said: "I'm taking it day by day. It's a question I get quite often. I'm just living in the moment right now and it's still a dream for me. Whether or not I go again, though, I think the US is going to be in good hands."
Nine-time Norwegian Paralympian Rolf Einar Pedersen said: "I'm not quite sure. I have to do some evaluating and talk to my coaches and family because it's an enormous decision to make. We'll have to see how much more my old body can take."
Canadian captain Greg Westlake said: "That's a great question. What's next for me is going to the beaches of Mexico and seeing what happens out there. Nah, I'm just messing with you. I love that group of guys. I had a lot of fun these last four years playing and those guys are brothers to me, but I don't know yet."
The official site of PyeongChang 2018 can be found here.