Roundy sets new goals for new snowboard season
In a season that will feature a World Championships, the USA's Nicole Roundy is fully recovered from an injury that blighted her 2015-16 season.
08 Nov 2016
Imagen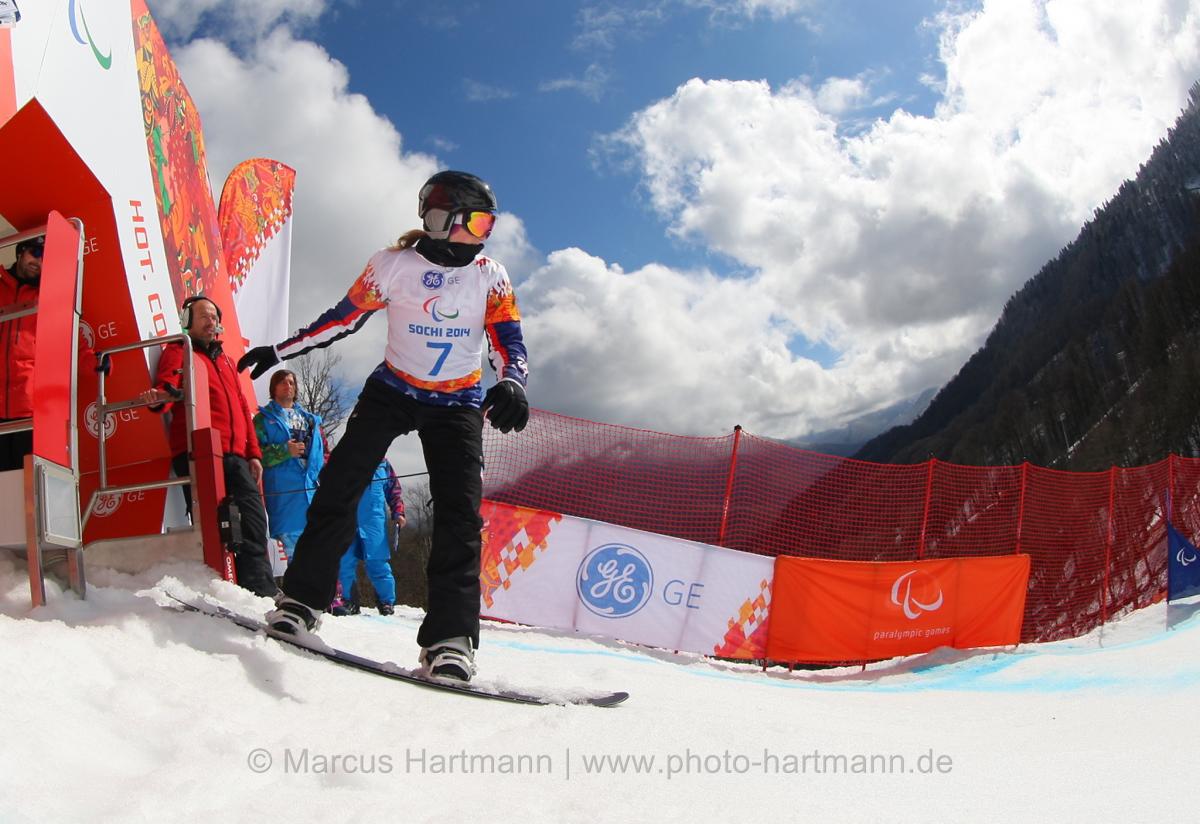 Ⓒwww.photo-hartmann.de
By Giuseppe Di Florio | For the IPC
The USA's 2015-16 women's snowboard-cross SB-LL1 World Cup winner Nicole Roundy has spoken of her new goals for the coming season which will feature the 2017 World Para Snowboard Championships.
Roundy competed most of last season with a tear in her meniscus. Despite that, she showed her grit and determination to win the snowboard-cross World Cup and finish second in the banked slalom. She also finished second in the overall women's SB-LL1 World Cup rankings, just missing out to France's Cecile Hernandez-Cervellon.
After undergoing surgery in May to fix the injury, Roundy spent the summer recovering and strengthening her left knee. She is confident that her meniscus is better than before, and she is now spending some time on the snow before the IPC Snowboard World Cup kicks off in Landgraaf, the Netherlands, from 17-18 November.
"Landgraaf is not a strong event for me," Roundy said. "It's a place where I set goals for the season and get an idea of how I want the season to go. I have some personal goals I'll be working on, and I hope that as I make improvements in my riding that will show in competition by improving my personal time, and also helping me riding stronger through the entire course."
Roundy has been working hard with her physical therapists and her trainer to make sure her body is ready for the challenges of the season.
She is training at home in Salt Lake City, Utah, and hopes to continue to build on her performances from last season, as well as working on being more dynamic.
"My prosthetic tends to work against me with a lot of the features in boarder-cross so being dynamic takes a lot of energy and effort. That's where being strong and maintaining my strength through the season will be most helpful," she said.
The US snowboarder is also a motivational speaker. That takes a lot of time and work but is very rewarding for the 30-year-old.
However, being a snowboarder has always been Roundy's priority:
"At the end of the day, I am an athlete first. My training and my sport are my first priority and speaking comes after that," she said. "I try to book most of my speeches in the spring and fall which leaves time for me to focus on the season, and summers to focus on cross-training."
Being a snowboarder has given Roundy a lot of enjoyment but in most cases, when asked about her proudest moments, the US athlete refers to those less tangible.
"Paving the way for above-knee amputees to compete in a sport dominated by below-knee amputees was a big win! Going to Sochi was a big win. Taking the all-around title [in snowboard-cross] was a big win.
"My biggest achievement is more personal than that. It was learning to accept my character flaws, learning to love myself, letting go of the things I can't control and allowing my life to carve its own path," she said.
__
Around 80 Para athletes from 25 countries will travel to Big White, Canada, for the 2017 Worlds to compete in both snowboard-cross and banked slalom events in men's and women's SB-UL, SB-LL1 and SB-LL2 classifications between 1-8 February.