Sebastian Magenheim attributes his life's success to sports
'Don't underestimate the value of time. If you want to reinvent yourself, use a lot of time. Don't listen to the naysayers'
01 Feb 2022
Imagen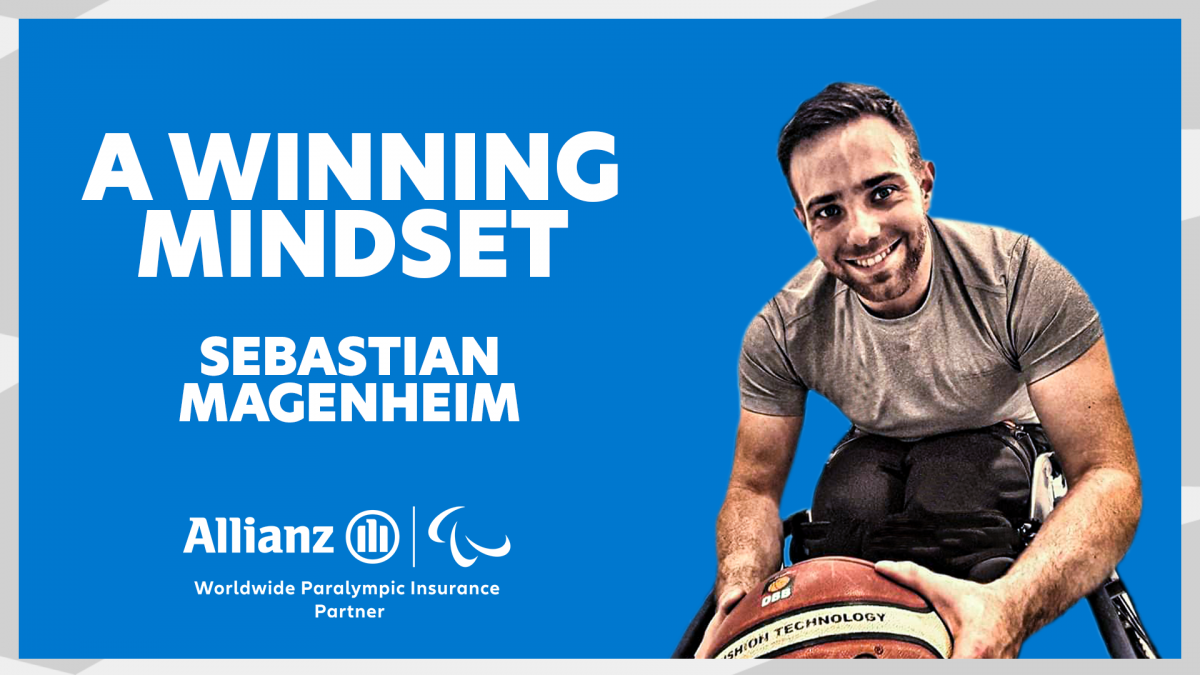 By IPC
In a world where people often give up, there are few willing to reinvent the wheel. Paralympian and former Wheelchair Basketball player Sebastian Magenheim is one of them. Born and raised in Munich, Germany he has lived with spina bifida (a condition that affects the spine) but it does not define him.
In the International Paralympic Committee and Worldwide Paralympic Insurance Partner Allianz's podcast 'A Winning Mindset – season 2', Magenheim reveals how fortunate he is to be raised in a region where the knowledge on his condition is more than other places.
"Nevertheless, it was not easy because, society always is judging you. Sometimes openly, sometimes, under the surface and therefore there were a lot of challenges and there still are," Magenheim explained to series presenter Andy Stevenson.
"I have to fight through and, and prove myself, even when I haven't done anything wrong because people just think that I cannot do several things."
GROWING UP WITH GOOD FRIENDS
When he was born, his parents were in their late 20s. Magenheim cannot imagine how his young mother felt when she was told by the doctor that her new-born son will never be able to walk or have an independent life and will need constant assistance. His mother decided to see for herself what her son could and couldn't do. He made the most of his limitations with the support of a loving family.
"My mother is a strong woman and she never accepted that something is not working. She said, 'Okay maybe it's working differently, we have to find a way, and this will take us more time and more power, more energy, but it's worth it." His father also played a very encouraging role, but it was his mother that was more the visionary.
In an episode focused on the importance of finding your purpose in life, Magenheim revealed he was introduced to Wheelchair Basketball through a friend who played the sport. He admits that he first had a bias about the game, but he was only 10 at that time.
"My friend said something to me that really inspired me. He said, 'Before you judge the game have a look.' I joined him for one game and the rest is history. I fell in love with it. I liked that the wheelchair was an extension of my body. It was not a limitation for me. It just showed me how I can move and use my body and my mind at the same time to play the lovely game of basketball."
Looking back on that moment makes him grateful. "I'm thankful to my friend Nikki who introduced me to basketball. We aren't in touch every day but if you are reading this, thank you Nikki."
It is phenomenal to think that one person can change someone's life. Magenheim went on to compete in London 2012 and was a part of the German squad at the Rio 2016 Paralympic Games.
IMMENSE SUPPORT
Discussing his former teammate Benny Ryklin he says, "With Benny, I really shared a lot of moments on the basketball court. I remember when I joined the first division team in Munich, he was the guy who always challenged me saying 'You're leaving the gym early. Why don't you stay longer? You can do some free throws, you're really struggling at the free throw line.' And for the first couple of weeks, I really tried to avoid him."
Magenheim soon realised Ryklin's strategy. "He really motivated me. I started to stay longer. In the end I trained more than he did! Later he became my coach in Munich, which was for the club team, the Iguana and I gained a different perspective. We have had a long friendship over the years as teammates and now I had to follow his instructions.
"He had my complete respect as I believe he is a really good basketball player and a good communicator. He has now moved to the next stage as the manager of the local club in Munich and I'm the head coach of the team. I don't think I could have come this far without him."
In Ryklin's eyes, Magenheim is a true sportsman.  He says, "I believe that sports teaches you the best lessons to have a successful life in your workplace, because it's really like a mirror. If you have to handle a group of people, you have to be part of it. You have to get the strengths and the weaknesses out of the people and put people in the right positions to do their best and also try to work on their potential."
As his career in sport took off, Magenheim reflected about what he would do later. He is now Assistant Vice President Communications Specialist for Allianz Global. The shift to a corporate environment has not been easy.
"Everyone doesn't necessarily know who I am in the office yet so I'm a bit of a 'rookie'" he says.
Of course, he is always looking out for his team-mates. It is his sporting background that helps him make a breakthrough on many occasions. He believes that firms should adopt a system where they hire people with disabilities. This is the only way equal opportunities can be given to all.
To youngsters his advice is simple, "Don't underestimate the value of time. If you want to reinvent yourself, use a lot of time. Don't listen to the naysayers."
A Winning Mindset is a multiple award-winning podcast. To listen to Series One and Two, find it on: https://podfollow.com/a-winning-mindset
Allianz is a long-standing partner of the International Paralympic Committee. Together, we bring you this series of podcasts. We will introduce you to stories with Paralympians that will spark confidence in your everyday life. Stories of challenges, ups and downs, determination, and excellence. Stories that demonstrate the true power of having the right team behind you. And prepare you for what's ahead. 
The Paralympic podcast series is presented by British broadcaster Andy Stevenson, who has reported on the Paralympic Games since 2012 for BBC and Channel 4. Featured athletes include Tatyana McFadden, Millie Knight and Marcel Hug. Make sure you subscribe to hear upcoming episodes!