Stirling 2019: Polina Rozkova ready for history
Latvian skip set to lead team into Worlds debut
28 Feb 2019
Imagen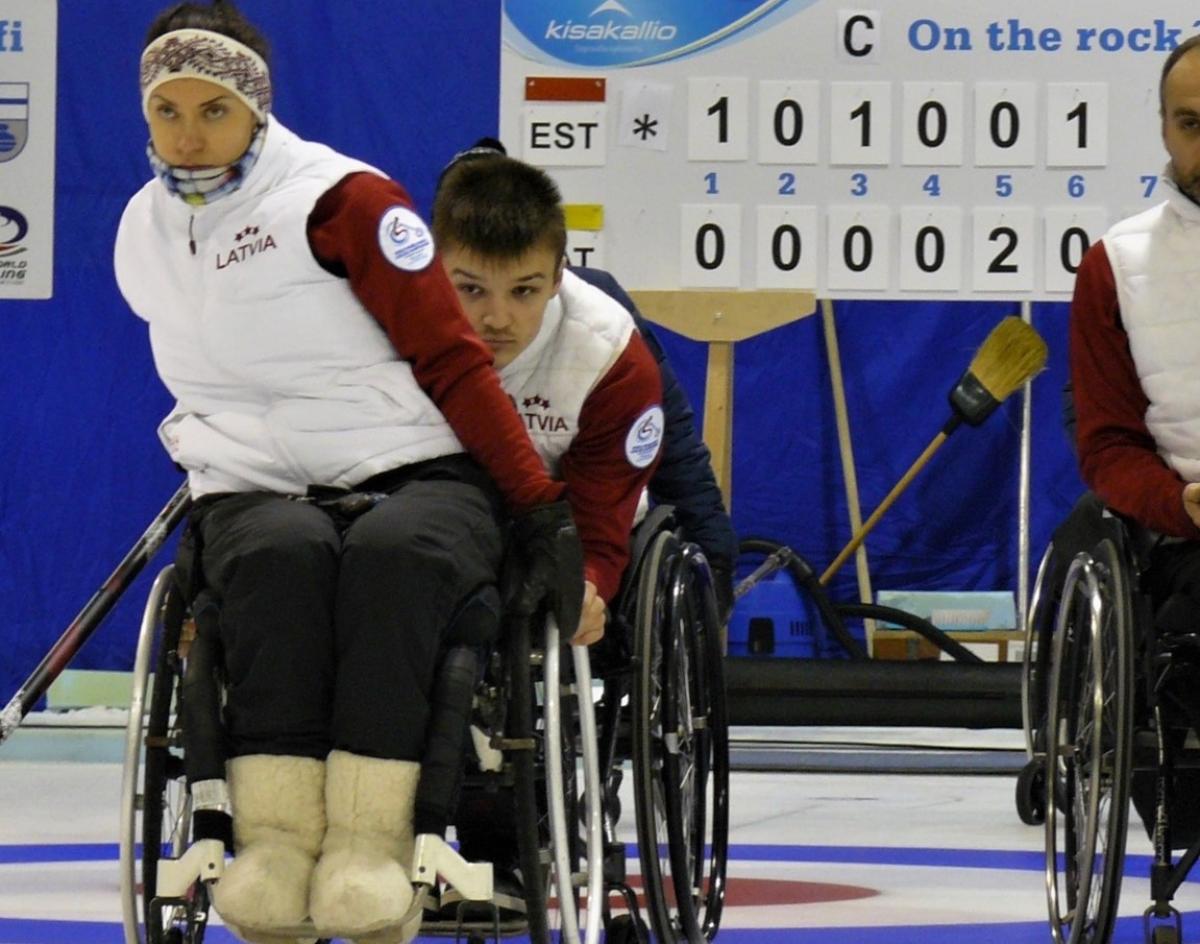 ⒸWorld Curling
By Connor Craig-Jackson and the IPC
"What's important for us is to enjoy our curling and just to stay together as one team. I don't want to just look at this sport as a hobby, but when you're not salaried then maybe it is!"
Injuries, lack of funding and outside commitments have not stopped Polina Rozkova from helping Latvia make history at the World Wheelchair Curling Championship that begins on Sunday in Stirling, Great Britain.
Outside the sport, Rozkova works full-time as an accountant, takes a dress design course at a university and travels two hours to her rehabilitation centre. Wheelchair curling is an escape from the hectic life, which keeps the team skip motivated.
"What's important for us is to enjoy our curling and just to stay together as one team," she said. "I don't want to just look at this sport as a hobby, but when you're not salaried then maybe it is!"
Rollercoaster journey
Rozkova has experienced ups and downs with the team. In 2015 they were just one win away from World Championship qualification after narrowly losing to Germany.
"People might think that it was a hard result to take," said Rozkova. "But actually no it wasn't because Germany's winning shot by Jens was really amazing so it was a very special moment. I also knew how hard their team had worked to get to that point so at the time I was just really happy for them."
Latvia finally got their moment three years later in 2018, with Rozkova herself making the decisive move to earn a tense and narrow 6-5 victory over Finland at the World Championship B-Pool.
It was the perfect end to an unforgettable competition, considering how much she had improved in the sport.
"It was a hard game for me," Rozkova said. "I almost can't explain it because I made a few mistakes and I can't be so satisfied with myself because I knew I could do better.
"But the team always tried to help me because when you're in the role of skip for the first time you think 'Oh my god, I'm stressed, I don't know what to do!' But then the rest of the team always helped me so it was nice."
10 years later…
Recently Rozkova celebrated the tenth anniversary of the day that changed her life.
On 15 February 2009, she fell from a springboard with her snowboard and broke her back.
"I celebrate it always, because the situation could have been worse, I could have had a worse injury or even be dead," she said.
Rozkova considers herself to have a strong personality, which helped her through the rehab.
She lived close to a curling hall and simply wanted to get out and do something instead of working and rehab. She curled for one year, before taking up wheelchair fencing. She only returned to the winter sport in 2017.
The ice is where she finds her peace.
"Now I enjoy [the] team spirit," she said. "I really love guys with who I play. I can even say that I play curling because of my guys."