Top results for British riders at Para-Dressage Euros
Great Britain was once again the main winner on the final day of the JYSK FEI European Para-Dressage Championships in Herning, Denmark yesterday.
27 Aug 2013
Imagen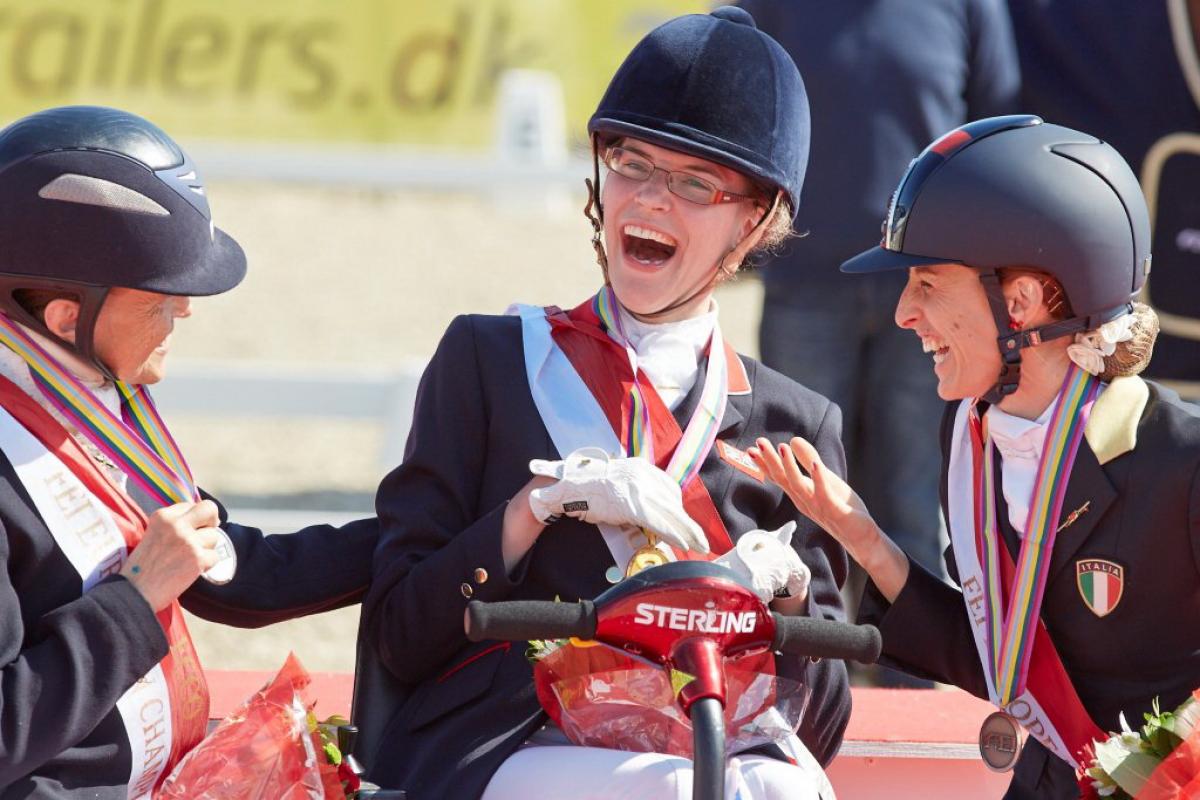 ⒸLiz Gregg/FEI
By Rob Howell | For the IPC
"This has been another step on in the evolution of Para-Dressage."
British riders took three gold and two silver medals across the five grades in the individual freestyle competition.
Natasha Baker, double London 2012 gold medallist and individual champion yesterday, started the winning streak, scoring an impressive 77.650% for a convincing victory in the Grade II Freestyle with Cabral. Germany took silver and bronze as they did in the individual, with Angelika Trabert winning silver on Ariva Avanti (74.200%), and Britta Näpel on Aquilina 3 taking bronze with 73.250%.
Next in the arena were the Grade Ib riders and, true to form, Austria's London 2012 gold medallist and European individual champion Pepo Puch was in dominant form. He rode Fine Feeling S to score 79.200% to win his first European Freestyle title. Great Britain's Ricky Balshaw once again took silver on LJT Enggaards Solitaire with a career best of 76.800%, while Denmark's Stinna Tange Kaastrup was a third-time bronze medallist on Steffi Graf, with 71.250%.
Britain's dominance continued in Grade Ia. In a close-fought competition Sophie Christiansen claimed her third gold of the week riding Janeiro 6 to a winning score of 78.100%. Team mate Anne Dunham and LJT Lucas Normark took the silver with 77.350%, while the popular Italian combination of Sara Morganti and Royal Delight took the bronze with 76.100%.
The first three Freestyle results mirrored those of the individual tests, but the Grade III Freestyle reversed that trend. The Netherlands' 2011 European bronze medallist Sanne Voets, runner-up in yesterday's individual, took gold on Vedet PB with a score of 76.500%, while individual winner and current World and Paralympic champion Hannelore Brenner and Women of the World took silver for Germany with 75.700%. France's José Letartre repeated his individual bronze on Warina with 72.850%.
The final event of the day, Grade IV, saw Great Britain's Sophie Wells once again in tremendous form. Riding Valerius, the London 2012 double individual silver and team gold medallist and reigning double World and multiple European gold medallist scooped gold with a commanding score of 80.250%, the first rider of the week to break the 80% mark. The Netherlands' Frank Hosmar and Alphaville took silver with 76.900%, his country's second medal of the day. Denmark's Line Thorning Jørgensen and Di Caprio took bronze, their first medal and the host nation's fifth medal of the championships with a score of 72.950%.
After her win, Britain's Natasha Baker said: "I can't believe it I really can't. I thought on Thursday that I'd be stone last. I really did not expect it at all. He's just got better each day but he's still not got as good as I know he can be, which is a little bit frustrating for me. He's just an amazing horse and I know that there's so much in there, but I haven't been able to show it off. Hopefully I'll get the opportunity next year in WEG (FEI World Equestrian Games) to do that. It's been an amazing week in the office. My first triple gold! Lots and lots of bling."
She also took to Twittter to comment: "I have the BEST horse in the world. Another Freestyle gold. Such a superstar!!! What a competition."
Austria's Pepo Puch was equally pleased with his commanding performance. "I'm really happy," he said. "The mare really likes the music and does the rhythm very well." He performed to a medley of Johann Strauss tunes, including the famous Radetzky March. "We are from Vienna, so it is something from home. It is music that I hold close and which means something to me emotionally."
Britain's Sophie Christiansen took the gold from team mate Anne Dunham by less than one percentage point. "That was close," she said. "I thought she might just do it because that looked like a really good test. At the end of the day I did the best that I could, and may the best rider win. I've got the best horse and I'm just so glad I can show him off to the world."
On whether or not she may need to get a new cabinet to house her growing collection of medals, she joked: "I think there's going to be an IKEA trip when I get home. It was very close but I'm really glad I could get my titles back again."
The rivalry between Christiansen and Dunham (who has competed at 11 out of 13 FEI World Equestrian Games, European championships and Paralympic Games) is one that Christiansen feels helps keep both of them at their best.
"When I started as a little 13- year-old Anne was at my first RDA (Riding for the Disabled Association) national competition. Back then I didn't really know who she was and when I competed with her I was a good five or ten per cent behind. She clocked me at a young age and ever since it's been back and forth between us every year. She'll win, then I'll win, then she'll win so both of us to keep on pushing. To have that in the same country is really good."
The Netherlands' Sanne Voets gave a scream of delight when she saw she had won and tears of joy streamed down her face. "I could feel that I would make it today," she said. "I went to bed early last night, slept very well and did not wake up before the alarm rang. Then I braided his mane and from that moment on I felt like today is the day and it was going to be everything or nothing – and it became everything!
There was emotion in Sophie Wells' voice too, as she said of her win: "It feels amazing. I'm just so proud of him. We went into the 10-minute box and the speakers were so close that he did feel like he was going to be a little hot. But we went round the outside and when I reassured him he took a breath and concentrated. It's only his second championship so it's quite a big thing for him and it's a big atmosphere, but he listened to me all through the test and produced some of his best work. I was able to take some risks and he was in the right place to do that and it paid off.
"I'm absolutely thrilled for him. In the walk over I started crying and I'm not a crying person. I just really proud of him."
So the Championships came to an end with Great Britain snatching seven of the 11 gold medals up for grabs, as well as four silvers. But it wasn't just about Team GB. Anyone who saw Pepo Puch could be left in no doubt about his supremacy in the Grade Ib, although Ricky Balshaw's emergence back on to the scene may give the Austrian something to think about.
There were strong performances too from the German riders, with a number of silver medals and one gold, while the smiling face of Denmark's Chef d'Equipe Lis Lihme showed how happy she was with her team's five bronze medals, including two individual and a team medal for Stinna Tange Kaastrup.
Summing up the competition Amanda Bond, Deputy Chair of the FEI's Para-Dressage Committee said: "This has been another step on in the evolution of para-dressage. Last year's Paralympic Games was phenomenal in terms of public perception of the sport and interest in it. We've been integrated once before at WEG in Kentucky in 2010, but there we were a little bit out on the side in an arena by ourselves.
"Here we're right in the centre of everything and it has tested the sport, the riders, horses and support teams. Even in the course of the week, however, they have grown into that. The horses are more settled and people have been able to deal with the hullaballoo a little bit more. It's another step on the journey for me as far as the sport is concerned."
Freestyle Medals - JYSK FEI European Para-Dressage Championships
Grade 1a Freestyle
Gold: Sophie Christiansen (GBR)/Janeiro 6 78.100%
Silver: Anne Dunham (GBR)/LJT Lucas Normank 77.350%
Bronze: Sara Morganti (ITA)/Royal Delight 76.100%
Grade Ib Freestyle
Gold: Pepo Puch (AUT)/Fine Feeling S 79.200%
Silver: Ricky Balshaw (GBR)/LJT Enggaards Solitaire 76.800%
Bronze: Stinna Tange Kaastrup (DEN)/Steffi Graf 71.250%
Grade II Freestyle
Gold: Natasha Baker (GBR)/Cabral 77.650%
Silver: Dr. Angelika Trabert (GER)/Ariva Avanti 74.200%
Bronze: Britta Näpel (GER)/Aquilina 3 73.250%
Grade III Freestyle
Gold: Sanne Voets (NED)/Vedet Pb 76.500%
Silver: Hannelore Brenner (GER) Women of the World 75.700%
Bronze: José Letartre (FRA)/Warina 72.850%
Grade IV Freestyle
Gold: Sophie Wells (GBR)/Valerius 80.250%
Silver: Frank Hosmar (NED)/Alphaville 76.900%
Bronze: Line Thorning Jørgensen (DEN)/di Caprio 72.950%
Click on the event page to get all the results and visit FEI TV to watch interviews with the riders.