Winning is working for Mongolia's top fighter
Three-time world Para taekwondo champion collects more than just medals
03 Nov 2017
Imagen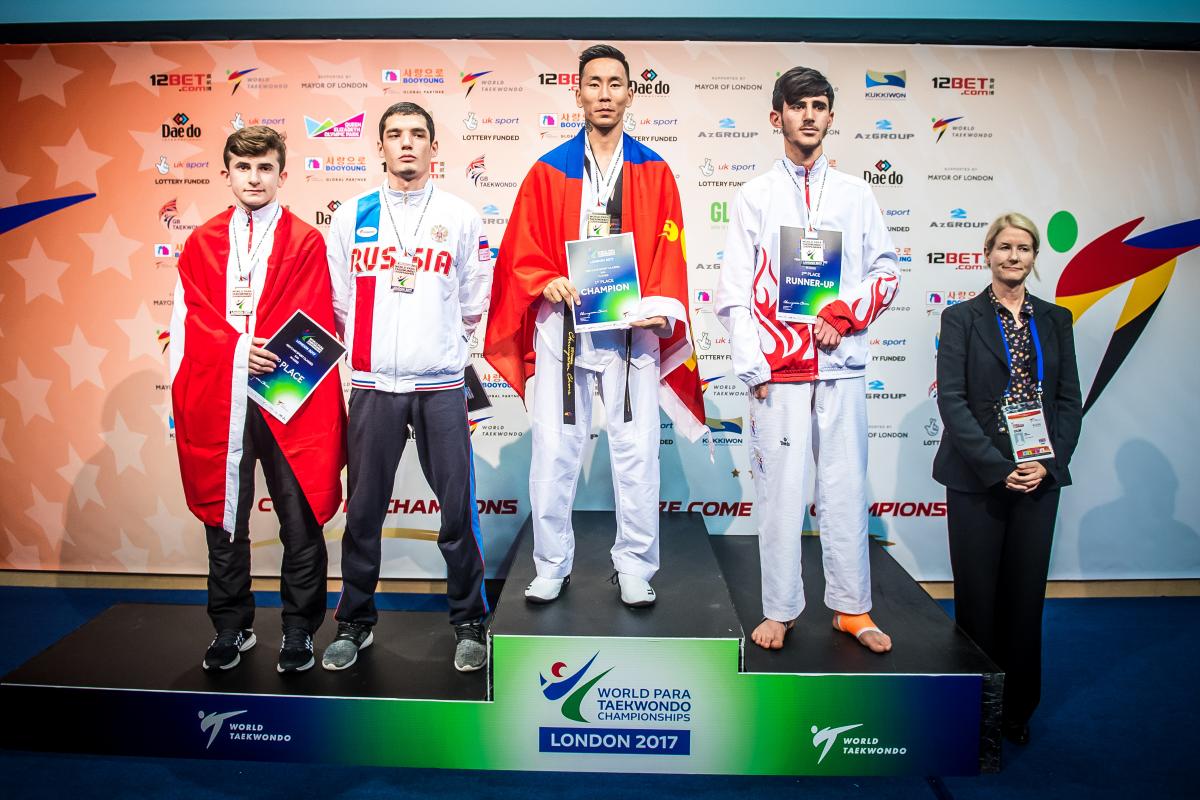 ⒸWorld Taekwondo
By Lee Reaney | For the IPC
"I accomplished my goal. I promised myself that I will only get the gold medal and I will be the best male athlete of the World Championships."
Many things can drive an athlete to endure the heavy training and personal sacrifices to become elite: fitness goals, personal growth, a competitive nature or even sporting glory. For Mongolia's Bolor-Erdene Ganbat, perhaps Para taekwondo's greatest athlete, it is something different – it is his job.
Thanks to a decades-old presidential decree, Mongolian Olympic and world champions are granted lifetime monthly salaries. Having won his first World Championship in 2014, then winning his third title recently at the 2017 edition in October, Ganbat makes his full-time living as a world class athlete. And it shows.
It has been a long time since the world No.1 and three-time Asian Open champion has lost a fight, but that does not stop his drive to win.
"Most of the best athletes are in our division [men's under 61kg K44]", he said. "Coach told me that to compete with the Russian athlete [No. 2 Ashkat Akmatov], I should remain very calm and get points by observing his weaknesses."
The advice worked. While he did not get the chance to face Akmatov, who was upset early at this year's World Championships, he bested Turkey's No. 7 Mahmut Bozteke for his third gold – without dropping a point.
"I accomplished my goal", he said. "I promised myself that I will only get the gold medal and I will be the best male athlete of the World Championships."
"Para taekwondo has improved my life"
The average salary in Mongolia is less than USD 350 a month. Mongolian Olympic and world champion athletes receive USD 1,000 a month or more – for life.
"Para taekwondo has improved my life," said Ganbat. "I will get USD 2,000 a month [for winning the] gold medal at the World Championships this time."
Besides allowing him to train full-time, the stable living wage and incredible winning streak allows him to concentrate on growing the sport in his country.
He that while there are not any Para taekwondo tournaments in Mongolia just yet, six Mongolian athletes competed at the recent World Championships and the government covered their travel expenses. He credits the government with creating a welcoming environment for Para athletes.
"Enkhtuvshinzaya [Oyunsuren] and I are one team and one family," Ganbat said. "The most difficult thing is to compete with a Mongolian athlete."
He credits his parents for his successes. "They always come to my training 20-30 minutes before in order to watch me train," he said. "They always promoted me and even lent me money to participate in my first World Championships."
And while he may view winning as his job, sporting glory is still a motivator for Ganbat. "I am excited to represent Mongolia for the first time at the 2020 Paralympics in Tokyo," he said. "And I'm excited to win the gold medal there too."