Stuart Lieberman: 100 storylines for Sochi 2014
With 100 days to go until the Sochi 2014 Paralympics, the IPC's Editorial Co-ordinator previews 100 storylines to look out for, starting with No. 100.
28 Nov 2013
Imagen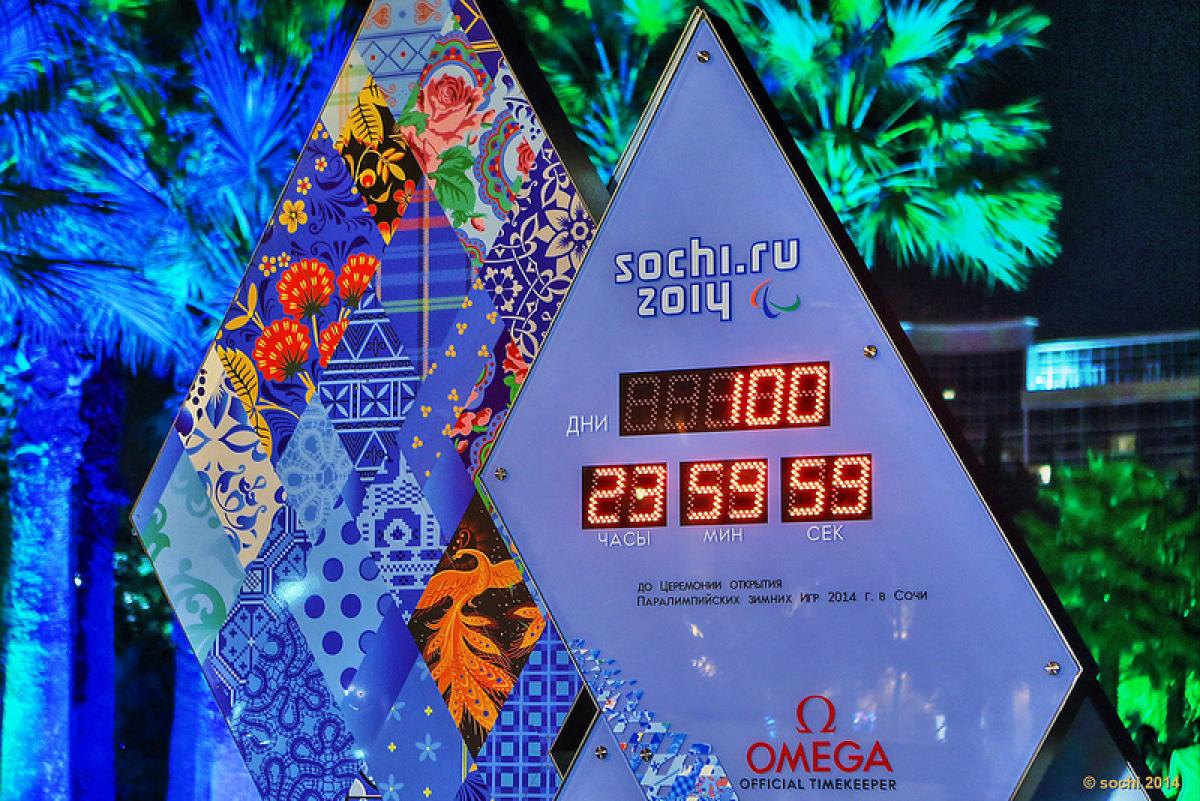 ⒸSochi 2014
By IPC
The IPC's website, Paralympic.org, will serve as the global hub of information, news, photos and videos for the upcoming Paralympic Winter Games and will be powered by its Worldwide Paralympic Partner, Atos.
100. China finished atop the London 2012 Paralympic medal count, but can they convert on the snow and ice? In particular, they're expected to challenge for a medal in wheelchair curling.
99. The wheelchair curling competition is the only winter sport to include mixed teams of men and women, and an extra day is set aside for preliminary round tiebreakers if necessary on 14 March.
98. Throughout the Paralympics, the IPC will conduct various research projects in areas such as medical, classification, sport counselling, marketing and branding, and development and public awareness.
97. Although Italian standing skier Melania Corradini has been battling on-and-off injuries, never count her out of the medals. She may be the best in the world in the women's super-G standing event – that is, if she remains healthy.
96. Several Czech ice sledge hockey players are being featured in a national campaign leading up to Sochi 2014, in which they represent their alter egos across media and billboards. Their alter egos have been tattooed on their arms prior to the Games.
95. Trent Milton, an abled-bodied snowboarder from age 16-32 before he lost his leg in a car accident, will become the first para-snowboarder to represent Australia on the international stage.
94. Speaking of snowboarding, did you know there's a large contingent of para-snowboarders from southern Italy attempting to make it to Sochi? Apparently, they prefer mountains over palm trees.
93. Numerous security measures will be taken during the Games, as about 40,000 police officers will be on duty and more than 5,000 surveillance cameras will be installed across the city.
92. The Sochi 2014 organisers claim to have more than 400 snowmaking cannons to help prepare for competitions on the slopes.
91. The Scandinavian countries of Sweden, Norway and Finland have all surged in the wheelchair curling world rankings the last couple of years. The sport is gaining a stronger appeal in the region, with Sweden being the most successful of the three nations thus far on the international stage.
90. You can purchase your own Sochi 2014 Paralympic mittens that will feature your country's national flag and the Agitos. Not to mention, they'll keep your fingers warm.
89. There's a youthful sense of energy on Canada's ice sledge hockey squad heading to Sochi, thanks to Tyler McGregor. He made his international debut in late 2012, just two years after his leg was amputated due to cancer. McGregor's life has been a whirlwind in just the last three years alone.
88. IPC Athletes' Council elections will take place at the Games, with winter Paralympians having the chance to act as a liaison between IPC decision-makers and other para-athletes.
87. Two dual-sport athlete names to remember are Andrea Macri and Alana Nichols. Macri finished fourth in wheelchair fencing at the London 2012 Paralympics and will now try to medal with Italy's ice sledge hockey team. Nichols, a wheelchair basketball Paralympic medallist with USA, will attempt to add more medals to her resume in alpine skiing.
86. Be sure to following the stunning images from Sochi that will be taken by the IPC's three photographers – Lieven Coudenys, Marcus Hartmann and Luc Percival.
85. During the Paralympics, a special dispatcher service will provide information on accessible transportation vehicles, assist in their booking, and provide escorts in areas where people with an impairment may have difficulties in trying to make a change in their means of transportation.
84. Athletes from Argentina and Chile have already qualified for the Games. Think the weather will be a factor in their performance?
83. At 16, one-handed Russian skier Alexey Bugaev could be the one with the breakout performance on the slopes. There's no better time to make a name for yourself than in your Paralympic debut in your home country.
82. At the Vancouver 2010 Paralympics, South Korea's wheelchair curling team were down 8-1 early in the gold-medal match against Canada. They fought back to within 8-7, however, they had to settle for silver. Now, the South Koreans, led by skip Hak Sung Kim, are hungrier than ever to take Paralympic gold.
81. Are you following Sochi 2014 President and CEO Dmitry Chernyshenko on Twitter yet? He's quickly become one of the most prominent business leaders on social media, giving fans great insight to the upcoming Games.
80. Russia's RBC TV will be a General Partner of Sochi 2014 in the category "Advertising and Promoting the Paralympic Games," meaning they will provide broadcast support in the run-up to the Torch Relay and Games. RBC TV will produce and broadcast 10 stories about the Paralympic Torch Relay as well as 10 programmes devoted to the Russian athletes and their training.
79. Sochi, located right on the Black Coast with a population of nearly 350,000, is the warmest city to have ever hosted a Paralympic Winter Games.
78. Look out for a transformed Per Kasperi from Sweden's ice sledge hockey team. Since making his debut at Vancouver 2010, the 20-year-old has hit the gym and is one of the most improved players in the game.
77. Taking place from 11-15 March, the IPC Academy Campus in Sochi will target major event organisers and provide behind-the-scenes insights into the planning and operation of a Paralympic Games.
76. The IPC's International Partner Allianz has launched brand new infographics in the lead-up to Sochi 2014 that explain all of the sports on the winter Games programme.
75. The Fisht Olympic Stadium, with a capacity of 40,000, will host both the Opening and Closing Ceremony. It is named after the Fisht mountain, which in translation means "white frost," and it reaches 2,857m above sea level.
74. The ice sledge hockey competition will take place at Shayba Arena, which can accommodate up to 7,000 spectators and is a moveable venue, meaning it can be dismantled and transported to another Russian city following the Games. "Shayba" is the Russian word for "puck," and "Shaybu!" is a common word Russians shout to cheer on and support their teams.
73. The Ice Cube Curling Centre, also a moveable venue, will host all wheelchair curling matches and is located in the coastal venue cluster in the Olympic Park. It can accommodate 3,000 spectators and the building is simplistic in its design to symbolise democracy and accessibility.
72. Following the Games, the costal cluster area will be transformed into a Formula 1 circuit, where Sochi will host the Russian Grand Prix from 2014-2020.
71. The Rosa Khuotor Alpine Centre will hold events from all alpine skiing and snowboard events and has a capacity of 7,500 people. All slopes were developed by Bernard Russi, a world-renowned ski architect from the International Ski Federation (FIS).
70. The Laura Cross-Country Ski and Biathlon Centre includes two isolated stadia, two track systems, a shooting area and warm-up zones. The venue is named after an old Russian legend about a young girl named Laura who chose death over living with an old prince she did not love.
69. If you need a name to follow in biathlon, look no further than Canada's Mark Arendz. The 23-year-old has taken the biathlon circuit by storm since his Paralympic debut at Vancouver 2010, most recently claiming his first world title this past season in the standing discipline.
68. Athletes will be staying in three different places in Sochi – the Paralympic Villages on the coast and on the slopes, as well as Nordic skiing housing, which will be located right next to the venue for cross-country skiing and biathlon.
67. Sweden, one of the most successful countries in the history of the winter Paralympics, will have SVT Sport devoting a record number of hours to live coverage from all sports.
66. At 23, Slovakia's Jakub Krako has already reached a drought in his career when it comes to IPC Alpine Skiing World Cups. The visually impaired skier, who has high aspirations and lots of pressure on him to medal, will try to rectify that in Sochi at his second Paralympics.
65. The Sochi 2014 Organising Committee will compensate for the direct carbon footprint of the Games' preparation and staging, as well as the flights of spectators and media representatives. The mitigation of greenhouse gas emissions from all of the above will be enabled by the Dow Chemical Company.
64. It's time to see weather Germany's Andrea Eskau, both a Nordic skier and handcyclist, is past the prime of her career or not. She won a silver and bronze at Vancouver 2010 and double gold at London 2012, though, at 42, Sochi 2014 will be a challenge and potentially her final Games.
63. Russia are still aiming for their first Paralympic gold in wheelchair curling, and their hopes rest on lead player Svetlana Pakhomova. Off the ice, the veteran holds an engineering degree and enjoys writing poems.
62. An educational programme has been launched throughout Russian schools in order to teach students about why para-sports bring meaning to life for people with an impairment.
61. Uzbekistan could potentially be competing in their first Paralympic Winter Games if snowboarder Yevgeniy Slepov successfully qualifies.
60. Italy's veteran trio of Andrea Chiarotti, Florian Planker and Greg Leperdi made their ice sledge hockey Paralympic debut at the Torino 2006 Games, but they are still looking for their first Paralympic medal. Can the three work together to outlast their younger opponents in Sochi?
59. VGRT will be the official host broadcaster of the Paralympics in Russia, showcasing all the competitions, along with featured programmes.
58. USA's ice sledge hockey team includes war veterans in Josh Sweeney and Rico Roman, who have exceptional stories that take them from battlegrounds in Afghanistan to the ice in Sochi.
57. Thirty orthopaedic technicians from across 11 countries will form Ottobock's technical service team in Sochi. As the official technical service provider of the Paralympics, they are expected to conduct hundreds of repairs to equipment and complete approximately 3,000 working hours during the Games.
56. The Sochi 2014 Paralympic medals weigh between 585 and 686 grams, featuring the Paralympic Agitos on one side and the Sochi 2014 logo on the other. They also feature the Sochi 2014 patchwork quilt, which is a mosaic of national designs from the various cultures and ethnicities of Russia.
55. New Zealand's team will be strong and mighty. Depsite fielding just three athletes – alpine skiers Adam Hall and Corey Peters, along with snowboarder Carl Murphy – the delegation could return home with multiple medals.
54. Members of the Rio 2016 and PyeongChang 2018 organising committee's will participate in an Observer's Programme during the Games, travelling to Sochi to learn from their valuable expertise, translating that to future Paralympics.
53. Have a need for speed? Look no further than Swiss standing skier Michael Bruegger, who has a passion for motocross bikes and is an adrenaline fanatic. Sochi 2014 will also mark his fifth Paralympics.
52. In the women's sit skiing discipline, look for Austria's Claudia Loesch and Germany's Anna Schaffelhuber to hog most of the headlines. Loesch will come out with a bit of an edge, having won three golds at the IPC Alpine Skiing World Championships last March.
51. There's been a constant debate over who the best ice sledge hockey defenceman in the world is. It's a toss-up between Norway's Rolf Pedersen, Canada's Adam Dixon, USA's Taylor Chace and Italy's Gianluigi Rosa. Only time will tell.
50. Belarus have been a surprise lately in cross-country skiing. Who will emerge as the individual star for the nation in Sochi?
49. At just 15 years old, Dutch snowboarder Chris Vos as attempting to qualify for his first Paralympics. He's taken part in sport clinics with wheelchair tennis great Esther Vergeer and has been on the slopes since he was four.
48. German standing alpine skier Andrea Rothfuss has everything an athlete aspires to, except for that elusive Paralympic gold. She has four Paralympic medals to her name – two silvers and two bronze – and will look to unseat Marie Bochet atop the podium in Sochi.
47. There's an 18-page guide to classification at the Sochi 2014 Paralympic Winter Games. Study up in advance so you know what's happening when you turn on your TVs.
46. How can you not love the Sochi 2014 Paralympic mascots "Snow Flake" and "Ray of Light?" They're bound to be all over Russia throughout the next several months, so pick up your own souvenirs of them if you wish before they sell out.
45. Three new members will be inducted into the Paralympic Hall of Fame in Sochi – one female athlete, one male athlete and one coach.
44. Norway have medalled in ice sledge hockey at every single Games since the sport became a part of the Paralympic programme in 1994. Veteran defenceman Rolf Pedersen hopes to extend his personal streak of four straight medal performances in what could very well be his final Paralympics.
43. The Paralympic Torch Relay will pass through all eight of Russia's federal districts between 26 February and 7 March. More than 1,000 torchbearers will carry it, and the relay will come to its conclusion at the Opening Ceremony. Stoke Mandeville in Great Britain will become the first place in history to be involved in the Paralympic Torch Relay outside of the Games hosting country.
42. The Paralympic torch weighs nearly 1.8 kg, is 0.95m tall, 0.145m wide at its widest part, and it is 0.54m deep. Its weight and centre of gravity were carefully calculated so as to make the torch as comfortable as possible to carry while running.
41. Austrian standing skier Markus Salcher is a graduate of the IPC's 2006 development camp, and he's now made himself a medal favourite, having climbed the world rankings ever since his Paralympic debut concluded at the Vancouver 2010 Games.
40. There will be full in and out-of-competition doping tests conducted throughout the Games period. Read all about it here.
39. Close to 800 written press and photographers are expected to be in Sochi to cover the Paralympics.
38. Four Ukrainians – Ihor Reptyukh, Iryna Bui, Iuliia Batenkova and Olena Iurkovska – could win nearly 20 medals between them in Nordic skiing. All four are at the top of their classes.
37. Kozo Kubo. Yes, the Japanese sit skier's name alone is just plain cool. Kubo's made a name for himself in the IPC Nordic Skiing world the past couple of years and is looking for his breakout moment this season.
36. Since the retirement of legendary German skier Gerd Schoenfelder, France's Vincent Gauthier-Manuel has strengthened his position as the best skier in the men's alpine standing class. If he lives up to his expectations this season, he could be one of the biggest medal winners.
35. The Japanese sit skiing duo of Taiki Morri and Takeshi Suzuki have four Paralympic and eight world titles between them. They're both expected to feature prominently in Sochi. The question is, which one will fare better?
34. Spain's top winter athlete, visually impaired skier Jon Santacana, is trying to bounce back from an injury that has sidelined him for more than six months. If he gets back to full speed come the Paralympics, well, look out. He's already talking about rocking the podium.
33. Seriously, have you seen sledge hockey's speed king? His name is Seung-Hwan Jung, he comes from South Korea, and he's arguably the fastest Paralympian on ice. You better not blink.
32. Meanwhile, can Ones to Watch Steve Cash and Josh Pauls – both from St. Louis – lead the USA's ice sledge hockey squad to their second consecutive Paralympic title? Cash has donned the nickname "money" for his stellar play between the posts, while Pauls is more commonly known as "spuds" because of his resemblance to a Mr. Potatohead figure.
31. In Great Britain, Channel 4 will televise more than 45 hours of coverage from Sochi – the most ever by a British broadcaster at a Winter Paralympics.
30. The European Broadcasting Union (EBU) has teamed up with the IPC to obtain the media rights for all EBU territories for Sochi 2014, excluding Russia.
29. Sochi 2014's Accessibility Map project will continue to be carried out with the main objective being to help people with an impairment in Russia easily find accessible locations where they can engage in Paralympic sports.
28. Brazil have further developed their winter sports programme and are on route to qualifying for their first Paralympic Winter Games.
27. Around 45 countries are expected to take part in the Games, with several new countries expected to make their Paralympic Winter Games debuts.
26. Norway lead the all-time Paralympic Winter Games medal count with 134 golds. They are followed by Germany with 121 golds and Austria with 102 golds.
25. Cross-country skier Brian McKeever starred at the last Paralympics in his home country in 2010, winning gold in three distances. He's now easily one of the most recognisable faces in his sport and will certainly be the one to beat in the men's visually impaired class in Sochi.
24. Just three years ago, Russia started up their ice sledge hockey programme, and in 2013 they already won a bronze medal at the World Championships. Led by Dmitry Lisov, the host nation's fans will have high expectations for them in Sochi, where they are expected to make it onto the podium.
23. American ice sledge hockey player Alexi Salamone was adopted from the Soviet Union at age six. Now, he's headed to Sochi in search of another Paralympic gold, and following the Games has said he'll search for his birth parents for the first time ever.
22. Sochi 2014 will be the seventh Paralympics – and fourth winter Games – under IPC President Sir Philip Craven, who was recently re-elected to his post.
21. Sonja Gaudet will try to help Canada win their third consecutive Paralympic gold in wheelchair curling. She is Canada's most-decorated wheelchair curling, and this past summer she was the first wheelchair athlete to be inducted into the Canadian Curling Hall of Fame.
20. Everybody knows American Tatyana McFadden for her six golds at the 2013 IPC Athletics World Championships and her marathon grand slam. But now, McFadden, born in a Russian orphanage, is looking to make the quick switch to cross-country skiing so she can return to Russia to compete in her first winter Paralympics.
19. The rivalry between Slovakia's Henrieta Farkasova and Russia's Alexandra Frantseva on the slopes may be one of the most underrated storylines. The two visually impaired skiers have gone back and forth over the last several major competitions, so expect nothing less in Sochi.
18. Great Britain have never won a gold medal at a Paralympic Winter Games. There best shot in Sochi may be visually impaired skier Kelly Gallagher and her guide, Charlotte Evans. They won two silvers and two bronze at the last World Championships and are poised for an upset.
17. Russia are aiming to create a barrier-free environment in the host city to ensure everything being constructed for the Games – transport, roads, sporting and public facilities – will be accessible, and act as a blueprint for the rest of Russia for future years.
16. Americans Evan Strong and Amy Purdy have consistently been ranked among the top male and female snowboarders in the world, respectively, and have multiple big-name sponsors supporting them. Let's see if they can turn those rankings and support into gold in Sochi.
15. The IPC's Social Media Guidelines for Sochi 2014 actively encourage all athletes and accredited persons to share their Games experience via social media to give fans a behind-the-scenes look at the Paralympics that's available at their fingertips.
14. Canada's ice sledge hockey team are out for revenge after missing out on a medal at their home Games in Vancouver. They'll enter Sochi 2014 as the No. 1 seed and defending world champions, led by forwards Greg Westlake and Brad Bowden.
13. The host nation will be strongest in Nordic skiing and will look to their cross-country and biathlon competitors to vault them to the top of the medal standings. Russia dominated the last IPC Nordic Skiing World Championships, winning 56 medals, including 22 golds.
12. Snowboard is set to make its Paralympic Games debut, and although there's only one day of medal events, Sochi is just the beginning. The sport could steal the spotlight for years to come.
11. More than 25,000 volunteers are being trained in Sochi to help out at the next Olympic and Paralympic Winter Games. For the first time in the history of the Games, volunteers will be trained not only in the host city, but across the whole country, in 17 cities at 26 volunteer centres from Vladivostok to Saint Petersburg.
10. These Games have the potential to change Russian society, as there are over 13 million people with an impairment in the country, yet many are isolated from society and face daily hurdles to participation in everyday life. Russian athletes can hopefully help change the way people view those with an impairment.
9. Austria's Matthias Lanzinger is targeting medals at the Paralympics just five years after the former able-bodied alpine skier crashed on the World Cup circuit and had to have his leg amputated.
8. Remember this name: Mikhalina Lysova. She has captured 13 medals at the last two IPC Nordic Skiing World Championships, with nine of those being gold. The women's visually impaired class is her's to lose.
7. Dutch snowboarder Bibian Mentel was on her way to qualifying for the Salt Lake 2002 Olympics before she lost her lower right leg to cancer. Twelve years later, she's expected to medal in the sport at the Paralympics.
6. Nearly 700 athletes will compete in Sochi, contesting 72 medal events. Tickets to the Paralympics are available for purchase at tickets.sochi2014.com.
5. For the first time ever, the Paralympics will be aired on the networks of NBC in America. If you live there, you've got no excuses for missing out on all the action now. NBC and NBCSN will combine to show 50 hours of television coverage from Sochi.
4. The IPC's website, Paralympic.org, will serve as the global hub of information, news, photos and videos for the upcoming Paralympic Winter Games and will be powered by its Worldwide Paralympic Partner, Atos.
3. Roman Petushkov is arguably the highest-profile Russian athlete heading into the Games. Since making the Paralympic podium for the first time at Vancouver 2010, the sit skier's proved to be unstoppable, and at last season's IPC Nordic Skiing World Championships led all individuals with six medals.
2. Can France's Marie Bochet – who won five world titles last season – follow that up with as many Paralympic golds in alpine skiing's standing discipline? She has the potential to become the biggest individual winner in Sochi and the top star of the Games if everything goes according to plan.
1. The IPC's Ones to Watch campaign showcases 40 of the world's best athletes in the lead-up to Sochi 2014, with all of the selections having won medals on the international stage, in addition to strong appearances in the media. If you cannot name many winter Paralympians right now, head on over to this list and get to know them. You only have 100 days left.
Related Images