Asylum seeking athlete who helped spur on the Refugee Paralympic Team
Shahrad Nasajpour hopes to compete at his second Paralympic Games
09 Jun 2021
Imagen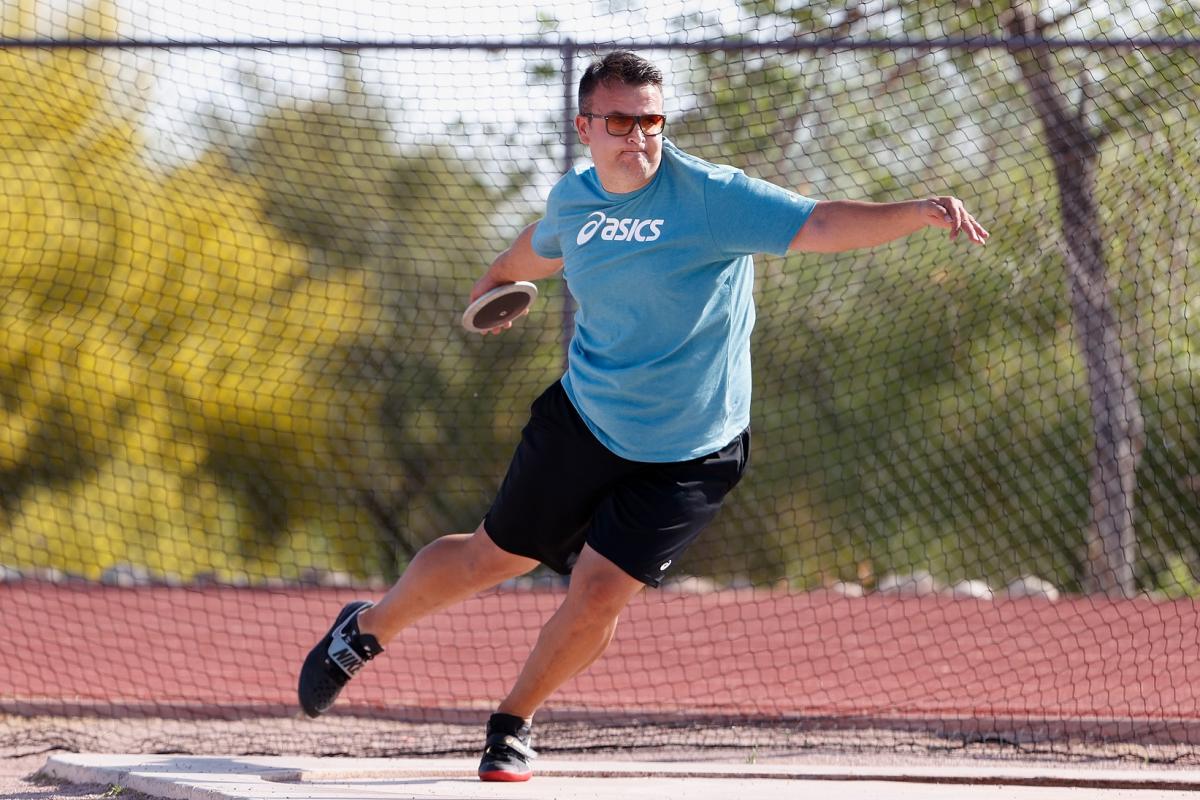 ⒸChristian Petersen - Getty Images
By Teddy Katz | For the IPC
When Shahrad Nasajpour heard the Olympics was going to have a refugee team at the Rio 2016 Games, a wild idea came to mind.
"In the spring of 2016, I was one of the first people to reach out to the International Paralympic Committee about having a team for Rio 2016. I just heard the news that the International Olympic Committee was going to form a team for the Olympics. Then it came to my mind, what about the Paralympics."
Nasajpour, who competed at an international level as a junior Para athlete in discus, e-mailed leaders of the IPC. He was told at that point there was not a mechanism in place to support a refugee team.  
Nasajpour had just arrived a few months before in the USA from Iran seeking asylum. Maybe he could try to compete for the USA, a helpful IPC staff person told him. But Nasajpour knew that was impossible because he needed US citizenship for that to happen.
Undeterred, he kept e-mailing and received a response a few months later with some good news.
The interest of the IPC management and their Governing Board in a potential team was growing, with its feasibility being developed. "I think my early e-mails helped ignite things," Nasajpour says.
In August 2016, the IPC announced it would have the first ever Independent Paralympic Team with a refugee and asylee Paralympic athlete. Nasajpour was one of the two athletes to compete there.
But to get there would require him to defy the odds once again.
When Nasajpour first touched down in San Francisco, USA, he was all alone.
"You're somewhere where you don't know anyone. You're in a new world. And it's just you versus you."
His English was not great at the time, and he felt lost. He missed his family. He did not know where to turn to for support.
In the first month and a half, he travelled from state to state eventually finding his way to Buffalo, New York.
"The worst part is you have no idea where you're going to end up the next day. What it's going to look like. You're walking by yourself and just trying to figure out where you are."
In Buffalo, he received assistance from a not-for-profit organisation called Buffalo Peace House. It provides support for asylum seekers. 
"They really helped me start my life and figure things out," Nasajpour says. He adds, "That's the place where I could start thinking about doing sports again."
Beginnings
Growing up in Iran, Nasajpour was always passionate about sports. Born with cerebral palsy that left him with some mobility limitations on his left side, he first participated in table tennis.  
When someone suggested that he should try athletics and throwing sports, at first, he was not convinced.
"That was not something I really loved in the beginning, but it grew on me."
Nasajpour competed at the 2011 IWAS World Junior Championship in Dubai. 
But because of some circumstances in Iran, he could not train there for almost three years and had to leave the country in late 2015.
New life in the USA
When he ended up in Buffalo, he was lucky to meet some friendly people at the University of Buffalo and in the community. The coach there helped train him.
And that brings us back to those discussions he was having with the IPC about having a team for refugee and asylum seekers at the Games in Rio.
If the IPC did go ahead with plans to have a team there, he wondered how he could be on that team since he had only been in the USA a few months. He needed the proper documentation and status. That process can take months or years.
Once again, he showed resiliency.  
Nasajpour travelled from Buffalo to New Jersey, which is a seven hour drive away, and walked into an immigration office there on his own. He explained to a supervisor there why he needed his immigration status resolved to compete at the Paralympics in Rio and was eventually successful in getting it.  
As he walked into the Opening Ceremony in Rio and carried the Paralympic flag in the Closing Ceremony, he was pinching himself that he was there at all.
"What was going through my mind was all the hardships and all the hard times I had in my life. Now I was where I always wanted to be." He adds, "For every athlete, being in the Paralympic Games is for sure everyone's dream."
The competition did not go as well as he had hoped because he did not really have a lot of time to train in the lead up. But that lit a fire within him for the next Games.
Tokyo 2020 in mind
After Rio, Nasajpour moved from Buffalo to Arizona. In Buffalo, the winters are cold and there was a limited amount of time during the year when he could train outdoors.
One of the first things Nasajpour did when he got to Arizona was to make a call to the supervisor at the Immigration Office. It went to the officer's voicemail.
"I told him, the things he did made a great impact on my life."
In Arizona, Nasajpour completed the university studies he started in Iran, finishing off his degree in public management policy at the University of Arizona.
He was recently admitted to George Washington University in Washington and will pursue a Global MBA degree. He plans to focus on sports management because his ultimate dream is to become a leader in sport and utilise his background as an athlete.
First things first, the Tokyo 2020 Paralympic Games.
During the COVID-19 pandemic, while many athletes had difficulty trying to continue their training, Nasajpour did not have any issues. He trained at a school. The school had been closed but its outdoor track remained open.  
But a few months ago, when the children returned to school, he could no longer train there. That left him scrambling to find another place to train.
Nasajpour is one of six potential members of the Refugee Paralympic Team for Tokyo 2020. He will find out at the end of June if he is officially on the team where he has been one of the pioneers.
"When you have a group, you get more attention. It's so great to see more athletes involved now. I hope this gets bigger and bigger in the coming years."
Nasajpour would welcome more resources to help support the team and more corporations helping out like Airbnb which is the primary sponsor of the Refugee Paralympic Team.
Airbnb has asked him to be one of the hosts of its Online Experiences, where the public can connect to hear first-hand accounts from prominent people on the Airbnb platform. Nasajpour receives an honourarium as a host.
Nasajpour is also one of 52 Para and Olympic athletes working with Proctor & Gamble on the "Athletes for Good Fund".  Ahead of Tokyo 2020, each athlete gets USD 10,000 to donate to a charitable organisation of their choice which in his case went to Buffalo Peace House.
"I am happy I can give back to them for what they did for me."
Nasajpour hopes to be in Tokyo with a special message for the 80 million people currently displaced around the world, the most since the Second World War.
"Be resilient in difficult times. You will hear a lot of No's on a regular basis, but don't take that No as an answer." He adds, "Try to find different ways to get to your goals and eventually you may get where you want to be."