Sport turns darkness into light for Syrian refugee athlete
Syria-born Anas Al Khalifa hopes to make it to Tokyo 2020 as part of Refugee Paralympic Team to share message of hope with other displaced people
02 Jun 2021
Imagen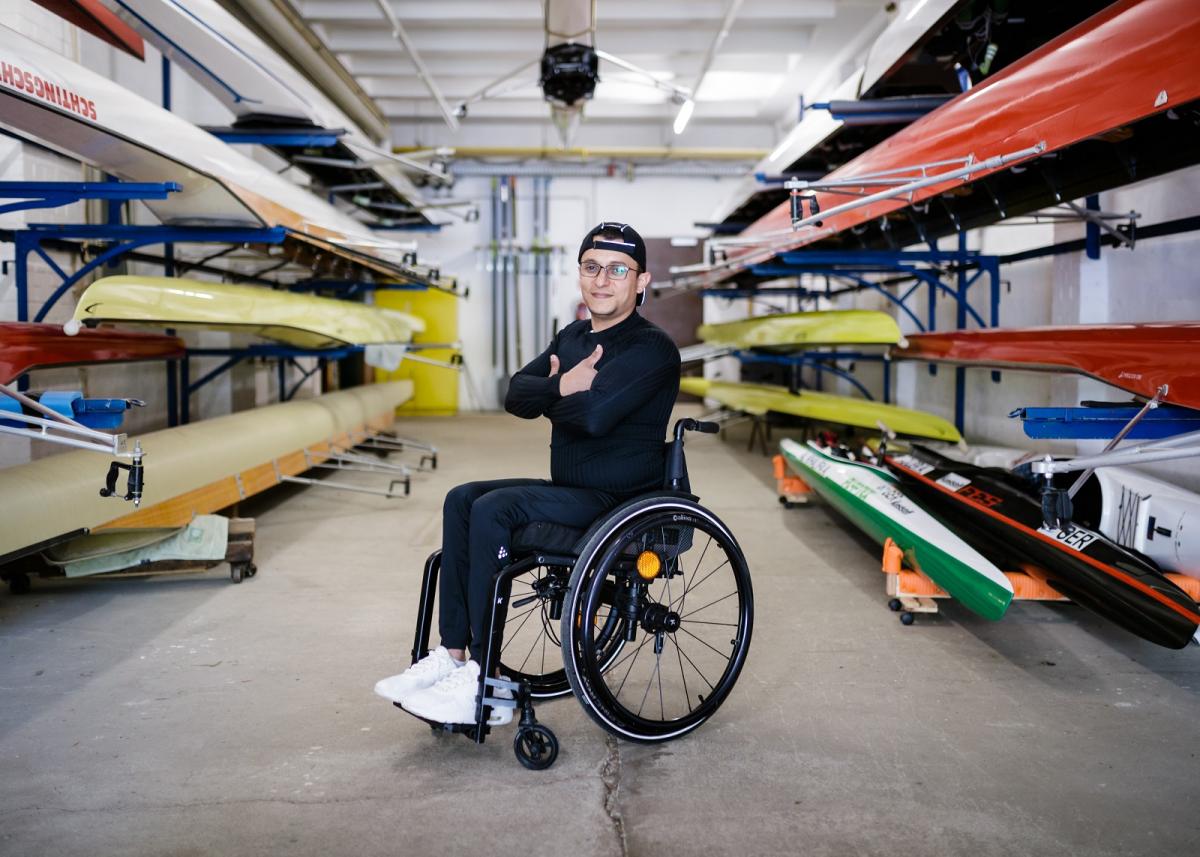 ⒸReinaldo Coddou H - Getty Images
By Teddy Katz | For the IPC
When Olympic medalist and now coach Ognyana Dusheva first met Anas Al Khalifa, a prospective athlete for the Refugee Paralympic Team at Tokyo 2020, she saw nothing but darkness in his eyes.
"I saw a scared young man. You could see it in his eyes. He was so unhappy. But looking at his body, his hands and shoulders, I could see how strong he was, how much potential he had."
I asked him if he would like to try kayaking.
He said, "I don't know what that is."
Shortly after that first meeting, because it was the middle of winter in Germany and they could not go out onto the freezing cold river, she had him get into a kayak in a public swimming pool so Al Khalifa could try out paddling for the first time.
The coach's daughter held onto the back of the boat to help him with his balance since, with a spinal cord injury, tipping can be an issue for Al Khalifa.
"He's very clever. If I show him something even with my limited German, he immediately understands."
The coach's first name, Ognyana, means fire in Bulgarian and that's fitting because that first meeting literally was a spark and helped bring some light back into Al Khalifa's life.
To understand the utter transformation she's talking about, you have to go back to where it all began for Al Khalifa.
BEGINNINGS
He was born in Hama, Syria in 1993 and had a fairly normal childhood. Everything changed for his family when the war started in 2011 and they were all separated.  
His only brother, who he was very close to and who worked with the police, left his job so he would not have to pick sides and fight in the war, and went to one camp for internally displaced people.
Al Khalifa, who was just a teenager at the time, went to another camp nearby only three kilometres from the border with Turkey.
"The camps were the only places that were free of any weapons or fighting. It was the only place that we really felt safe," Al Khalifa says through a translator.
Al Khalifa thought he would be there for a couple of months. He ended up living in that camp two years. Eventually, he decided to flee to Turkey. Even though it was only a few kilometres away, it felt a world away.
After several attempts, he finally made it to Turkey in 2014, sleeping in a mosque the first night.
Al Khalifa found odd jobs as a porter, carrying fruits and vegetables. He lived in Turkey for one year, keeping in close contact with his brother along with his parents.  
"The plan was for either me or my brother to go to Germany to build a better future and to help support the family."
His brother decided he wanted to stay in Syria to be with his parents.  
Al Khalifa set out on the risky journey many refugees know all to well. It would take him from Turkey to Greece and then onto Germany. But the trip itself was a nightmare that he was not sure he would survive.
"I call it the journey of death because it was full of so much risk along the way."
Over the course of a month he will not ever forget, he hitchhiked, jumped onto trains, hid outside in the woods, and even got robbed along the way.
NEW LIFE IN GERMANY
In August 2015, he arrived in Germany, unable to speak German but with high hopes for the future. His new life he thought was just beginning - or so it seemed.
In Germany, his dream was to continue his studies, become a mechanic and earn enough money to help the family. As he was settling in the first year, he could not work while he waited for the proper documentation.
The next year, he landed a job helping to install solar panels on roofs. He did that for close to two years. Any money left over at the end of the month, he sent back to his family.
One rainy day on 7 December 2018, he was working on a two storey building when he slipped and fell down to the ground.
"I don't really remember much because I lost consciousness for four or five days. They called an ambulance and a helicopter to rush me to hospital."
Al Khalifa landed on his back and suffered an incomplete spinal cord injury, which meant he had limited movement or sensation in his lower limbs. He broke his left leg as well in multiple places. 
He was in one hospital for a month and then transferred to another where he had to undergo several surgeries and rehabilitation for a year and a half.
To be able to communicate with the medical staff, he learned German on his phone from his hospital bed.
"Things were very dark for me at that time. To wake up and know that you won't be able to walk again. Everything crosses your mind. Even the worst things possible. Everything just turned upside down."
The family's dream to have him start a new life in Germany seemed over. He only told his parents he broke his leg. He did not divulge the full extent of the injuries so that they would not worry. The only one he told was his brother.
Just as things looked bleak, a few guardian angels suddenly appeared on the scene.
TAKING UP PARA CANOE
Al Khalifa says the medical team in the second hospital was very supportive including his physiotherapist. She had a friend who competed in Para canoe. Together, they encouraged Al Khalifa to try the sport.
"My physiotherapist really pushed me hard and showed me that sport was really important for my rehabilitation process because it gives you hope. It really lifts you when you're at the bottom and the lowest point in your life. It was a way of bringing me out of the darkness I was feeling," Al Khalifa says.
That brought him to the canoe club SV Halle Para Kanu, where he met his current coach Ognyana Dusheva.
Dusheva had won a bronze medal in the K4 500m event at the 1988 Olympics in Seoul. As an athlete, she was nominated as one of Bulgaria's best women sprinters of the 20th century. She has since gone on to coach in different countries around the world.
A little over a year ago, just before the COVID pandemic hit, Al Khalifa tried canoeing for the first time in that indoor swimming pool. He had no self-confidence, and he did not really think it would take him anywhere. But a funny thing happened, every day he went to paddle, he kept on improving.
© Reinaldo Coddou H - Getty Images

He was motivated to train hard seeing other athletes with disabilities more severe than he had, accomplishing so much.
His brother also encouraged him from a distance back in Syria.
"It was mainly due to the persistence of the people around me including my coach and the way she believed in me, that I started to believe in myself."
Dusheva told him he had the potential to go all the way to Tokyo.
"Sport eventually became part of who I am. I can't separate myself from the sport now." 
Being on the water has given Al Khalifa a new life, new light.
"When I go to train, sport is kind of demonstrating how you can accomplish so many things and you forget about the disability. It makes you feel like you don't have any impairment anymore," Al Khalifa says.
Dusheva says Al Khalifa is smiling all the time now. He has made many friends in the sport and he is a different person after he has been on the water, forgetting all his troubles.
"I feel like Anas is like my child. He makes me happy. When I see how he's grown up. He's like a beautiful flower that's sprouted from a seed.
"No words can describe my gratitude for what my coach has done for me," Al Khalifa says. "She gets into the water with me. She supports me. I have a lot of respect for a lot of people in the sport. But for my coach specifically."
He now likes to train twice a day, rain or shine, including in the pouring rain recently.
"When I first met him, I saw the ambition. I saw the fire inside," his coach says. She adds, "He didn't know the sport. But he was very brave. He capsised in the cold water one day. I thought, he wouldn't come back the next day. But he said, 'No, Ogi, we have to train tomorrow'. He has guts."  
She says maybe that has to do with what Al Khalifa had to overcome on his journey.
"He has something special inside. Many athletes the first time they have big problems, they give up. But he just wants to continue."
That was put to the ultimate test recently.
DEVASTATING NEWS
In December 2020, Al Khalifa received a phone call from his parents that brought back some of the darkness from the past.
His parents called him with some horrible news about his brother.
Al Khalifa pauses for close to ten seconds and struggles to get his words out. His voice cracks as he tries to describe what happened.
"Even though my brother had refused to take part in the war, one day there was a small skirmish between some individuals. Nobody really knows exactly what happened, but my brother was accidently shot in the heart and...died."
Al Khalifa wanted to quit the sport after hearing that tragic news. But Dusheva insisted he continue.
"He was really very sad, and I told him, 'Sport can open so many doors in this world and the most important you must stay in this sport because your brother will be there in the sky, and he will support you'."
EYEING TOKYO 2020
True to her words, another door recently opened. Al Khalifa learned he was a prospective member of the Refugee Paralympic Team in Tokyo. He will officially learn if he is on the team at the end of June.
"I saw the light in his eyes when he heard the news that he might be on the Refugee Team."
© Reinaldo Coddou H - Getty Images

Al Khalifa says that would be a dream come true, something he could never have imagined when he was living in the camp back in Syria.
"There was so much destruction around me and the war, going through refugee camps and having to jump from border to border."
If he is successful in making it to Tokyo, he hopes to share a message with other displaced people.
"Everybody has to fight and keep on going. Nothing is too difficult. If you have to try one time or 100 times, you have to just keep on going."
But it will be his parents, who he has not seen in 10 years, and his family that will be on top of his mind, if he does make it to Tokyo.
"Even though he's no longer with us, I want to go there to make my brother and my parents very proud."