Aussie legend Louise Sauvage recalls Sydney 2000 with pride
'I never would have imagined a crowd like that at any Para event, ever. I had so much to think about in that moment but when I heard the noise come from the stadium, I was in awe'
18 Oct 2020
Imagen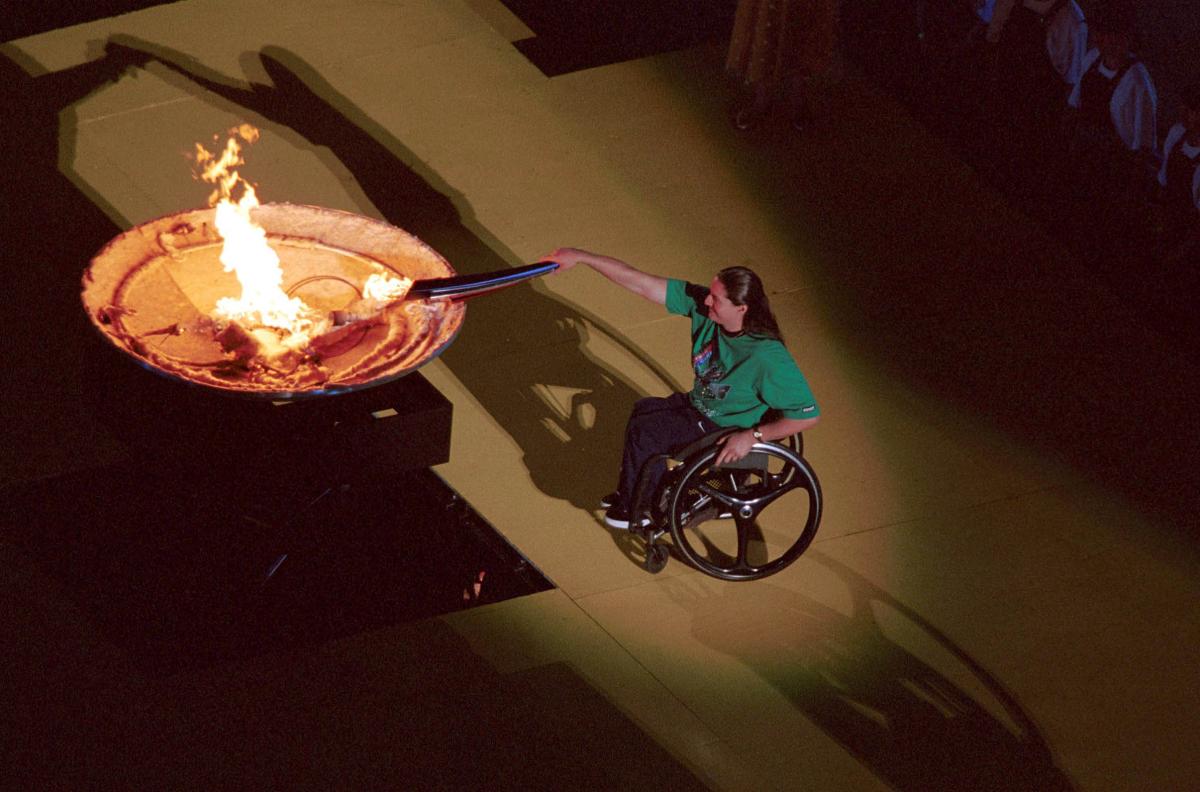 ⒸParalympics Australia
By Sascha Ryner | For the IPC
Twenty years on from Sydney 2000, wheelchair racing legend Louise Sauvage still remembers the exact moment the Paralympic Games was catapulted amongst the most captivating sporting events the world had ever seen.
It was over in a minute, but it was a moment that the Australians would never forget. The then two-time Paralympian was cheered on by a sold-out stadium of sports fans, as she lit the Paralympic cauldron, sparking a magic that would mesmerise audiences across the globe.
"I never would have imagined a crowd like that at any Para event, ever. I had so much to think about in that moment but when I heard the noise come from the stadium, I was in awe," Sauvage said.
"The honour of lighting the torch in the Opening Ceremony was pretty tricky and a huge honour that I was bestowed with, but the Sydney 2000 Games had a massive impact in changing the future of the Games, how they would be run and also in giving respect to athletes."
At 27, Sauvage said her life changed because of those Games.
"There was a lot going on across the world. It was the start of a new beginning to a certain extend and around the world outside of sport too," she said.
"We were everywhere and not just us Aussies. I remember having international athletes coming up to me and saying, "we're on the front and back page of the paper and we're the first story on the news at night. That was just unheard of."
"The support for athletes was enormous and I was so proud to be an Australian and to have the Paralympics in Australia to be so successful."
A moment to cherish for a lifetime
The Sydney 2000 Chef de Mission of Team Australia, Paul Bird echoed Sauvage's sentiments saying when he thinks of Sydney 2000, he thinks of the wide range of emotions he felt across those 11 unforgettable days.
"I think the key memory for me was walking out on the Opening Ceremony night with our team last out. A full stadium – I think 100,000 people, listening and waiting near the cauldron as we waited our turn. Then, the moment we stepped out into the arena, that memory will last, for me, until the day I die," he said.
"It was just such a euphoric moment for, well not only myself, but the 400 plus team members that followed us out."
Bird says, he often looks back on photos from 2000, feeling grateful to have been at the peak of his sports administration career during the turn of the century and the Paralympic movement.
"I think you can see in any of the photos that were taken on the night that just the excitement, ecstatic look, the surprise. I think the preparation, everything came to a head where everyone said, "Finally, we're there."
"Secondly, the main thing I took out of it was by the time we got to the end of the Games, was the knowledge that we gained. We were the number one team, not only in the gold medals but overall medals, just the performances of our team were sensational. It was something we didn't expect. I don't think we dreamt that we would have been number one, and to have reached that pinnacle and have been on the pedestal for our team members, it was just an outstanding event."
As the Deputy Chef de Mission for the previous two Summer Games, Bird was gifted what he called a "once in a lifetime opportunity to be Chef de Mission at a Home Games."
He had little expectations from the Games, as he and his Assistant Chefs were all volunteers, doing their Games jobs at night times and on the weekends, as a passion project so to speak.
"We were worried at one stage that maybe by the time the Olympics were finished, the euphoria would die down and all of a sudden, our events (Paralympics) would be seen as a ho-hum event at the end of the Olympics. But what we witnessed was this thirst from the Australian people and the media just wanting more.
"Australians couldn't get enough of the Games experience. We had over a million people buy tickets – which had never happened in the history of the Paralympic Games, and it really created opportunity for the international movement going forward."
While London 2012 is the Games that sticks out to most as the most celebrated and most engaging Games, Bird believes Sydney 2000 was the Games that started the trend.
"I know when you look forward to London, I suppose that's what was the next example of an outstanding event. They learnt from us, they learnt how to do an event and also the public wanted to see more.
"We found an amazing outcome where we would be in the Olympic Park and we'd set up a space called Ansett House. Every day, we took our medallists there and they were interviewed, families and friends could access them to celebrate.
"Outside we set up this large table, and we had our athletes available to sign autographs and to meet the public. We thought, we'll try it and see what happens. Well, we were overwhelmed with the response and our athletes could not believe that the public were lining up wanting them to sign autographs. I remember one saying to me, "Paul, my arm is sore, I couldn't sign enough." I'd never seen that, I'd never seen people wanting autographs of Paralympians.
"I think back to Sydney and I think about the fact that it created a future for our movement. It created history, it created the vision, and it created in the public's mind the fact that Para sport was great to watch and it became part of the Australian folklore."
David's Hall of fame
David Hall, who won gold in the wheelchair tennis said reminiscing on Sydney 2000 has brought him a new sense of pride in being a Paralympian.
"It's hard to believe. The years just tick over and then one second, you wake up and you're 50. It's been emotional thinking about part of a time that really changed things for the Paralympics," he said.
"The day of my gold medal comes to mind most. But it's the lead into the Games, and all the positive events and the build up, which we'd never really experienced to that extent. I didn't really know what the Games would be like, even though we'd all heard that a million tickets had been sold.
"I remember being on an outside court practising with Greg Crump (Australian coach) and Rich Berman, my personal coach, was pacing behind me. I remember he said, "Dave, I'm not sure you want to look around, like turn around." And I was like "Oh why?" and he said "well have a look." So I did. And the line to get into Ken Rosewall Arena was stretched right up into the concourse.
"It excited me, I thought, this place is going to be rocking."
Hall also describes his personal victory as a memory that "has its own energy."
"The place is full and there's 10,000 people going berserk. I saw on match point Stevie's ball land out, it was a combination of, relief, satisfaction, tears. Because it had been seven years since I'd been dreaming about that moment.
"I knew I'd never get that shot again, trying to win a gold at home, which is really a gift for an athlete, because all the Games that are rewarded around the world every four years, I mean you have to get pretty lucky that it's actually going to be in your home country when you're about to peak."
The legacy of Sydney 2000 is also something that lives on, not just in sport but around the perceptions of disability in Australia, said Hall.
"I think just the fact that you had different generations attending the Games, and the accessibility for athletes, I think that was a positive thing. It changed people's perceptions of what people with disabilities were capable of.
"Whatever they had seen, whatever it was, wheelchair basketball or tennis, I think that they were surprised at the level of ability and competition.
"I find that in Australia, particularly Sydney, if you're under a certain age, people don't flinch if you've got a disability. They don't blink, and I believe that's a formulation of something in the Paralympics all those years ago when they were kids.
"I am so proud to be a Paralympian but even more so because I was a part of the Sydney 2000 Paralympics. It made me proud back then, and I'm so happy to be celebrating its anniversary because the emotions have absolutely come back."