How Para archer Van Montagu used his feet to win a fight with himself
Born with no arms and an impairment to his right leg, Belgium's Piotr Van Montagu has found his own way to becoming one of the best men's compound shooters in the world
26 Oct 2022
Imagen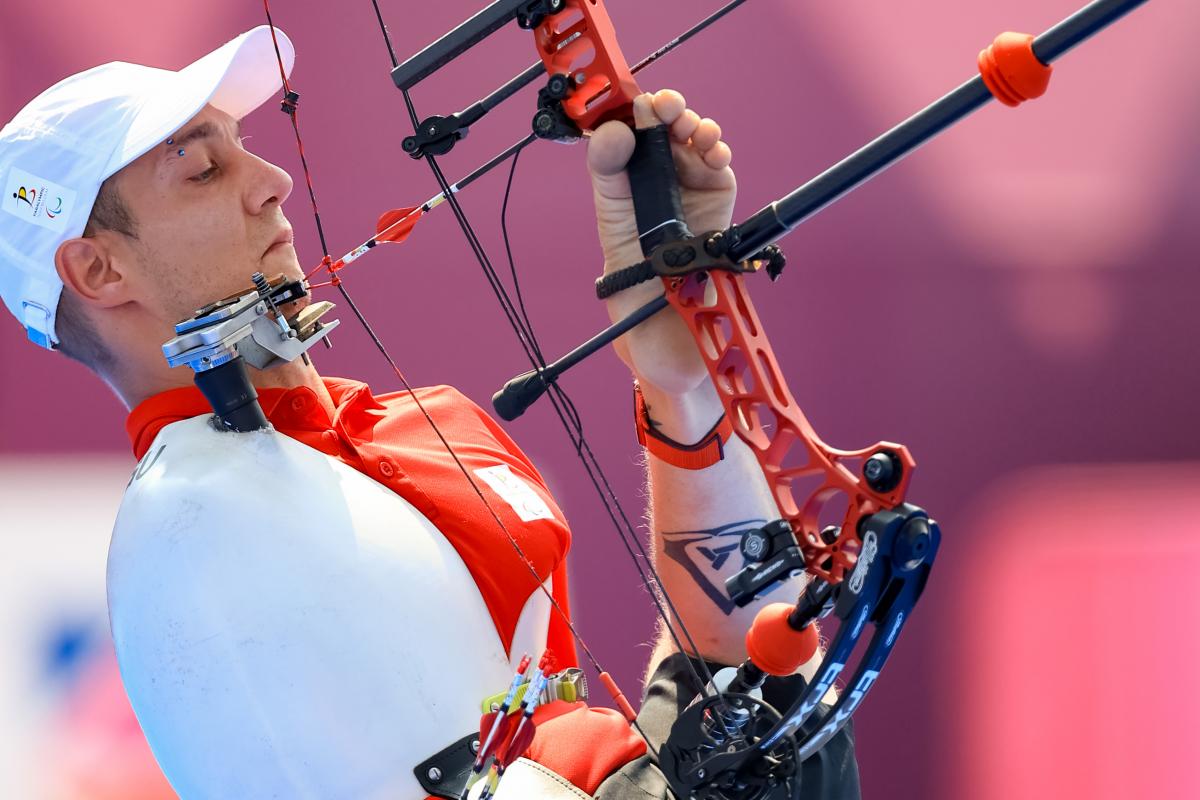 ⒸCarmen Mandato/Getty Images
By AMP Media I For The IPC
It sounds simple when Piotr Van Montagu says it. 
"I take my bow with my left foot, and I come to hang it on my breastplate which is on my right shoulder. A system, a paddle (then) allows me to draw by slightly opening my mouth."
But these straightforward words do not do true justice to the intricate complexity of a technique that is almost unique in all of sport. 
"It took a long time to pass the (first) stage," admitted Van Montagu, who was born with no arms and an impairment to his right leg. "Nearly three years passed between my arrival (at the archery club Cardinal Mercier in Braine-l'Alleud, Belgium) and being able to shoot alone."
No wonder then that when asked what first attracted him to the sport, "surpassing of oneself" is the immediate answer.
"Concentration and fighting against oneself," adds Van Montagu. 
Once he did master himself and his self-taught technique, Van Montagu progressed incredibly fast. The 33-year-old boasted a 9.4 average score per arrow over the past two years and is the 2022 European Cup champion.
Add on ninth place finishes at the Tokyo 2020 Paralympic Games and the 2022 European Championships, and you can probably guess that he is addicted to the feeling of "satisfaction" when an arrow comes out just "right".
Lord of the arrows
Archery was not always the target for the man who was born in Poland into a tough familial situation before being adopted by Belgian parents at the age of four. His first love was wheelchair football and he was pretty good at that too.
"I practised for about 13 years, also at a high level," he said. "I participated in several World and European Cups. I was even elected the second-best player in the world in 2011 during the World Cup in Paris." 
That, however, was all before Legolas, a heroic bow-wielding figure in the epic fantasy movie and book trilogy Lord of the Rings, caught Van Montagu's eyes.
The fascination was immediate and all-consuming, and the last thing the Belgian was going to do was let any physical impairments get in the way.
"My feet are your hands," Van Montagu explained, "I can do many things with my feet." 
Shooting an arrow at a target 80cm in diameter and 50m away is one of them.
"I am often told that my strength is to stay in my bubble when I shoot," said the athlete who is ranked world No. 8 in men's compound. "As for weaknesses, I would say stress and pressure management. I work on this with a mental trainer."
Unconditional target
As his all-around skills developed, Van Montagu found himself opening up to aspects of the sport beyond the internal battle.
"I often say that there is a lot of conviviality between athletes, coaches and staff from other countries for a sport that is basically individual," he said, before declaring unequivocally that he has found the love of his life.
"I am very good at archery and don't plan to change," Van Montagu laughed. "I have already tried (wheelchair football) swimming, diving and kayaking."