India's Paralympic champion Antil shares secret to his success in javelin throwing
Antil extended the world record three times in the men's javelin F64 final at Tokyo 2020 en route to winning his maiden gold medal
27 Oct 2022
Imagen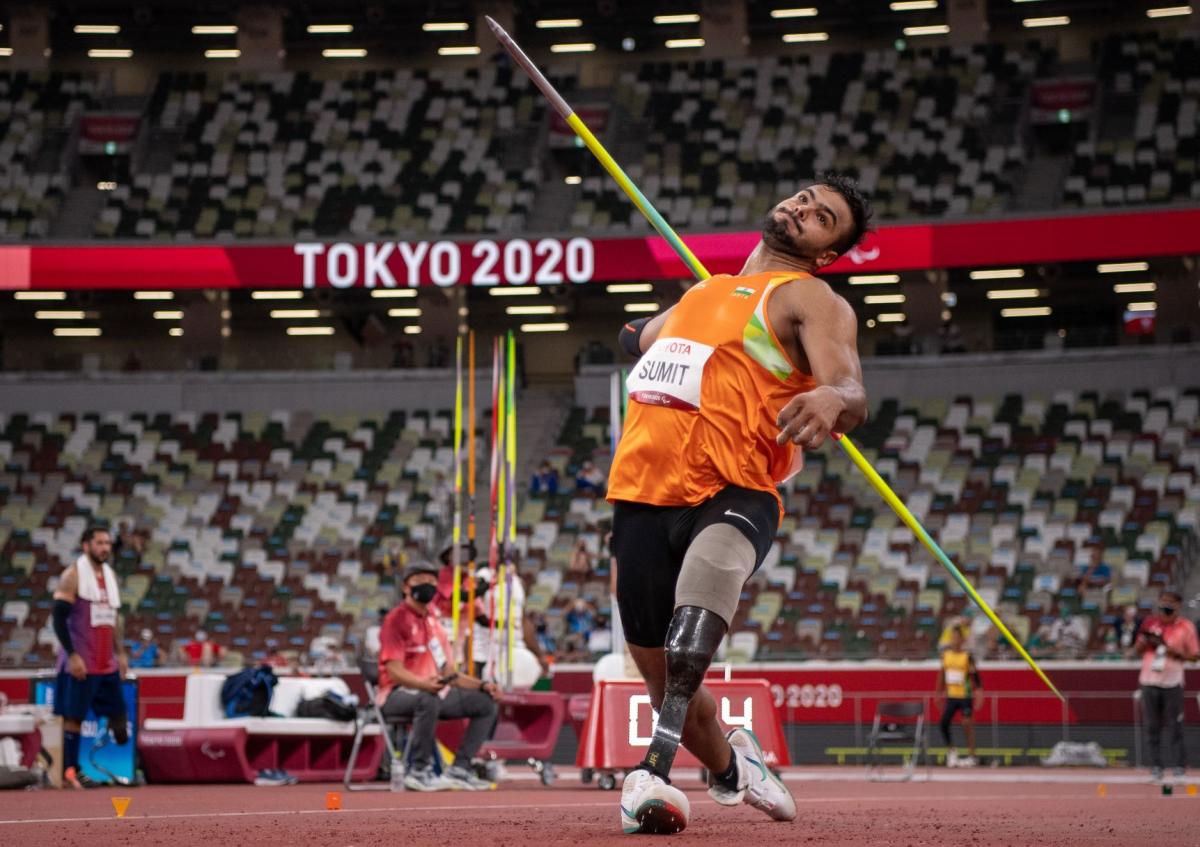 ⒸJoel Marklund/OIS
By Ayano Shimizu | For the IPC
Sumit Antil is a rising star in javelin throwing. At the Tokyo 2020 Paralympic Games, he extended the world record three times in the final of the men's F64 event to win the gold medal in his Games debut.  
He was not aware of the Paralympic Games when he was in an accident on his way home from school in 2015. But less than 10 years later, Antil has become one of the largest stars at the Paralympic Games from India. 
At Tokyo 2020, Antil threw 66.95m in his first attempt to set the new world record, before bettering it with his second throw and again in his fifth attempt to set a new milestone of 68.55m.
Secret to success
While it appears as if Antil is throwing and breaking records with ease, the 24-year-old says that is not the case. Javelin throwing is a "technical sport" and his success is a result of learning what his body requires and preparing for everything that can happen during a competition.
For example, he trained with water on the ground to prepare for Tokyo's humid weather ahead of the 2020 Games.
Even though many javelin throwers in the F64 category compete with a blade, Antil opted for a prosthetic foot because he felt the blade was pushing him backward when he threw.
"The secret to success is to know your body, what your body actually requires at a certain time and to work out - to know at what time which workout is required for your body," he said.
"I feel like the blades were consuming my power that I wanted to put on the equipment. Then I switched to the normal foot. I think that this was great for me because I read my body and what my body actually requires, rather than watching videos of other Para athletes."
Knowing the condition of his body and what works best for him is not something Antil learned to do overnight. He attributes this self-awareness to growing up as an aspiring wrestler and continuing workouts after being in an accident in 2015 that resulted in the amputation of his left leg.
From wrestling to throwing
Antil dreamed of becoming a wrestler before his accident. Just like the other kids in his town, he was "born a wrestler" and grew up practising the sport.
"(The accident was) emotionally very hard because my life has completely changed and as I wanted to become a wrestler, and I knew that wrestling was not possible now," he said. "Fifteen, 16 years is the age when any person starts to think about what they want to become."
Despite having to give up on his dream of becoming a wrestler, Antil continued to work out while attending college with the goal of getting a "normal" job. It was in 2017 that he went to train at a nearby stadium and was introduced to javelin throwing and his future coach.
"That decision was the best decision of my life," Antil said. "I've taken so many decisions in the gap between 2015 and 2017. But the best decision was to join Para sport as I can work out for eight to nine hours regularly, but I can't sit on a chair for eight to nine hours."
After taking up the sport, Antil relocated to New Delhi, about 70 kilometres from his home. He missed out on family gatherings and parties to focus on his newly discovered passion.
Following his groundbreaking victory at Tokyo 2020, Antil said it was all worth it because he was able to make his family proud.
"Everyone (in India) knows who Sumit Antil is and what colour medal he has won for the country," the Paralympic champion said. "My mom was very, very emotional and she was crying with happiness. And I've seen her videos on YouTube that the media put up. It really feels great when your parent feels proud of you."
Living a dream 
Antil's mother was not the only one proud of his accomplishment. After the 2020 Paralympic Games, the video of his throws there started trending on Twitter.
The athlete received a flood of messages on social media, calling him an inspiration. When he returned to India, there were thousands of people waiting at the airport to catch a glimpse of him.
The Paralympic Games have become more popular in India after the country's athletes started delivering top results. The media are now also following Para sports more, Antil said.
At the Tokyo 2020 Games, Indian athletes picked up 19 medals, including five gold.
"It feels great to be an inspiration to someone. In 2015, when I had the accident, people knew less about the Paralympics," Antil said. "But now after the Tokyo Paralympics, in India, everyone knows about what the Paralympics actually are and people started following Para athletes and it feels great.
"I think every athlete has a dream like this and I was living that dream at that moment.
"I will never forget that moment. I will try to win the gold medal at the Paris (2024) Paralympics and maybe the 2028 Paralympics, but that first gold and that first thing is very, very special and I think that will be the most memorable moment of my life."
Throwing for Paris and beyond
Since Tokyo 2020 Antil has been working on brushing up his basic technique. Defending his title at Paris 2024 is a big goal, however, his main focus is to throw further and show how competitive Para sports are.
Antil believes that people in India will support Para athletes even more at Paris 2024. And he is ready to offer them performances they can be excited about.
"I will try to increase the distance as much as I can in my life, whether it is 2024 Paris or 2028 LA Paralympics," he said. "That's the main focus - to get a medal for the country, to get the medal and to increase the distance."