Iran's Zahra Nemati acts as role model of Muslim women
With more Muslim women taking part in Paralympic sport, Iran is leading the way to inspire female athletes to get involved.
30 Oct 2013
Imagen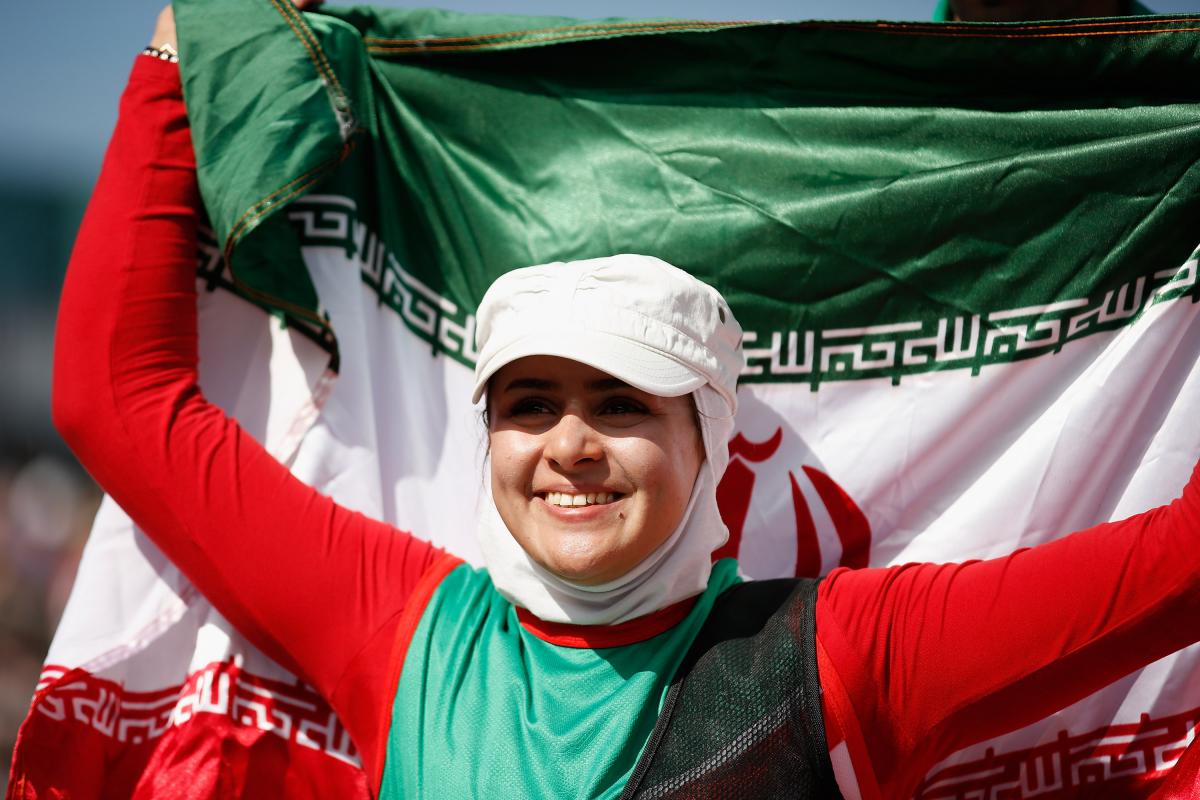 ⒸGetty Images
By IPC
"The medal from Zahra Nemati has been very important, not only for women with an impairment, but also for able-bodied athletes"
Archer Zahra Nemati has played a key role in encouraging other women to get involved in sport after winning Iran's first Paralympic gold medal and receiving the individual award at the 2013 SportAccord Spirit of Sport Awards.
"The medal from Zahra Nemati has been very important, not only for women with an impairment, but also for able-bodied athletes," said Sima Limoochi, member of the International Paralympic Committee (IPC) Women in Sport Committee.
"She brought the topic of 'women in sport' to the table of different organisations, like the National Paralympic Committee, national sport federations and even the Ministry of Youth and Sport."
Limoochi says there has been a marked increase in women practicing sport, especially archery, after Nemati won gold in the women's individual recurve W1/W2 at the London 2012 Paralympic Games.
"It is very important for women, not only in Iran, to have role models like Zahra," said Limoochi.
"There has also been a great response from the media and people in Iran know her. She has become a role model for the whole society."
Importance of Islamic dress
Nemati is part of a general trend of increased participation by Muslim women in sport.
In London 24.3 per cent of athletes from predominantly Muslim countries were women, compared to 22 per cent in Beijing.
A report co-authored by Limoochi has highlighted that Islamic dress, such as a head scarf and modest, long clothing, is a key factor affecting the participation of Muslim women in sport.
At London 2012, women from predominantly Muslim countries participated in nine sports: athletics (38.5%), powerlifting (31.5%), table tennis (11%) archery (7%), judo (5%), shooting (4%), cycling (1 %), sailing (1%) and swimming (1%).
"More Muslim women participate in these sports because a Muslim woman in Islamic dress is faced with minimal difficulty in movement in theses sports," said Limoochi, who has worked as a coach, administrator and official in several Muslim countries for the past 42 years.
IPC Athletics and IPC Powerlifting give Muslim women the flexibility to dress according to their beliefs, with certain restrictions, such as that it does not impede the view of judges.
According to the IPC Powerlifting Rulebook, women are allowed to wear a headdress, provided (amongst other things) that it does not fall below the neckline, so that judges can see the neck and shoulders clearly.
Faith and sport
Though not all Muslim women wear Islamic dress, for those that do, it can be extremely important. Not only does it have a spiritual value and act as an expression of Muslim identity, but it also allows Muslim women to feel more confident.
"Those who observe Islamic dress codes feel more secure, more modest in such outfit," explained Sertac Sehlikoglu, Secretary of the British Society for Middle Eastern Studies. "A woman who has been wearing a headscarf for years feels 'naked' when she is asked to remove it.
"I believe that it should not be too difficult to find ways to accommodate such religious needs of Muslim sportswomen. As I have been advocating for years, it is crucial not to ask Muslim women to choose between their faith and sport," she said.
Islamic dress codes are not the only reasons that the number of women from predominantly Muslim countries participating at the London 2012 Paralympic Games was lower than the overall average (35.4%). Sometimes it is because of general attitudes within their own country towards women playing sports.
"Some limitations are not based on Islamic beliefs and values, but rooted in traditional issues especially masculine authority," Limoochi told paralympic.org, pointing to the traditional role and responsibility of women and mothers at home, where they are expected to take care of children and manage the household rather than participate in sports.
But with role models like Nemati, there are signs that these attitudes are shifting within the Paralympic Movement.
Related Videos