Laurentia Tan: 'I may not be able to dance but on a horse we can do ballet together'
Singapore's Paralympic medallist Laurentia Tan cannot hear or control her legs, but that has not stopped her from becoming a dressage star
09 Dec 2022
Imagen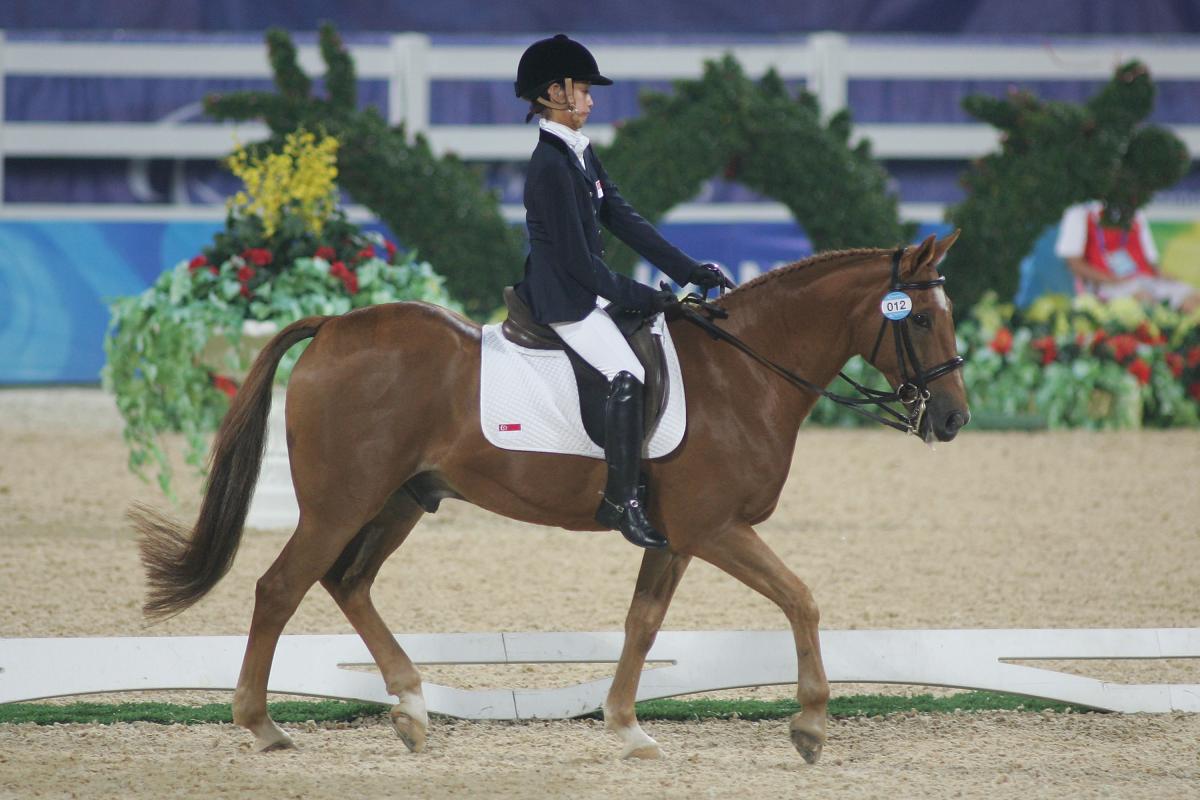 ⒸMN Chan/Getty Images
By AMP Media I For The IPC
It is impossible not to smile when you hear Laurentia Tan talking about horses. 
"Horses have given me my confidence, my mobility, my core strength, my co-ordination and my balance. They have also taught me about teamwork, communication and trust," said the athlete who has ridden her valued partners to four Paralympic dressage medals so far. 
It is an extraordinary partnership. Tan, 43, developed cerebral palsy and profound deafness soon after birth and moved from her native Singapore to Great Britain aged three. Within two years she was on a horse and knew almost instantly she had found a 'home'. 
"All my horses have been my dancing partners. They lend me their legs and their wings," Tan explained. "I may not be able to dance on my own two feet but on a horse we can do ballet together. I may not be able to run but on a horse together we can fly."
Seeing the music
Together they have indeed flown. In 2008 Tan and her horse Nothing to Lose won Singapore's first ever Paralympic medal by grabbing bronze in the Championship Grade Ia. It was also Asia's first Paralympic equestrian medal. The pair promptly followed it up with another bronze, this time in the Freestyle Grade Ia.
Four years later, at the London 2012 Paralympic Games, Tan took another Championship bronze before upgrading to silver in the Freestyle. A bronze at the 2014 World Equestrian Games (WEG), a 2018 WEG silver and a host of international first-place finishes followed.
All this and then the reminder that music, of which Tan cannot hear a note, plays an integral role in Para dressage, confirms Tan's place as one of the sport's greats.
"With my profound deafness this is more challenging for me, but it is also the fun part," she said with a laugh before going on to explain how she worked with specialist dressage composer Tom Hunt and a range of deaf musicians to help her find a solution. 
"This project (named Audiovisability) enabled to me to better understand and interpret the sounds I cannot hear but I can feel through the SubPac (a vibro-tactile vest)," she explained. "Working with the musicians meant music could become colourful emotions, and I could watch the music become more visual." 
She goes further. 
"I feel the vibrations and 'see' it through the movements of ballet dancers, the body language and rhythm of contemporary dancers, the movement and colours of lights, the body language of the composers and the orchestra, the movements of water in musical fountains. Sometimes, the audiences' reaction can contribute to the 'picture' too. And I learned music can also be associated with 'warmth' or 'coldness', emotions, shapes and even the weather." 
More steps to dance
By maintaining and developing this vivid picture, Tan has managed to stay at the top of her sport for a remarkably long time. Last year at the delayed Tokyo 2020 Paralympic Games she claimed her seventh and eighth consecutive top-six Paralympic finishes. In August this year she finished fourth and fifth at the World Para Dressage Championships in Herning, Denmark.
The reason she keeps pushing her body and mind is simple. 
"To be able to work with horses is a privilege and an honour," Tan said. "Horses, like human beings, all have different characters and personalities. Some are affectionate, some are playful, some are generous, some are more patient than others and some are very willing to please.
"Different horses require different sets of skills, different strengths and different ways. So, it is important as a rider to train and compete with different horses so I am more adaptable and have more experience than someone who rides only one horse." 
Tan, who is currently completing a postgraduate course in mental health, relies on her four-legged partners for so much more than competition. With most of her horses based in Germany, she even rides mechanical horses during her weeks back home in the UK. 
A role model in so many ways, she is determined to continue for as long as possible. 
"The Paralympics has definitely helped showcase the level of potential we can achieve as human beings," Tan said. "With each cycle, this increases awareness and exposure, and this will hopefully help future generations."