Meet the female athletes and trailblazers making the fashion industry more inclusive
Para athletes like Robyn Lambird, Frances Rivera and Kanya Sesser are embracing their bodies and leading the revolution to make the fashion industry more inclusive for people with disabilities
08 Mar 2023
Imagen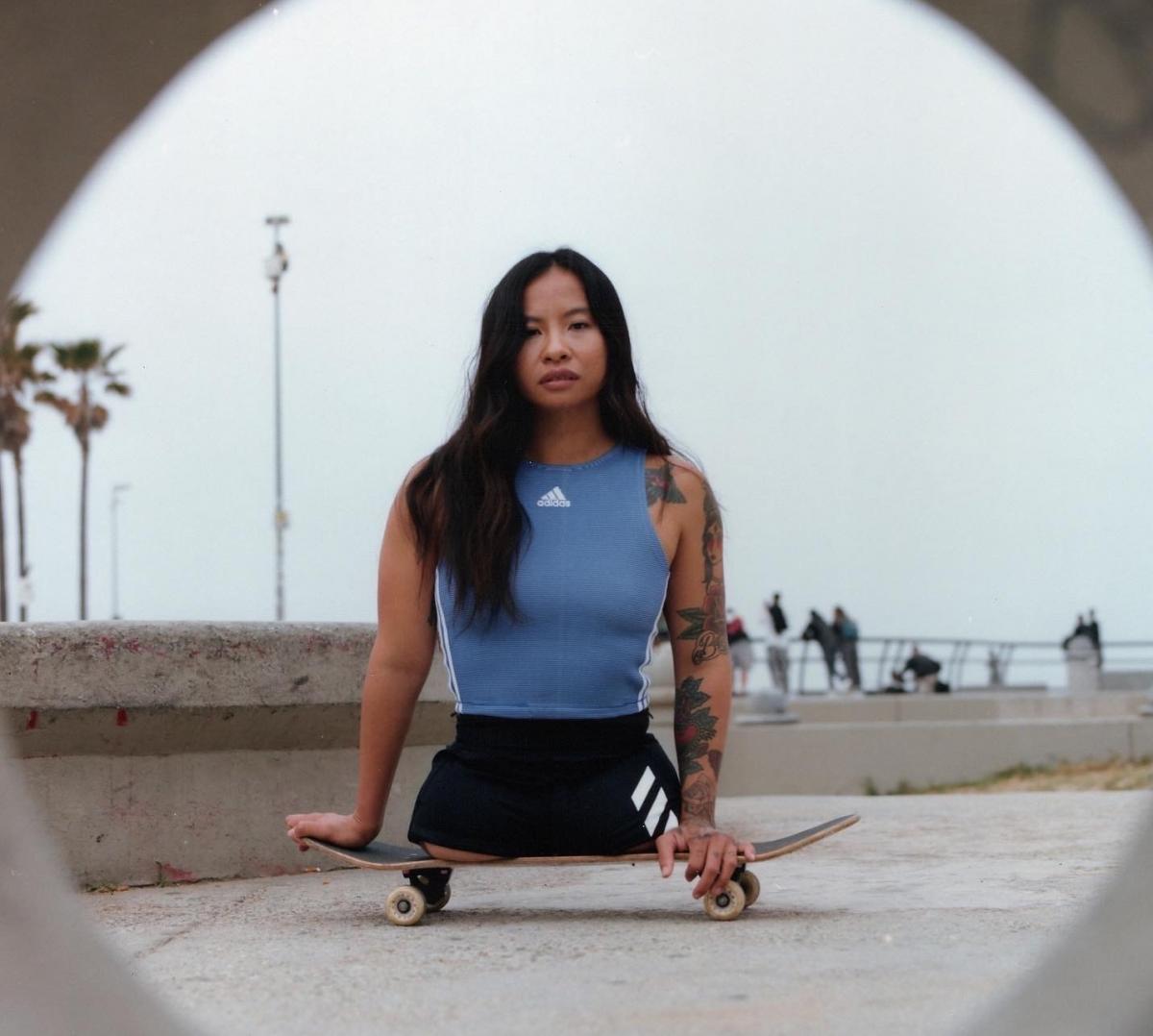 ⒸKanya Sesser
By Lena Smirnova | The IPC
As a child, future Paralympic medallist Robyn Lambird would create outfits, dress up and do fashion shows for the family. 
Those shows were confined to the house as Lambird, who has cerebral palsy and admits to being a little "self-conscious" about their body, never thought it was possible to become a real model. 
But a photo the Australian Para athletics star saw in their late teens got rid of that self-doubt forever. 
Lambird saw the fashion shots of Jillian Mercado, who has muscular dystrophy and uses a wheelchair, in Diesel's 2014 campaign. Shortly after, she found herself modelling in front of the camera too as her childhood dreams of being in fashion started to come true.
"That just blew my mind. I was like woah, people with disabilities can be plastered on billboards, and it would have been in Times Square in New York City and places like that," said Lambird, who signed with a Sydney-based talent agency last year. 
"You can't be what you can't see. One in five people has a disability, yet if you looked at our media, especially within fashion and advertising, you wouldn't necessarily assume that because we're still not getting represented to that level." 
Now Lambird and other Para athletes are becoming the models to look up to, inspiring the next generation of people with disabilities to embrace their bodies and paving the way for the fashion industry to become more inclusive.
Casual walk, big idea
Models with disabilities are appearing in more fashion campaigns and runways than ever, but that was not the case as recently as five years ago. 
Laura Winson was walking the dogs with her sister-in-law, Zoe Proctor, in 2017 when the subject came up. At the time, Winson was a social worker on maternity leave while Proctor, a former model, was working as an arts teacher with people with learning disabilities. 
"We just had a chat one day about the lack of representation in fashion and media and how poor it was - still is - but how poor it was in 2017. It was virtually unheard of to see anybody with a disability on TV or in fashion," Winson said. 
"We were moaning and saying how bad it was and then it was just a lightbulb moment. It was like, if nobody else is out there advocating for disabled people in terms of media representation, then why don't we set up an agency and see if we can change that? And as we said those words, we just knew we were going to do it. We had a feeling like, this is 2017, how come the world in 2017 still excludes disabled people from the media? How can this even be reality? We couldn't get our heads around it. We just had a feeling that the world had to be ready for it."
And so, the Zebedee Talent agency was born in 2017.
The first models they signed were the ones Proctor taught at the performing arts group. They also approached several disability groups near their home base in Sheffield, Northern England, and invited the members to join them.
Things were moving slowly, but then they struck gold – a disability magazine ran an article on Zebedee, which led to a massive spike in interest.
"It was only a small article, but once that was released, we were getting applications every three minutes," Winson said. "People have been waiting for this. There had been no opportunities for them to ever join a typical agency. A typical agency just would not work with disabled people so to have somebody who only works with disabled people, we got so many people applying."
Recognising that most of their models would not have had opportunities to model before, Zebedee does not require applicants to have previous experience. It is more important how comfortable they are in front of the camera and their willingness to try new things.
Into the spotlight
Frances Rivera was one of the models who signed with Zebedee as the agency continued to grow and expand into new markets.
A Florida-based kiteboarder, Rivera lost her leg after an accident in 2011 and learned about the modelling agency from her adaptive group. After exchanging some emails and pictures, she was booked as part of the team.
"Growing up, I was bullied. You know how kids are, you know they're mean. Even though it was my dream, I never thought it was going to be possible, but now in my 30s it's a reality. That's wild," Rivera said. "I got booked a few times and this is really cool. I'm glad I'm doing it, and it shows that you can do everything that you can imagine."
Rivera's biggest career highlight so far was flying out to the other side of the country to do a photoshoot for Adidas' online catalogue.
Lambird's memorable shoots include Target and Tommy Hilfiger. The Target shoot marked the first time in Australia that a person in a wheelchair was represented in a nation-wide advertising campaign.
"It went viral because it was the first time that it happened and then I had quite a few parents contact me saying that it changed their perspective on the life that they've seen for their kids, so that felt really meaningful," Lambird recalled. "On the other hand, I was like, 'Wow, it's 2017 and this is the first time that this has happened?' As grateful as I was for that opportunity, that shouldn't have been me. That should have been someone years and years ago."
'Love my body, don't care'
In addition to the people looking at the billboards and magazine pages, fashion photoshoots can also be a big confidence boost for the models taking part in them.
"For a long period of time, I would be ashamed to even take my leg off in front of others," Rivera said. "It's visible, you can totally notice that it's a prosthetic, and that was in my head. I was so ashamed like I did something wrong or I was offending other people and doing the sports, doing the modelling, they definitely helped with being confident that this is who I am and I love myself for who I am and the world better accept me."
For California-based Para snowboarder and skateboarder Kanya Sesser, body image was never an issue despite being born without legs. She started modelling at age 15 and has since worked with major brands, including Adidas, Sweaty Betty and Abercrombie & Fitch.
"My mom told me that ever since I was little, I used to look at myself in the mirror or look at myself in front of the dishwasher," Sesser said. "When I was younger, I just accepted myself. I just love my body. I'm very fortunate of how I came out. Maybe because I have a highly unconditional love with my body and myself, I don't know what it's like to not love myself."
Seven years ago, she was asked to do her first lingerie shoot and accepted the offer without hesitation.
"When I do lingerie, it's more of an expression of 'I love my body. I don't care'," Sesser said. "I don't have legs. Most people think it's disgusting to see somebody without legs wearing a bikini, lingerie or even modelling. It's not normal, it's kind of gross to some people and I'm like, 'Why is it gross? It's a human body, we're born differently'."
Sesser hopes that her revealing photoshoots will help more women embrace their bodies. And they are already having an impact, as Sesser has read in the many messages she receives from women calling her an inspiration.
"I'm so glad that I got to help people come out of that (self-doubt), especially women like me," she said. "I tell them that it starts with you, of acceptance. You got to love yourself unconditionally and accept who you are to allow that confidence in. I tell them, hey, watch us and look how much we accept ourselves, no matter what. We are confident because we accept ourselves for who we are and you can do the same."
Demanding diversity
As more and more people embrace diversity, fashion brands are following suit. According to Winson, showing diversity in fashion campaigns has become a necessity in modern societies.
"People demand companies to have values now," Winson said. "I want companies to have values now and social media people are demanding companies to prove their values. I don't think you can be a successful company unless you're inclusive. The less you think about inclusion and the less you think about sustainability, you're going to get left behind."
As a result, Winson and Proctor have never been busier. From a side project they ran on top of their regular jobs, Zebedee has now expanded to a talent pool of more than 600 models across Europe, the United States, Australia and Japan.
In addition to models with disabilities, Zebedee represents people with visible differences, such as people with albinism and scars as well as people from the trans and non-binary communities.
"I remember what it was like at the beginning. It started with just me and Zoe working part-time," Winson said. "It was like a side hustle, and we coped. That would be impossible now. We're all so busy even with the team that we got now and every day we get inquiries and you're just like, 'Where's that one coming from?' So many fashion brands, beauty brands, so much more work in TV commercials. We get loads and loads of commercial opportunities, editorial and fashion opportunities."
Models with disabilities have now appeared on the runways at the Fashion Weeks in the United States, United Kingdom, Australia, China, Mexico, Pakistan, United Arab Emirates and Ukraine, while their photos have been featured in the world's top fashion magazines.
Paralympians are a major driving force in this fashion revolution. 
Among others, they include triple Paralympic champion sprinter Marlou van Rhijn of the Netherlands who appeared on the cover of Harper's Bazaar, and Tokyo 2020 wheelchair fencing gold medallist Beatrice Vio and Para triathlon bronze medallist Veronica Plebani who have graced the covers of Italy's biggest publications.
USA's Aimee Mullins is another noteworthy example. The retired Para sprinter and long jumper has walked in Alexander McQueen's runway shows and been featured in Harper's Bazaar and Vogue. 
Continuing the fight
Although demand for diversity is higher than ever, Winson stresses that more still needs to be done.
Some fashion brands have never used models with a disability in their advertising and some magazines do not feature any persons with disabilities for months. It is also still rare to see these models on the runways. 
"A lot of casting directors will say, 'Look, we want diversity. Please suggest diverse models', and if we see that, then we're like, 'Right, you asked for diversity, you're getting it!' And what they meant was, more often than not, ethnic diversity," Winson said. "We've noticed that disability is the last thing that people think of when they're thinking of diversity. For some reason, it's the thing that gets forgotten about. Ethnicity, even gender, identity, age, size, everything comes before thinking about disability."
Although there are many challenges ahead, Winson and Proctor are full of energy to continue the fight to make fashion more inclusive, as are the Para athletes who share this mission with them.
"When we first launched years ago, either the reaction was that (casting directors) just ignored us - which still happens a lot of the time - or they were surprised and like, 'But why are they sending us this and why did they suggest this person?'" Winson said. "Then we can use that opportunity to explain, 'Well, this is inclusion. Why should people with disabilities be excluded from this?' And try to explain the benefits about being inclusive in your casting."