Michael Feistle believes it's Germany's turn for goalball glory at Tokyo 2020
Goalball player feels it is Germany's moment to climb onto the first step of the Paralympic podium
09 Jul 2020
Imagen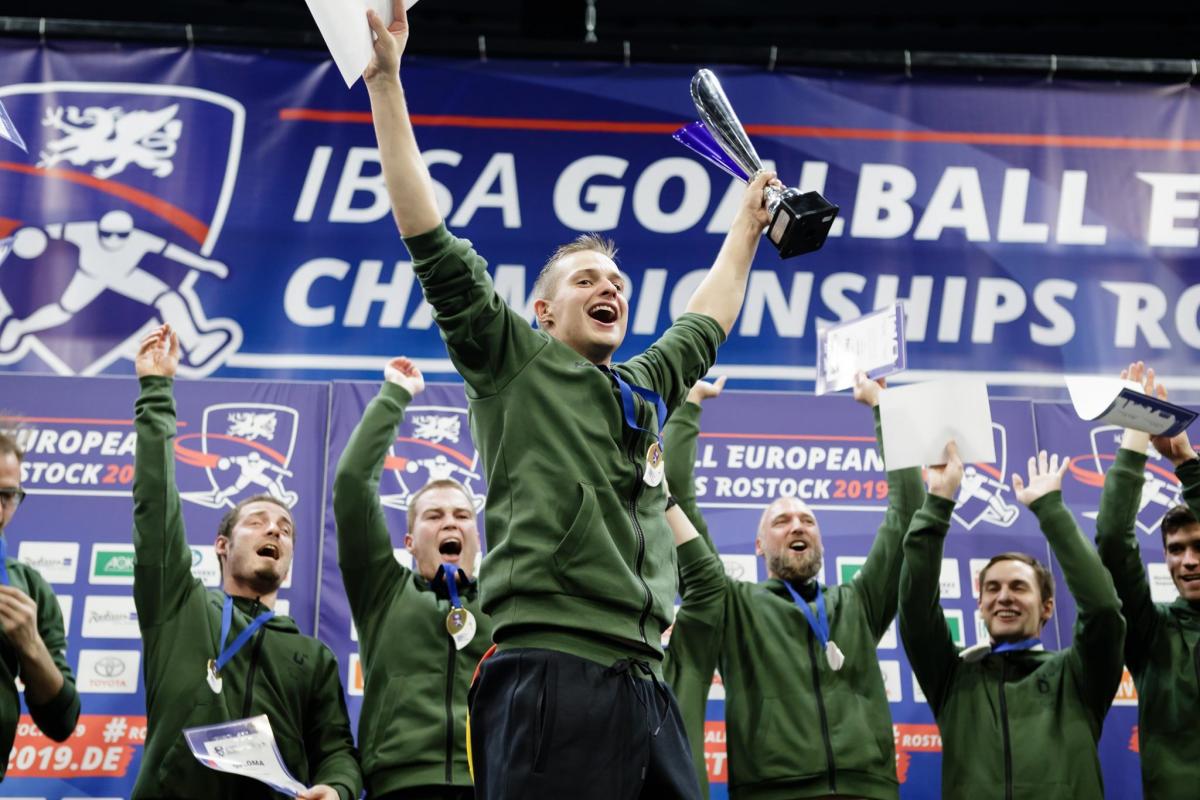 ⒸBinh Truong/DBS
By Santiago Menichelli
Michael Feistle was watching from the tribunes as Lithuania beat USA in the Rio 2016 Paralympic Games men's goalball final. It was at that moment he promised to devote himself to helping Germany take gold in Tokyo, Japan.
In Rio, Germany lost to eventual runners-up USA 7-6 in the quarter finals, which was not good enough for Feistle's competitive spirit. 
"During these past years, goalball has become my main focus. I have dedicated my life to training for Tokyo 2020 and sacrificed time with friends and family. This is certainly not easy as you miss family celebrations and even birthday parties because you have to be at training, and at competitions.
"Many people can only dream of transforming the sport they love into their work."
A lesson learned

"Of course, it does make a difference if you are one of the underdogs at the Paralympics," Feistle said. "We were the last team to qualify for Rio 2016. Nobody had much expectation and we were able to compete and play freely because we had nothing to lose.
"Defeats like the one against the USA are the ones we learn from. This won't happen to us anymore after the many lessons we've learned."
Looking ahead to Tokyo 2020, the context has changed. Germany won the 2019 European Championships on home ground and has become one of the forces to be reckoned with. 
"Now there is some expectation for us, we have built it up through our successes and hard work. This motivates me more than it puts me under extra pressure. The Paralympic Games are what an athlete lives and works for every day. Being four years older, having lost two finals and winning one in front of our home crowd, that also makes a difference.
"Winning a Paralympic medal is something very special, no matter what colour. To get the gold would be to achieve a dream that has been in my head every day for four years. It would be a reward for the decision I made that my life should be focused on goalball.
"I would dedicate my medal to my grandfather, who is no longer here, who never saw me play and I'm sure he would be extremely proud of his grandson."
Germany is no longer the young team that competed at Rio 2016, although there are some young prospects who still have a lot to give. "Some players are over 30, but it's still a team with potential for development. After Tokyo, there will be changes.
"For all of us, there is a personal side to the sport that we must not neglect. Everyone must decide for themselves whether they would like to spend another four years of their lives until Paris 2024 training with the same intensity. It is difficult to predict today how this will look for us after Tokyo."
Attention to details

Feistle, who was born with 5 per cent visual acuity in one eye, admits Germany have found a formula for success.
"Our success over the past three years has to do with some tactical decisions made by our coaches. For example, regarding the alignment and formation of our defence. We've also evolved in our offense after a lot of hard work and we no longer depend on just one shooter," he explained.
"It is said that Germans have the virtue of thoroughness: this is the virtue that our coaches agree suits our team. Working on details to achieve big goals has made the difference between 2013 (when he made the national team) and 2020.
"We have also incorporated tools such as match analysis to improve and better understand the other teams' game.
"Personally, I act more calmly on the pitch, even if the stadium is packed with a few thousand spectators. I play calmly and clearly because of my experience, and that's what really makes a difference as an athlete.
"We've discovered that defence is the key to great success. I'll never be the player with the strongest shot in the team, but I can understand the game, analyse it tactically and always know how the opponent reacts to different actions. That's my individual strength, which works extremely well in our team. 
"I'm more of a creative player. This diversity makes us an uncomfortable team to play against."