Summer or winter, Swiss legend Heinz Frei is master of all
'I like to win but a healthy body and mind is the biggest win and brightest medal'
27 Feb 2022
Imagen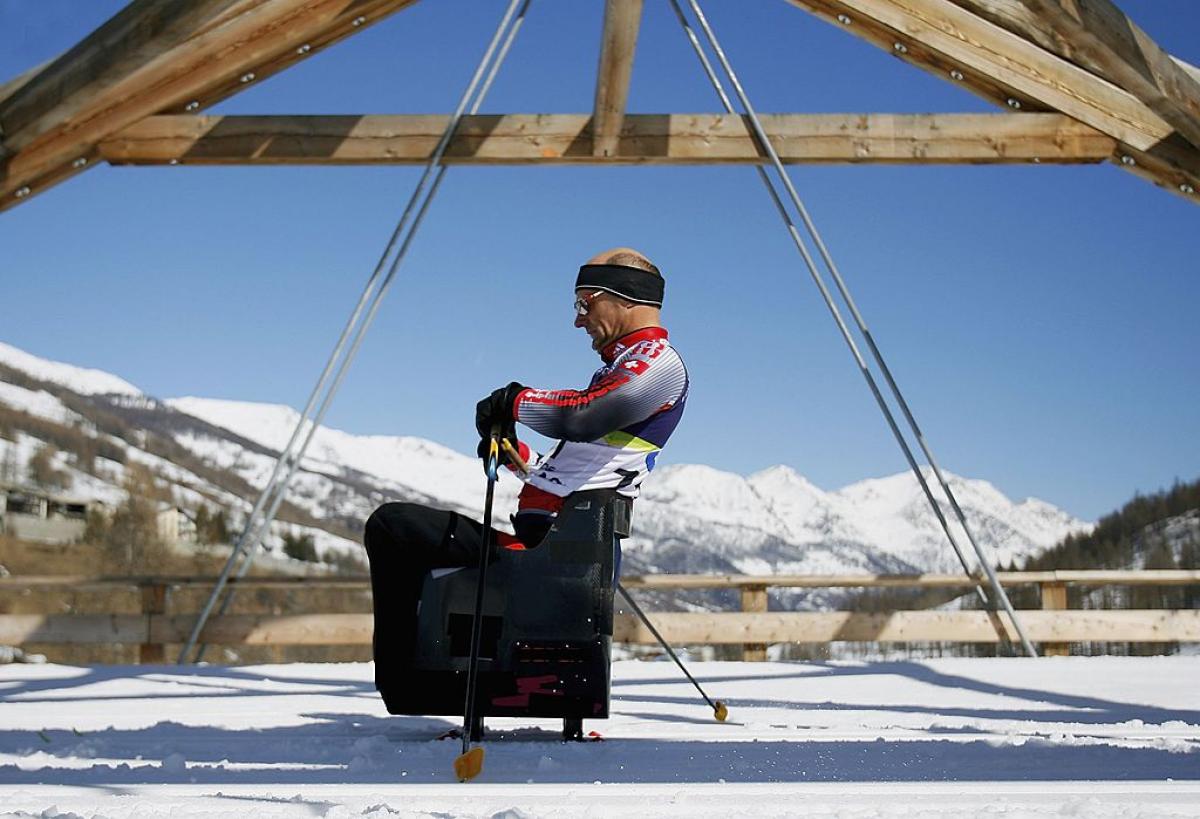 ⒸBryn Lennon/Getty Images
By AMP Media I For The IPC
Marathon man, grandfather, inspirational speaker, record breaker… Swiss legend Heinz Frei ticks all the boxes.
Frei celebrated his 64th birthday in January, six months after winning a Paralympic silver medal in the road race at the Tokyo 2020. It was the finale to a special relationship with Japan, from bronze medals in the 10km and 15km Sit Ski events at Nagano 1998, to 14 Oita marathon wins and owning the world record in that event for more than two decades.
"Tokyo was my last great challenge," Frei recalled. "At 63, I wasn't a favourite athlete – nobody outside expected a medal. But my focus, my exercise, my energy, my mental condition, I think I brought all that together in an extra-perfect level in the summer of 2021.
"I love it when it's hot, I love the hilly course, I love Japan. And I had the great opportunity to close a circle in Japan. I participated in maybe 35 Oita marathons since 1983 – I was owner of the world record in marathon for 22 years, I participated at the Winter Games in Nagano (1998), so Tokyo closed the circle."
Frei, a paraplegic after an accident in 1978, will be watching Beijing 2022 from home with the enjoyment and passion which has marked his decades-long sporting career in Summer and Winter Games.
Of his 15 gold medals, just one came on the snow and ice, at Innsbruck 1988 in the men's short distance cross-country 5km. He also took silver in the 3x2.5km relay and bronze in the 10km long distance at the same Games. He collected a total of eight winter medals.
"I was a young athlete at this time with a lot of energy. That made it possible and interesting for me to participate also in Winter Paralympic Games.
"My priority was in summer sports but then with this gold medal from Innsbruck, I realised that I had the ability for a double career. Nice to enjoy that."
Frei, who is a motivational speaker for the Swiss Paralympic Association, could have won even more winter medals. He had two fourth places at Lillehammer 1994 and a similar haul at Albertville 1992, while at Innsbruck 1984 he just missed out on a hat-trick of bronze medals after two third places.
"I like to win all the time but at the end of the day the best thing is a healthy body and mind and this is the biggest win and brightest medal."
Frei's last winter Games was Torino 2006 while he continued in the summer editions, switching to hand cycling and discovering a new talent.
"The winter in the last 20 years in Switzerland, and especially in my living situation, made it not easy. So I realised it's better to have a good focus on one direction.
"It was the period after 2006 that I switched more and more to Para Cycling – but never did I expect that I could find a high level in a third sport. In Beijing, I won two gold medals in hand cycling at the age of 50.
"Through my career I have spent a lot of energy for the development of disabled sport. As an example I quit my job as technical drawer and followed the voice of our paraplegic association to work for the wheelchair sport. Athletes like Marcel Hug or Manuela Schar are products of this development." 
Frei pays tribute to his wife Rita for her assistance and reveals that he became a grandfather in 2020 through son Jan.
"Rita is not only my biggest darling, she is my mentor, my motor, my partner in long-distance training accompanied by bicycle and much more. My children Jan (32) and Tamara (28) make me proud."
They are surely proud of their record-breaking father too. After all, as well as all his Para medals, he is a 10-time Para athlete of the Year and was given a lifetime award in 2020 as the best Para athlete in Swiss history.