Australia ready to ride Gold Coast 2018 momentum
National Paralympic Committee ready to fight for Para sport equality
17 Apr 2018
Imagen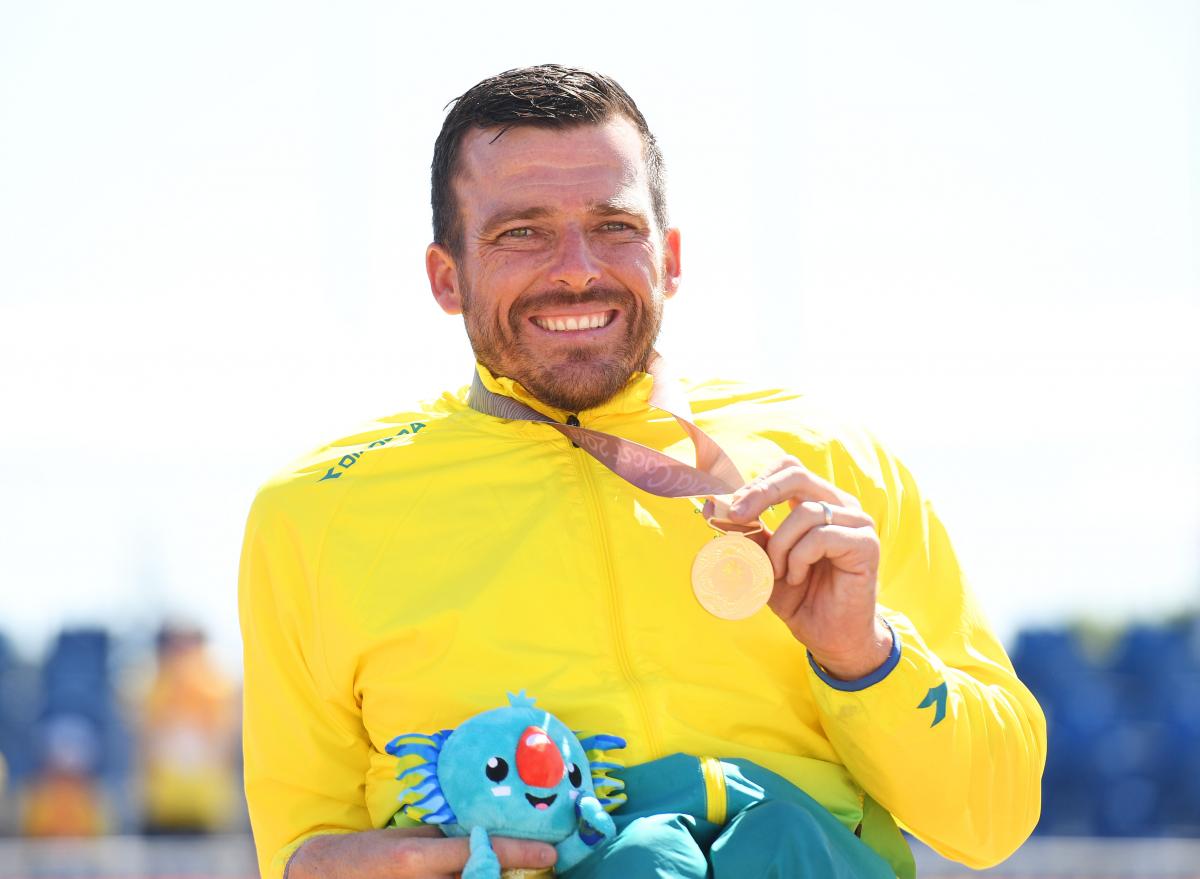 ⒸGetty Images
By NPC Australia and IPC
The Australian Paralympic Committee (APC) plans to take full advantage of the momentum generated by the Gold Coast 2018 Commonwealth Games which finished on Sunday (15 April).
"Gold Coast 2018 has only reinforced what we already know about Australians having a deep respect and admiration for our incredible Para athletes," APC Chief Executive Lynne Anderson said.
"As always, it is now about converting what has been achieved into success on a broader scale. The APC is a proud advocate for equality, diversity and inclusion and we will continue to challenge government, the corporate sector and the community to ensure accessibility to sport for people with a disability continues to grow.
The multi-sport event saw a record number of sports (seven) and medal events (38) on offer for around 300 Para sport athletes. It was a 73 per cent increase in Para sport events and 45 per cent increase in Para athletes from Glasgow 2014.
"The APC makes no secret of its fierce push for greater equity in funding for Para sport compared to able-bodied sport. Our Para athletes have shown what happens when they are given support, but the reality is that equity of opportunity is still not there for people with a disability," said Anderson.
"It is a never ending battle and the stakes are only getting higher, particularly in the current financial environment and at a time when the development pathway for disability sport is under immense pressure."
Anderson said there is an under-representation of resources for Para sports and accessible venues in Australia, from high-performance down to grassroots levels.
However the integration of Para sports in the Commonwealth Games was an example of the positive impact on society.
"The response we have received about the performances of Australian Para athletes here has been overwhelming," she said. "Everyone I speak to here has loved the integration of Para sport and we have loved seeing our athletes in the limelight which is where they belong."
Spectator impact
Para sport medals were counted on the overall medal tally, which Australia topped convincingly. Australian Para athletes pulled their weight, by winning more Para sport golds than any other country - 16 of the 38 on offer.
"One of the things that I will recall out of the Games that I will always be very proud of was the response from Australian spectators," Peter Beattie, Chair of the Gold Coast 2018 Organising Committee said. "They were incredibly vocal, they gave standing ovations to the Para athletes and it was just one of those moments that you'll always remember."
"People got to understand the value of the [Para sport] events, they appreciate it and you break through."
Australian Paralympic legend Kurt Fearnley won silver in the men's T54 1500m and gold in the marathon on the final day of competition, both events reaching massive audiences via the Seven Network's live coverage. He was selected as Australia's flag bearer in the closing ceremony.
He said the success of the Commonwealth Games must be measured away from the sporting area.
"The crowds have been loving it; Channel Seven has been doing a great job. Let's talk about disability further now," Fearnley said. "Let's have the conversation about what's happening here at home for people with a disability; about our education facilities, about our transport, about employment.
"Let's have this conversation on a greater level and let's make sure we can do something positive for what's happening right here.
"It's the right thing to do so now let's use it as a pivotal moment. Tomorrow morning have that yarn about disability wherever you are."
And IPC Vice President Duane Kale believes what he has witnessed at the Commonwealth Games can be a catalyst for positive change.
"Everybody has a contribution to make but unfortunately, so often people with an impairment are judged by what they can't do. But here, they are judged in an athletic environment and what they can achieve. That changes society, it flows into business, into economics and the well-being and progress of countries."
"We have got to some work to do now to continue to build on this momentum. It is critical for the world to have success in growing that awareness of inclusion and accessibility. Para sport normalises disability and impairment within society."
The complete story can be found on the APC's website.