Information for Para athletes and IPC members on COVID-19
As we have noticed a decline in the amount of information we can share regards COVID-19, we have changed the frequency of this update to every second week
10 Dec 2020
Imagen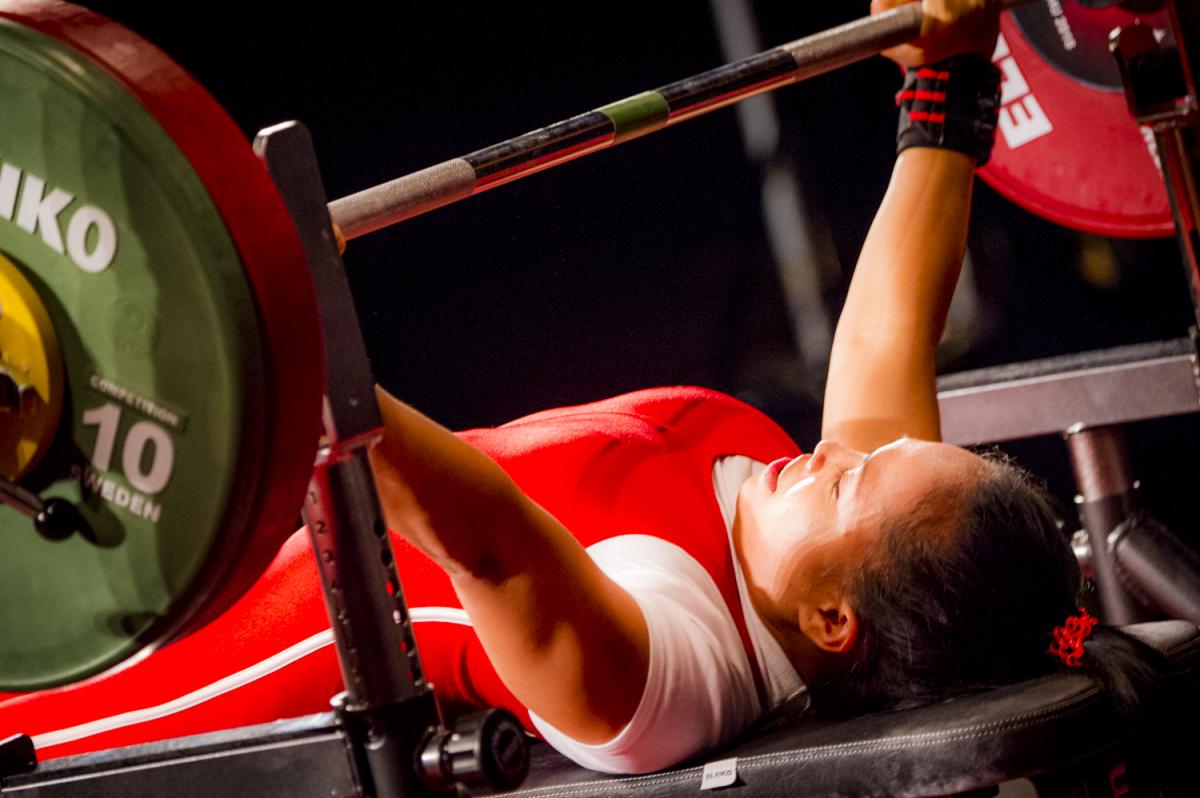 ⒸHiroki Nishioka for World Para Powerlifting
By IPC
The IPC's update on coronavirus disease (COVID-19) – 10/12/2020
The purpose of this biweekly update is to keep everyone within the Paralympic Movement informed of the latest developments with the COVID-19 pandemic and how it relates to the Paralympic Games and Para sport.
This week's update contains the following information:
A declaration to further inclusion, by Andrew Parsons, IPC President
Latest IPC & Tokyo 2020 updates, including a reminder of COVID-19 grant funding available to support members
Latest World Health Organisation update
We have been sending these regular updates since 19 March and we began our first newsletter with a message from IPC President Andrew Parsons. We thought it appropriate for our final newsletter of 2020 to again get his  thoughts.
Back in March, Parsons spoke about an unprecedented situation that was becoming the biggest challenge in a generation. While noting it was larger than sport, he detailed how we had a duty of care to the Paralympic Movement and that we would be guided by the principles of health and wellbeing of athletes, flexibility and fairness. He also observed that we would get through this:
"In the Paralympic Movement we are no stranger to challenges and obstacles in our way. As before, one way or another, we will find a solution."
As 2020 draws to a close and we look forward again to the Tokyo 2020 Paralympic Games, Parsons  has written another article to coincide with the UN Human Rights Day (10 December). He reflects on how this has been the worst crisis in a generation, its impact on persons with disabilities and what we must learn and do next.
Parsons  claims that COVID-19 has exposed how persons with disabilities are disproportionately impacted by the inequalities that exist in society. The pandemic has made matters worse for those with disabilities, increasing rates of discrimination and neglect.
He remarks how global leaders need to come together after this crisis in the same way there was the Universal Declaration of Human Rights after WW2. He calls for a Declaration of Human Obligations after the pandemic subsides, and that this needs to should consist of four components: ending discrimination, forging diversity, listening to masters of innovation and ensuring participation for all.
The tool humanity should use to promote the Declaration of Human Obligations is sports, as it's the best instrument to start a monumental global change. Parsons has a warning: sport for persons with disabilities must not suffer as governments, businesses and the media look to make savings. He calls on governments to ensure equal funding of Paralympic and Olympic sports.
Parsons concludes that there is hope. Next year's Paralympic Games will be a platform to place disability at the heart of the diversity agenda and show the world why inclusion matters. 
Finally, a thank you to all of you from around the Paralympic Movement who have provided us with content for this newsletter. We have had much practical advice on how to cope with the pandemic and how we could safely return to sport. We have heard from athletes, coaches and sports on how you have innovated in sport and made a difference to your many communities. All of us at the International Paralympic Committee (IPC) remain in awe of your creativity and indefatigable spirit.
We want this mail to continually highlight initiatives that National Paralympic Committees (NPCs), International Federations (IFs) and athletes are doing. If you would like to let us know about your story or raise awareness of any other initiative, then please get in contact at ipc.media@paralympic.org.
A Declaration to further inclusion, by Andrew Parsons, IPC President
The worst crisis in a generation has exposed more than ever the frightening inequalities that exist in our society.
Each day, I am horrified at the increasing rates of discrimination and neglect that are impacting the world's largest marginalised group. Even under normal circumstances, the world's one billion persons with disabilities have less access to healthcare, education, employment and to participate in the community, but the pandemic has made matters worse. This cannot go unchallenged, especially when inclusion and equality are such hot topics of conversation.
Leading researchers may tell us that the world is much better place to live in now than in any other century, but in my view, we cannot go back to the 'old normal' post-pandemic. We need to build back better and create a society that is more inclusive, more environmentally conscious, more sustainable and more caring of each other. To do this, we must fundamentally change the relationship we have with the planet we live on and with all beings that live on it, including humans.
The order we used to live in pre-pandemic was constructed in the late 1940s. All the unnecessary death and suffering that happened during the Second World War forced world leaders to acknowledge the co-dependency between all nations and the necessity to co-operate in order to survive. To make that happen, they came up with the Universal Declaration of Human Rights as a roadmap for governments to prevent further atrocities in the world. To achieve a new commitment now, we need a similarly ground-breaking decree.
I would like for there to be a Declaration of Human Obligations, a global understanding that we all have a collective responsibility to expand our conscience, understand the consequences of our actions and build our empathy. If it was up to the IPC to draft this Declaration, I would suggest the following four components: ending discrimination, forging diversity, listening to masters of innovation and ensuring participation for all.
A focus on non-discrimination
To right the wrongs of the 'old society', we must place a strong focus on building more equal, inclusive and sustainable economies and societies. For this to happen, there needs to be an unwavering commitment from every world citizen to prohibit discrimination, a core human rights principle.
Humanity is united in its collective fight against COVID-19 and this unity is making us stronger. However, even during this difficult period, there is a continued desire by some sections of society to break this harmony by focussing on the factors that differentiate us. Overlooking what brings us together to concentrate on things such as ethnicity, nationality, social class, gender, religion, sexual orientation, political opinion, is wrong and very dangerous. It fuels discrimination and weakens what we can achieve together as a human race.
Difference is a strength, not a weakness, and we should aim to create societies where opportunities exist for all.
A society for all
COVID-19 has shown that the most vulnerable people in society are often the strongest. It has also given the wider world a much greater understanding of what persons with disabilities experience on a daily basis – self isolation against your will at home, a dependency on the goodwill of others, and importantly the need to prioritise your health and the health of others over absolutely everything else.
Going forward, we must share the understanding that society must be built BY ALL and FOR ALL. Diversity must not only be tolerated or respected. It must be valued and encouraged. Diversity should also not just be about ethnicity, gender or sexuality. It also needs to be about disability, a subject that often falls off the wider diversity agenda.
Society must recognise and take measures against the disadvantages experienced by some people to ensure they equally benefit in the future.
With a world population of nearly eight billion people, the pressure on economic systems, food production and access to health and education is immense. The greater the number of excluded people, the more likely the pressure increases to breaking point. And it is in this sense that the consequences of exclusion are felt, albeit in different ways, by everyone, regardless of their individual financial or social situation.
An incentive for innovation
One positive outcome of the pandemic is that people have become more creative and innovative.
Faced with new and often daily challenges, people have needed to do things differently such as working from home and exercising indoors or in the back garden.
Persons with disabilities are particularly innovative as they are no strangers to this culture of finding solutions to beat daily challenges and obstacles.
There is no doubt the post-pandemic world will lead to more frequent challenges for global society. That is why persons with disabilities need to be placed at the centre of what comes next. They are the masters of innovation.
Change Starts with Sport
The tool humanity uses to promote the Declaration of Human Obligations should be sports. Participation in sport not only makes us healthier and therefore stronger to fight disease and infection, sport also has a unique ability to unite people in celebration.
When the world returns to some form of normality, it is essential that governments ensure equal funding of Paralympic and Olympic sports and do not undo the good work that has taken place in recent years.
My fear is that as governments, businesses and the media look to make savings in all areas, sport for persons with disabilities could suffer. Instead, I hope the opposite is true and that inclusion and opportunity is at the core of everything in the future.
As the IPC President, I firmly believe that Change Starts With Sport.
Due to the pandemic, the role of the IPC and the Paralympic Movement is more important now than it has ever been. The global pandemic has disproportionately impacted persons with disabilities and the Paralympic Movement is well positioned to help change this. Through our activities and events, we can use sport as a vehicle to build back better and ensure that post-pandemic, society is more inclusive.
Next year's Paralympic Games are a platform to place disability at the heart of the diversity agenda and show the world why inclusion matters. With record numbers set to watch Tokyo 2020, we are determined to use the Paralympics to change attitudes, breakdown barriers of inequality and create more opportunities for persons with disabilities.
Finally, the Paralympic Movement is, and always will be, more than just sport.
The IPC's role in transforming the world through sport has never been more needed or urgently required for the world's largest marginalised community.
IPC & Tokyo 2020 updates
Member grant funding to provide support through COVID-19
On 3 December, the IPC announced that it is making EUR 1.8 million worth of grant funding available to its 200-plus member organisations during 2021 as part of efforts to provide additional support during the COVID-19 pandemic.
This one-off grant support initiative - the biggest of its kind in the history of the IPC - is a result of financial support from the Toyota NPC Development Programme and IPC international partner Citi. It is also a combination of the IPC's 2020 and 2021 Grant Support Programme, which is an annual pool of funding that members can apply for to deliver projects that support athletes, raise awareness about the Paralympic Movement or develop Para sport.
Grant support funding for IPC members will be awarded from January 2021 in five key areas:
License and membership fee grants - Grants of up to EUR 7,500 will be available to eligible NPCs to cover World Para Sport (WPS) athlete licence fees and IPC membership fees.

Para sport development - Grants of up to EUR 7,500 will be available to eligible NPCs to offer training support for Para athletes, coach and athlete stipend, logistical support for training, WPS athlete license fees and other eligible activities.

Paralympic Games readiness - Grants of up to EUR 7,500 will be available to eligible NPCs to support with Paralympic Games communication and fundraising campaigns, WPS athlete license fees and other eligible activities.

Training and education - Grants of up to EUR 15,000 will be available to all International Federations and International Organisations of Sport for the Disabled for the development of education pathways and the development of online training courses in different languages.

Regional organisation grants - The African Paralympic Committee, Asian Paralympic Committee, European Paralympic Committee and Oceania Paralympic Committee which each receive grants of EUR 40,000 to support eligible activities that benefit athletes and NPCs from their respective regions.
Full guidelines and instruction on how members can apply for grant funding were made available to all members by email on 3 December. Members can apply for grant funding until 30 December 2020. Successful projects will be announced in the last week of January 2021 with grants awarded by February 2021.
Tokyo 2020 update test events calendar
The Tokyo Organising Committee of the Olympic and Paralympic Games has announced its revised test event calendar for 18 Olympic and Paralympic disciplines, including Para athletics, Para swimming and wheelchair rugby. 
The test events will test three essential elements: the field of play (competition area) for each event, the use of technology, and workforce - with a focus on technical aspects including countermeasures against COVID-19.
In response to the COVID-19 situation, the Organising Committee will implement infection countermeasures and plan to conduct comprehensive tests of various aspects of venue management, including the handling of spectators at selected test events. Some aspects of the test events are still under review. Any changes will be announced by Tokyo 2020 as soon as they are decided.
For the latest event line-up and competition schedule by session click here.
Tokyo 2020 Qualification
The qualification regulations for all 22 sports can be found here.
Para sport event postponements and cancellations
The list of cancelled Para sport events remains on the IPC website and is being regularly updated. You can find details here. 
Tokyo 2020 preparations on the agenda for IPC Governing Board meeting
The 86th International Paralympic Committee (IPC) Governing Board meeting is taking place on 9, 10, 14 and 15 December 2020 with all Board members participating via video conference.
The IPC will communicate key outcomes from the meeting following its conclusion on 15 December. IPC President Parsons will then hold calls with IPC member organisations and athlete representatives between 16-18 December to provide updates on the key outcomes from the meeting and on preparations for Tokyo 2020.
The Board will receive updates on preparations for the Tokyo 2020 Paralympic Games, the ongoing Governance Review, and the International Wheelchair Basketball Federation's (IWBF) progress in reaching Classification Code compliance. 
Following a six-month stakeholder engagement programme, an updated venue masterplan for the Paris 2024 Paralympic Games will also be presented for approval. With regards to Milano Cortina 2026, the IPC Governing Board will look to approve the sport programme for the Paralympic Winter Games.
IPC to provide free-to-air coverage of Tokyo 2020 Paralympics in Sub-Saharan Africa
The IPC has announced that it is to provide free-to-air (FTA) coverage of the Tokyo 2020 Paralympic Games in Sub-Saharan Africa as part of its efforts to raise awareness of Para sport and its athletes in the region.
This broadcast initiative is a key element of the Para Sport Against Stigma project between the IPC, Loughborough University, and the University of Malawi, Chancellor College, which aims to support social change and overcome stigma and discrimination against persons with disabilities in Africa. Para Sport Against Stigma is part of AT2030, a programme funded by UK Aid and led by the Global Disability Innovation Hub. 
For the first time across the region, the Opening and Closing Ceremonies will be FTA and broadcast live on 24 August and 5 September 2021. There will also be a 52-minute daily Games highlight show of African-centred content in English, French and Portuguese. 
So far FTA broadcasters in 24 countries - with an estimated reach of over 150 million people – are confirmed: Benin, Botswana, Burkina Faso, Burundi, Cape Verde, Cameroon, Cote D'Ivoire, Democratic Republic of the Congo, Eswatini, Ghana, Kenya, Lesotho, Malawi, Mali, Mauritius, Mozambique, Namibia, Nigeria, Senegal, Seychelles, Sierra Leone, Tanzania, Togo, and Uganda. The IPC will waive the broadcast rights fee for Tokyo 2020 in order to maximise coverage in a region that has traditionally aired only limited coverage of the Games.
World Health Organisation update
According to WHO's latest Daily Situation Dashboard on 10 December 2020 09:54 CEST, the number of confirmed worldwide cases has risen to over 68 million and there have been over 1.55 million deaths. John Hopkins University of Medicine is reporting that over 44 million people have recovered.
In the last fortnight, the United Kingdom became the first Western country to approve a vaccine for general use. On Monday, 8 December the first members of the public started receiving the vaccine.
However, the WHO has warned against complacency and what it said was an erroneous belief that because vaccines are on the near horizon, the crisis is over.
"Vaccines do not equal zero COVID," said WHO Emergencies Director Michael Ryan. "Vaccines and vaccination will add a major, major, powerful tool to the tool kit that we have. But by themselves, they will not do the job."
WHO Director-General Tedros Adhanom Ghebreyesus added that progress on vaccines "gives us all a lift and we can now start to see the light at the end of the tunnel. However, the WHO is concerned that there is a growing perception that the pandemic is over. Many places are witnessing very high transmission of the virus, which is putting enormous pressure on hospitals, intensive care units and health workers."
This week, the USA surpassed 3,000 coronavirus deaths for the first time, and the likes of Brazil, Mexico and Paraguay are struggling to contain a second wave.
The WHO has also recommended who should be vaccinated first:
Health workers who are at high risk of infection. This will help to protect them and the health system. 

People at highest risk of serious disease or death as a result of age are also a high priority group. Protecting them will reduce severe disease and death and take the burden off health systems.  

As supply increases, the next groups would include those who have higher risk of severe disease because of their underlying conditions, and marginalised groups at higher risk.
WHO also outlined that in the initial stages of rollout, with only a small proportion of a country's population immunised, it's vital that governments, communities and individuals continue using proven public health tools.
The IPC continues to use the WHO and their site as its main source of information regarding the COVID-19. It provides regular situation reports and have a wide range of guidance on health and protection, travel advice, as well as extensive myth-busting and technical guidance sections
Their 'Key planning recommendations for mass gatherings in the context of COVID-19' guidance can be accessed on this link.
WHO's WhatsApp messaging service
WHO's WhatsApp messaging service is providing the latest news and information on coronavirus in seven languages: Arabic, English, French, Hindi, Italian, Portuguese and Spanish.
Arabic
Send "مرحبا"  to +41 22 501 70 23 on WhatsApp
English
Send "hi" to +41 79 893 18 92 on WhatsAppwa.me/41798931892?text=hi
French
Send "salut" to +41 22 501 72 98 on WhatsApp
Hindi
Send "नमस्ते" to +41 22 501 73 41 on WhatsApp
https://wa.me/41225017341?text=नमस्ते
Italian
Send "ciao" to +41 22 501 78 34 on WhatsApp
https://wa.me/41225017834?text=ciao
Spanish
Send "hola" to +41 22 501 76 90 on WhatsApp
Portuguese
Send "oi" to +41 22 501 77 35 on WhatsApp 
https://wa.me/41225017735?text=oi