Laurentia Tan wants personal best in Normandy
Singapore's Laurentia Tan outlines her aspirations for the World Equestrian Games in Normandy, France
14 Aug 2014
Imagen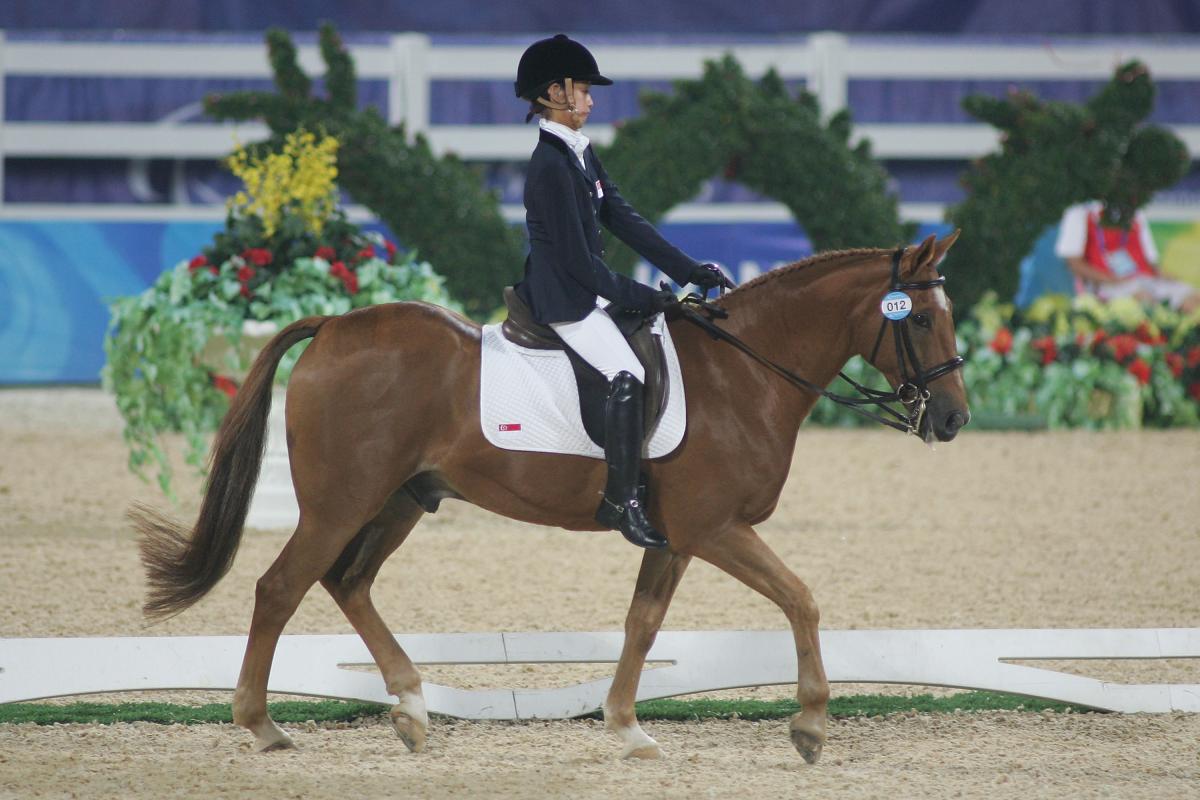 ⒸGetty Images
By Robert Howell | for the IPC
One of Singapore's most high profile Paralympians is Grade Ia rider Laurentia Tan. She was a double bronze medallist at the Beijing 2008 Paralympic Games and then took bronze and silver at London 2012.
Since those Games she has become something of a celebrity in her home country and, this summer, she returns to major international competition at the Alltech FEI World Equestrian Games 2014 (WEG), in Normandy, France.
The IPC caught up with Tan to find out what she's been up to and how she feels about the Games.
Paralympic.org: What have you been up to since we last spoke (about a year ago)?
Laurentia Tan: I am an FEI Solidarity Ambassador focusing on global development of para-equestrian dressage, and I'm also an ambassador for a few other programmes and projects. It is a joy to work with students, young people and others in the community. I share my experiences, what I have learnt and achieved in life to give encouragement and hope to others.
Success and achievements may not necessarily be in sports, so it is important that people find happiness and are motivated and have the hunger to achieve what they aspire. I do my best to encourage and help others achieve their potential.
What have been your highlights of the past 12 months?
I was given a number of awards after London, the most distinguished being the Public Service Star (BBM). I was also named the Straits Times' Athlete of the Year, voted UK's Deaf Overseas Sports Athlete of the Year, and inducted in the Singapore Women's Hall of Fame. It is a great honour and I am touched to receive them, especially when I would not have achieved so much without my horses and the people in my team.
What are your hopes for the World Equestrian Games (WEG) and how do you go about setting targets for the competition?
I have been continuing with my training programme and participating in international competitions. I always aim to enjoy the experience, have a safe and smooth ride and would love to at least achieve or better my personal best score.
There are many new riders coming up, and this is what good and healthy competitions are about. Personally, I am probably most competitive with myself as I push myself to better my scores. In some ways I like the challenge - unless we challenge ourselves, we don't know what we can do or what our full potential is.
Do you see the as a stepping stone towards Rio 2016?
I haven't really thought of it like that but, in a way, I guess it is. Every major Games, Paralympic or the Alltech FEI World Equestrian Games 2014, have been an experience and nothing can ever replace them.
I love dressage and want to develop my skills further. The standard and quality of riding in para-equestrian Dressage has really improved, but I hope to continue and do well, and go on to Rio.
How often have you been back to Singapore in the last year? How do you maintain contact with your friends and family back there?
Last year, I went to Singapore so many times that my family and friends couldn't keep up with my travelling dates! It was great to see my family and relatives on a more frequent and regular basis.
With my profound deafness, I cannot hear on the phone but technology means I can communicate via various videophone apps, emails and messages.
The Alltech FEI World Equestrian Games 2014 take place from the 23 August – 7 September.