Marie Bochet hoping for positive season sign-off at Europa Cup Finals
France's eight-time Paralympic champion joins 51 skiers from 14 nations in two technical races in Malbun, Liechtenstein until Friday
10 Mar 2021
Imagen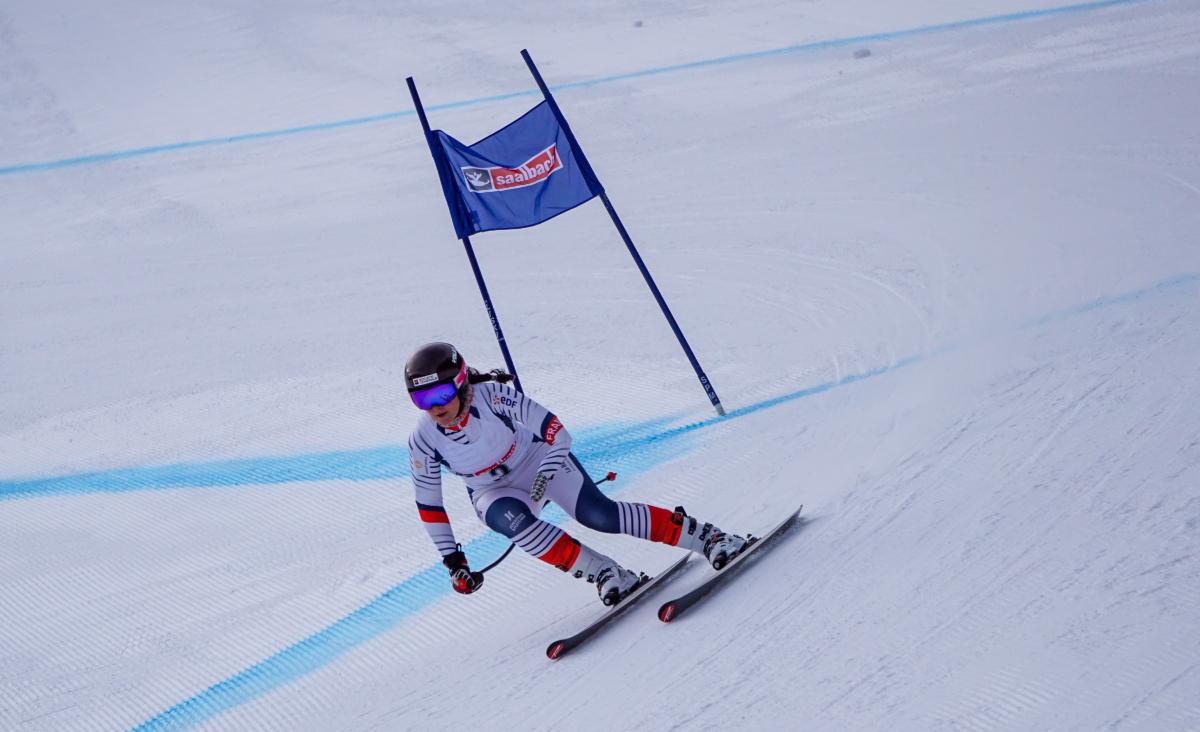 ⒸBenedikt Lex
By Lena Smirnova | For World Para Snow Sports
It has not been an easy season for Marie Bochet. France's star Para alpine skier juggled constantly changing schedules, mounting pressure in the year before the Beijing 2022 Paralympic Winter Games and, to top it all off, contracted COVID-19. 
Now about to race at the Europa Cup finals in Malbun, Liechtenstein, the eight-time Paralympic champion is hoping to finish this challenging season on a positive note.
The competition, consisting of one giant slalom and one slalom race, will be held until Friday with 52 skiers from 14 nations. It is the sixth and final stop of the Europa Cup season that started in late November.
Bochet picked up three gold and two silver medals in the five Europa Cup races she competed in this season. 
A multi-Paralympic and world champion, she has remained one of the favourites in the women's standing class for more than a decade, but the pressure of being the best is often hard to bear, especially with less than a year to go until Beijing 2022.
"Plans kept changing this winter and it was not easy to define goals, but I tried to be fast and to be 100 percent at the World Cup. I wanted to make my training translate to my races and at the end, I didn't achieve this so it's a real objective for this Europa Cup," Bochet said. 
"I really want to do good racing because it's a big problem for me now. I have so many thoughts in my head and there is so much pressure I put on myself that I can't ski at my level. It's a lot of frustration for me this season." 
To complicate matters more, Bochet was forced to sit out one Europa Cup and the World Cup finals held in Leogang, Austria in February after contracting coronavirus.
"I had a setback with COVID so I couldn't try again in Leogang and I'm very disappointed about that," she said. "I was sick, not a little bit, I was really sick with COVID, so tired, and it was very hard to come back. I just had one week of physical training and two weeks on skis."
Bochet is currently in third place in the Europa Cup's overall ranking, behind Germany's Anna-Maria Rieder and Andrea Rothfuss, who will be her biggest competition in the two races.
"I am taking the races here in Malbun like a big training," Bochet said. "It's cool for me because Anna-Maria and Andrea are at a good level so it's a good thing for me that they're here this week. I will try [to challenge them], but I'm not at my best."
Despite its challenges of the unusual 2020-21 season, Bochet says it has also been useful for the lessons she picked up and the extra time she had to reflect on her career.
"I love when the planning is clear so this season was a big learning experience for me," Bochet said. "I asked a lot of questions about my career and what I want to do in the end, so I think this season gave me some answers. It was a hard winter, but a very full one."
Wrapping up the season
Slalom experts Santeri Kiiveri of Finland and Iceland's Hilmar Orvarsson are also hoping for a breakthrough in Malbun. Their participation in the earlier competitions this season has been limited, and they are eager to make up for lost time. 
Orvarsson, who won the overall title at the Europa Cup last season, was balancing racing with his studies in medical engineering and could only take part in one international race in 2021. Meanwhile, Kiiveri was forced to miss some races in February after contracting COVID. 
Their toughest competition in Malbun is expected to come from all-around champion Arthur Bauchet of France who has dominated the technical races at the World Cup this season. Austria's Nico Pajantschitsch, currently second in the Europa Cup rankings, will pose a challenge as well.
In the men's sitting class, Rene de Silvestro is looking to top his career's most successful season with a first overall title at the Europa Cup. The Italian skier is currently 220 points ahead of his nearest competition, but he might still have to fight for gold with Switzerland's Pascal Christen and France's Lou Braz-Dagand, last season's overall title winner, also at the start gates.
While Anna-Lena Forster is already guaranteed the overall title in the women's sitting class, the question that remains is whether she will be able to finish this Europa Cup season undefeated. The German skier won 11 Europa Cup races so far and only lost one international race in 2021.
The women's sitting class will also include the only home skier in action at the Europa Cup, Liechtenstein's Sarah Hundert.  
Austria's Johannes Aigner is feeling equally sure of defending his overall title at the Europa Cup thanks to his nearly 700-point lead. But to also finish the season on a victorious note, the 15-year-old vision impaired skier will have to overcome the more experienced Hyacinthe Deleplace of France, and Russian skiers Ivan Frantsev and Valerii Redkozubov.
Meanwhile, Johannes' twin sister Barbara will be hoping to close the gap on the leading pair in the women's vision impaired class, Germany's Noemi Ristau and her guide Paula Brenzel. 
Barbara Aigner and her guide Klara Sykora are currently fourth overall, 210 points behind Ristau, but they come to Malbun with the confidence of having recently beaten Ristau in two World Cup races.
Live results from the Europa Cup finals in Malbun are available on the World Para Alpine Skiing website.