Samuel Andrejcik focuses on finishing
Slovak boccia athlete motivated by rivals and teammates
21 Nov 2018
Imagen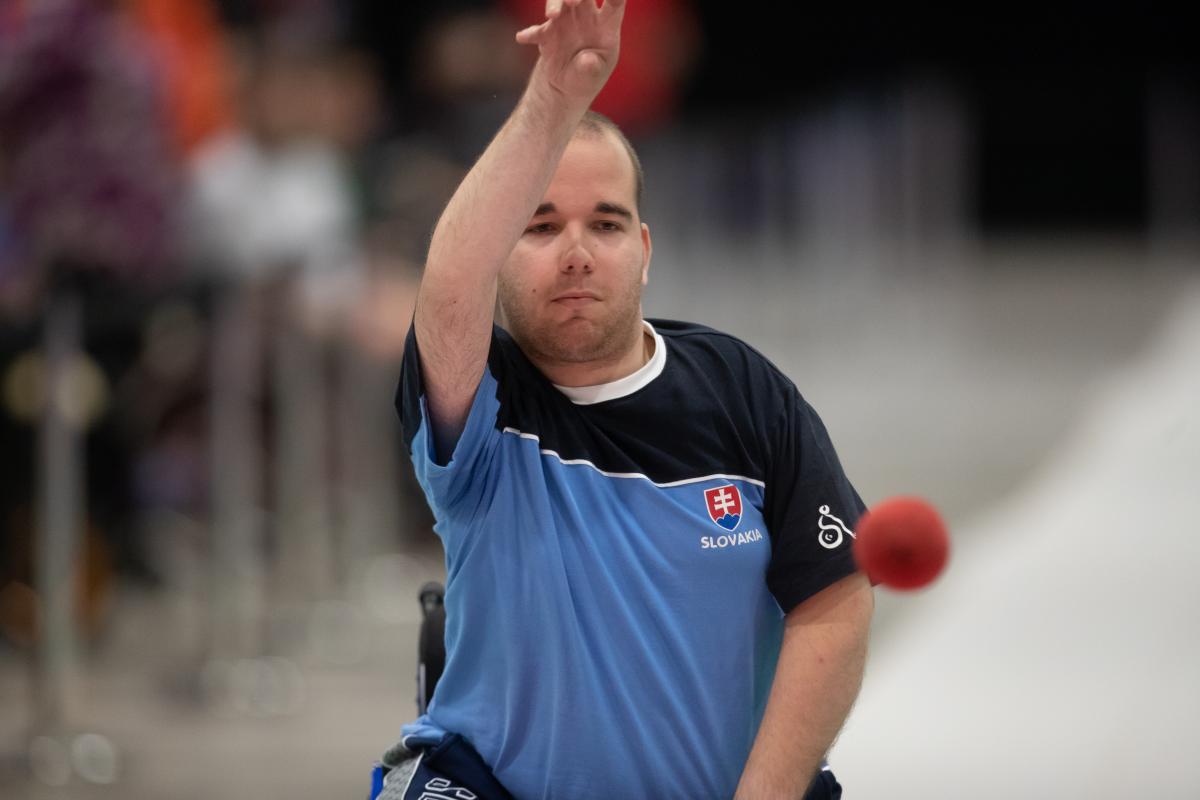 ⒸSportingwales
By EJ Monica Kim for the IPC
""If I didn't feel pressure, I would not play"
Slovakia's Samuel Andrejcik wants to finish 2018 on a positive note to set himself up for an important year ahead. And that can happen in December's Dubai Boccia World Open in the UAE.
"We are already training to achieve the best performance in Dubai," Andrejcik said. "It's a great opportunity to get points to qualify for the Tokyo 2020 Paralympic Games."
The 22-year-old has been satisfied with the overall outcomes of the year by himself and his teammates.
July's Povoa World Open particularly stood out. Not only did he win the BC4 individual gold, but also saw his team come together and win the pairs event.
Along with Michaela Balcova and Martin Streharsky, Slovakia followed that up with World Championship pairs gold in August.
"We believed and encouraged each other," he said. "I will always remember this season because I finally claimed my first world title [in the BC4 pairs at the 2018 Worlds], and I completed my collection of titles."
However, not everything went his way.
Upset at Worlds
The Rio 2016 silver medallist was unexpectedly knocked out in the pool stage of the individual event at the 2018 Worlds in Liverpool, Great Britain.
"I was disappointed that I did not succeed in the individual event, although I did not play badly," Andrejcik said.
As he only had two weeks until his next competition, he concentrated on training rather than staying discouraged.
That enabled himself to bounce back and earn the individual gold at the 2018 Poznan Boccia Regional Open in September.
"I was very excited to improve my performance," he said.
Although he suffered a backache during matches due to poor posture when throwing a push-off ball, he did not give up until the end.
"I had to use a medical timeout during a match in Poznan. Fortunately, it was nothing serious, and after the match, my pain was treated again."
Lessons for the new year
Andrejcik is focusing on refining new skills he learned from watching his rivals.
"I'm most interested in combinations of balls that they use during a match," he said. "In the BC4 category, there are a lot of good players, so we are all very close and many times it happens that 'better' players lost. It is nothing unusual."
The high competition is also helpful.
"If I didn't feel pressure, I would not play. I hope that everyone who watched my matches noticed my effort to win," he said.
The 2019 European Championships in Seville, Spain, will be important for Slovakia. It is where the country can obtain a qualification spot for Tokyo 2020.
"For every athlete, it is an honour to represent their country," he continued.
"It's too early [for us] to discuss Tokyo 2020 and medals. We are still playing match after match, and certainly, we will not make exceptions in Tokyo either."