Meica Horsburgh: 'After finding goalball I found my place in life'
"I think goalball has helped me to be more confident with my impairment, not letting anything get in my way. I feel OK to talk about it now as I know that my vision does not define me"
05 Aug 2020
Imagen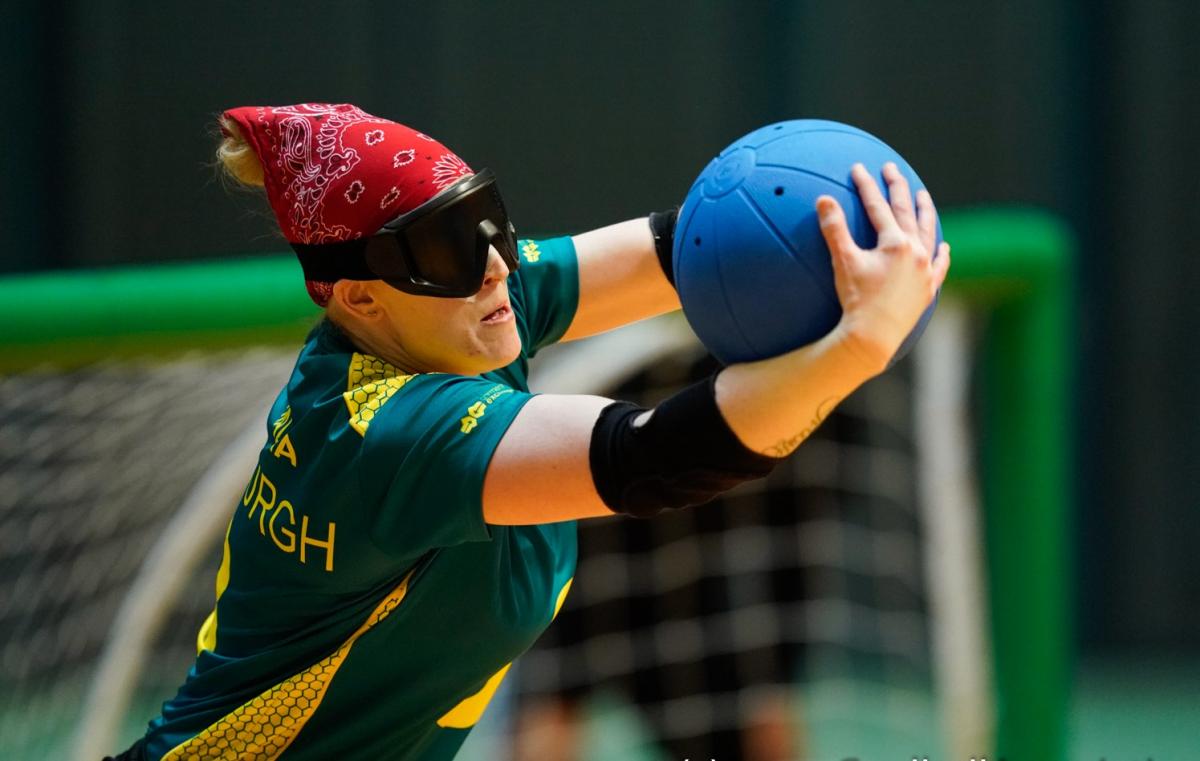 ⒸJapan Goalball Association
By IBSA
For Australia's goalball player Meica Horsburgh, the goal is clear at the Tokyo 2020 Paralympics.
 
"My aspirations for the Games is to better our last two performances and really just play well as a team, but of course, our real ambition is to bring home a medal," said Horsburgh, who captained the team at London 2012 and Rio 2016,
 
Her national team known as the Belles, with Horsburgh at the helm, have seen mixed success in recent years. At last year's Asia Pacific Championships, they finished fourth after a tough game against South Korea. 
 
"We were all really disappointed with the result in Chiba," she recalled. "We believe that we should have placed third but South Korea outplayed us on the day and they deserved that medal." 
 
Despite the disappointment, Horsburgh had great individual success, leaving as the second overall top scorer with 17 goals.
 
As well as tough competition in Championships, the Belle's Paralympic history has also been somewhat a wild ride.
 
"Without doubt the highlight of my career is qualifying for the London 2012 Paralympics and I am honoured and humbled to have captained the team there and in Rio. The feeling of being able to celebrate straight after a win knowing we were going to a Paralympics was something I will never forget."
 
Rio however was slightly different. A late call up to replace Russia left the Belles playing catch-up.
 
"Honestly, 2016 was the biggest roller-coaster of my life. To get the late call to attend Rio was amazing but also disappointing. I hadn't played goalball in five months and felt very under prepared. I believe we did the best with what we had but if we had more time to train and prepare, we would have been a real threat."

 
Heading into Tokyo 2020, the team have qualified again, adding weight to their belief that they are on the up. 
 
Now they have an extra year to prepare; the possibilities are exciting.
 
"Before the postponement announcement, our training was going well. We had planned to attend the Malmo Intercup and also had some national camps organised.  We are obviously all disappointed and like everyone else have had to vary our training. But I'm looking forward to August when we will hopefully be able to get together again to begin our preparations for Tokyo."
 
At 31, Horsburgh has been playing goalball for half her life, taking part in her first national competition at just 15 years old.
 
"It's funny, I remember not really liking the game that much, but I got into it as one of my high school friends competed for Australia. I started playing socially and I loved the fact that I finally found a place where I fit in."
I got teased a lot as a teenager and because of this I rebelled and was headed down the wrong path. But after finding goalball, I found my place in life. I had a reason to live and it really has changed my life.
 
But competing nationally at such a young age was tough.
 
"I am honoured and lucky to have represented Australia so early in my career because at the time the sport wasn't very big and we needed more players.
"Being so young, I didn't really understand how strong some teams were until I faced them but this made me want to be one of the best goalballers in the world and to keep the green and gold shirt on my back.
"Playing with the big girls at just 15 years old, made me realise that I wanted to be one of the best. I wanted to be a Paralympian, and my journey has helped make me the player I am today."
 
She continued: "I think goalball has helped me to be more confident with my impairment, not letting anything get in my way. I feel OK to talk about it now as I know that my vision does not define me".
 
Horsburgh even married a fellow goalball player, husband Jon.  
"We sometimes train together, which is nice as we appreciate each other's talents and we can push and support each other. It's so good to have someone to talk to who understands the struggles with playing at a high level.
"But of course, being athletes, there's always a bit of rivalry and we always try to compare who is the better player. But I always win!"