Hamburg 2018: Iran make history
Men's final four set while women's quarter finals begin
23 Aug 2018
Imagen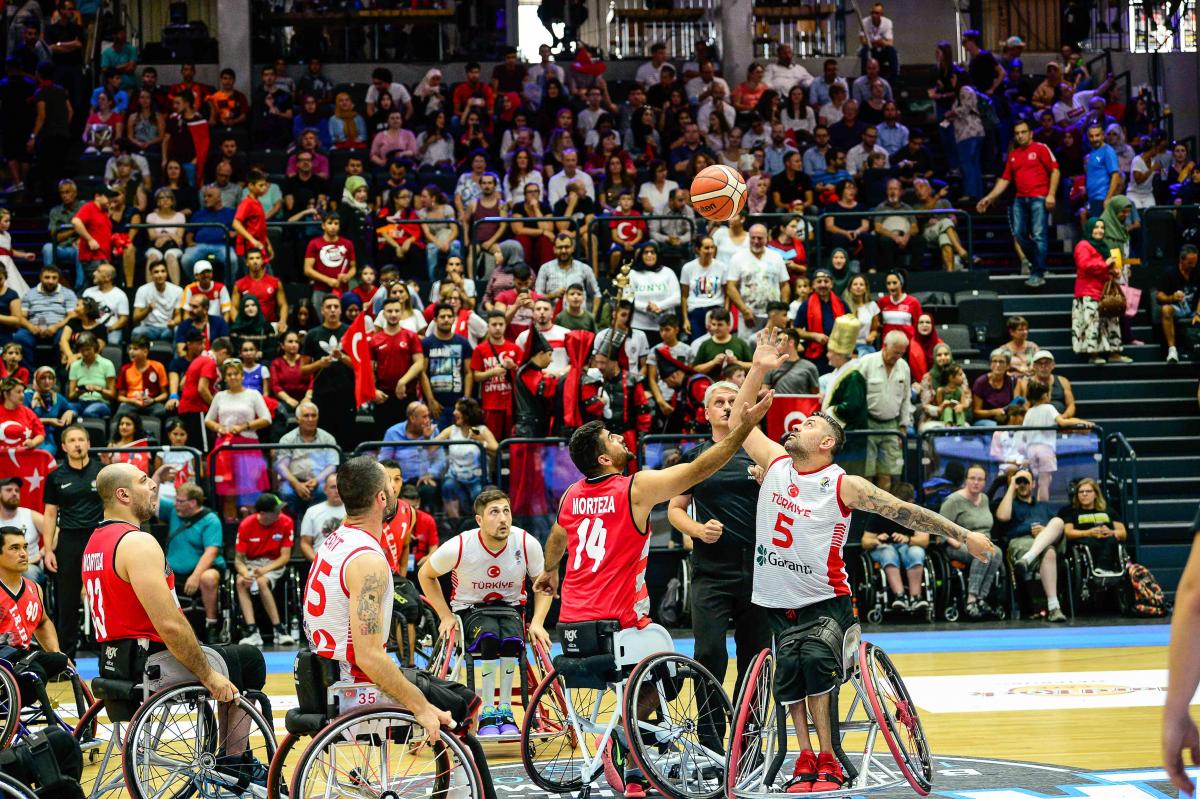 Ⓒuliphoto.de
By Hamburg 2018 LOC, IWBF and IPC
The Iranian men continued their historic run at the 2018 Wheelchair Basketball World Championships with a passionate triumph over Turkey on day seven (22 August) in Hamburg, Germany.
The Asia-Oceania Championship silver medallists overcame a boisterous Turkish crowd that boosted the European champions to an early eight-point advantage. However, Iran's towering trio of Omid Hadiazhar (22 points, seven rebounds), Morteza Ibrahim (23 points, 10 rebounds) and Morteza Abedi (21 points / eight rebounds) helped their side fight back to win 76-69.
"No one would have thought that we would come this far, we definitely want to reach the final with all our might," said Iran's Saman Balaghi Einalou.
By reaching the semi-finals, Iran bettered their finish from the 2014 edition and also became the first men's team from Asia to make the top four. The highest finish at a Worlds from Asia was South Korea's sixth-place finish at the last Worlds.
British breakthrough
Great Britain's men's team finally made it out of a World Championships quarter final with a thrilling 67-62 victory over a feisty Spanish squad.
Great Britain's last two Championship campaigns ended in the quarter finals and it appeared to be heading that way again. The British were trailing 60-58 with three minutes to go but went on an impressive 9-0 run to take down the reigning Paralympic silver medallists.
"It was a really tough game and it was always going to be a tough game, for me it felt like we needed payback, as we lost to them in the semi-finals of the Paralympic Games," said Phil Pratt, who had 17 points and 10 rebounds. "We had to be really strong and we were, able to pull away in our last ball possession phases."
Business as usual
Two-time champions Australia beat Poland 83-70, while 2016 Paralympic champions USA thrashed Argentina 72-31 to secure the other semi-finals spots.
Australian top scorer Tom O'Neill-Thorne (22 points) led his side to a 22-13 third-quarter run to put Poland away. The USA's Brian Bell led his team on offense with 12 points.
Women's round-up: Hosts happiness
A clash between the last two unbeaten teams in Group B saw Germany defeat China 58-42 to reach the quarter finals.
Mareike Miller again showed an extraordinary performance (24 points) and helped her team to a 12-point halftime lead that they never relinquished.
"Our defense is the main key for our success. We showed a great ball movement in our offensive game and created a lot of open shots," German coach Martin Otto said. "If you lose, you are out of the tournament. It does not matter anymore what you have achieved before. As you can see at the men's tournament, anything can happen. Spain lost all of their games at the group stage and won against Japan yesterday - now they are playing at the quarter finals. That's why we just want to focus on our next game and go step by step."
Germany now face Spain, who also advanced thanks to their 48-43 shock win over Australia.
Another clash between the undefeated saw Netherlands beat Great Britain 66-41 to finish atop Group B.
The Dutch will face France, who downed Algeria 73-28. Great Britain and the USA will match up for a chance to reach the final four.
Competition continues on Thursday (23 August), with medal matches held on Sunday (26 August). Complete results can be found on the International Wheelchair Basketball Federation's website.