Tasty treat for Veysonnaz victors
Skiers ponder what to do with hefty Swiss cheese prizes
18 Feb 2019
Imagen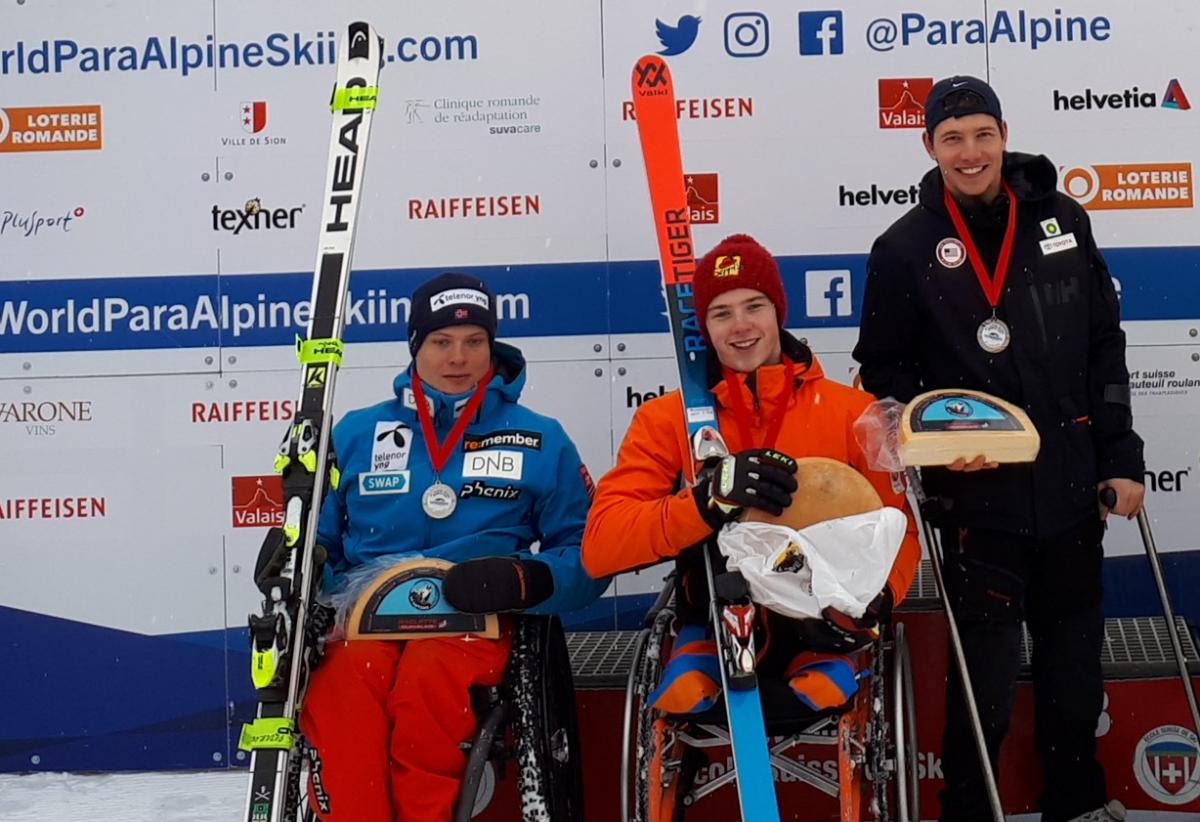 ⒸLena Smirnova
By Lena Smirnova | For World Para Alpine Skiing
"We say, 'Go for the raclettes!' Not for the medal, go for the raclettes! It's a good goal."
Medals took a backseat at the World Cup in Veysonnaz, Switzerland, last week, as athletes scurried to get their hands on a far more precious prize - a full, 6kg wheel of raclette cheese, one of the area's main gastronomic sources of pride.
Last season only the winners of the races in Veysonnaz were awarded the cheese, and then, only half-rounds. But this season the cheese factor tripled as the silver and bronze medallists also received halves while the winner was upgraded to a full round.
"Go for the raclettes!"
For athletes whose shelves are already full of medals, the local specialty became far more potent motivation to race as fast as possible to the finish line.
France's Marie Bochet has been on a roll this season, collecting five out of five gold medals in the women's standing class at the 2019 World Para Alpine Skiing Championships and six out of six gold medals at the World Cup in Veysonnaz.
But even with this abundance of gold, Bochet, who grew up on a cheese farm in France and is a connoisseur when it comes to dairy delicacies, could not slack off when famous local cheese was on the line.
"At the start, we are joking with the French guys. We say, 'Go for the raclettes!' Not for the medal, go for the raclettes!" Bochet said. "It's a good goal."
Jeroen Kampschreur, who enjoyed a full golden sweep at the 2019 Worlds like Bochet, also made cheese his main target in Veysonnaz.
"It's better than the medal, it is. You can eat it and I like cheese a lot. I mean, I'm Dutch," the sit skier said. "We have a lot of Dutch cheese, but the Swiss cheese is rare."
Cheesy aftermath
The love of cheese took Kampschreur to four gold and two silver finishes at the World Cup. The Dutch skier joyously posed with the unwrapped cheese rounds at the victory ceremonies, while other skiers like Austria's Markus Salcher celebrated the wins by triumphantly waving their cheese loot in the air.
But as the rounds of cheese stacked up for the most successful athletes, a pressing question arose as to what to do with the valuable golden chunks.
The dilemma was particularly urgent for the Australian vision impaired skier Melissa Perrine and sit skier Victoria Pendergast who could not bring dairy products through customs back home.
Both generously shared the cheese with team staff and fellow athletes in the days prior to their departure.
"It's a lot of cheese," Perrine said of the raclette collection she and her guide Bobbi Kelly amassed thanks to their two gold and three silver medals in Veysonnaz. "I've been giving cheese away like nothing else because we can't take it back to Australia. We've just been kind of sharing the love around a little bit."
Perrine even managed to swap one of her cheeses for a cake given to a USA athlete for an off-the-podium finish.
Kampschreur has also been handing the prize cheese out to his coaches and technicians but made sure to bring some back to the Netherlands to share with his parents.
"I'm handing them out cause it's an awesome present," Kampschreur said. "It's a local present so it's extra cool."
Spreading the love
A lot of the Swiss cheese made its way across the French border as the French team proved to be the most successful in Veysonnaz. Thomas Civade proudly displayed a half-round on top of his luggage case as he left Switzerland while Bochet took back enough cheese for a gastronomic fest back home.
"There are too many!" she said after her sixth victory. "But I like it so it's already a good thing. I think I will share it with my staff and every athlete on my team who did not make the podium this week. I bring one to my family too, and I think I will organise a little party with friends so maybe we eat a raclette."
Austria's Salcher and Germany's Anna-Maria Rieder also took their slices home to throw cheese parties for friends and family.
Is the hype worth it? Local cheese connoisseur and winner of three gold and three silver medals, Theo Gmur, says absolutely.
"It's really good cheese. It's a cheese from my village, so I know it well," Gmur said. "Every weekend as a Swiss boy was spent with raclette and fondue."