Para taekwondo athlete Parfait teaches hope at Rwandan Refugee Camp
Parfait fled the civil war in Burundi and has been passing on his knowledge to others in his new home - Mahama Refugee Camp
27 Jun 2021
Imagen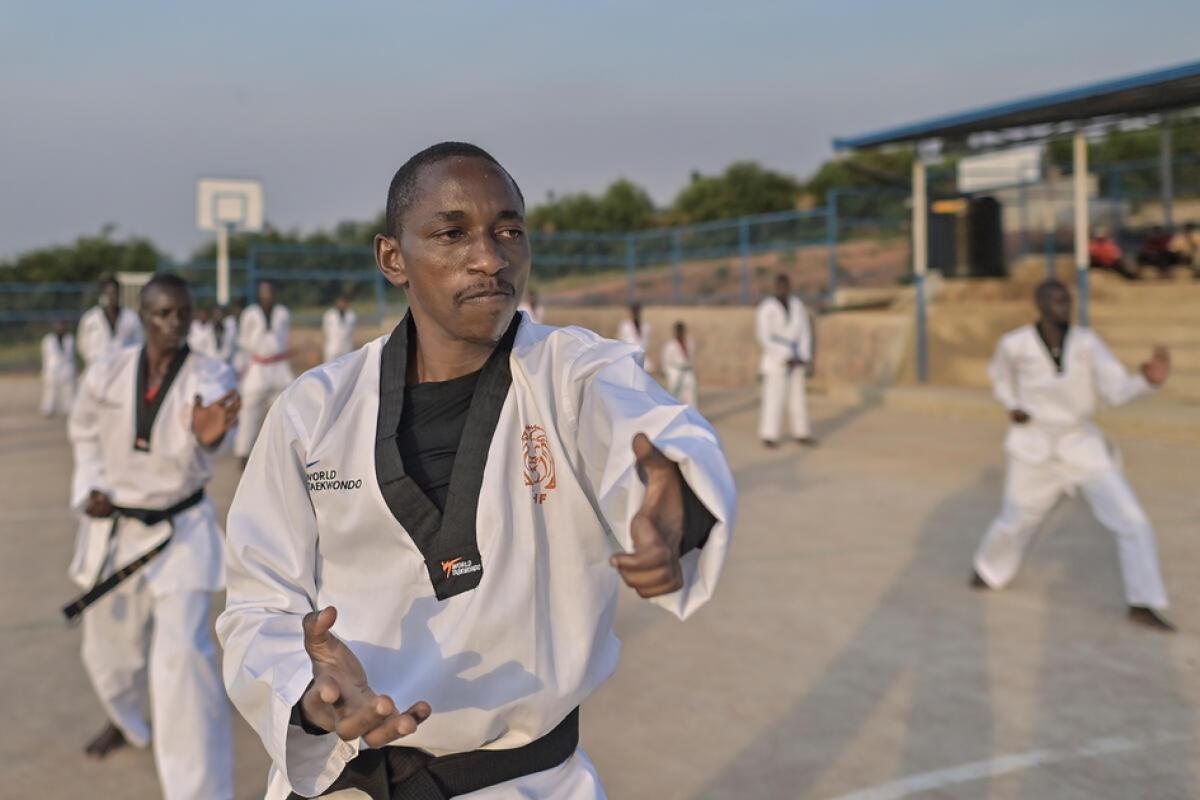 ⒸUNHCR/Anthony Karumba
By Teddy Katz | For the IPC
Parfait Hakizimana is hoping to have a cheering section unlike any other athlete at the Tokyo 2020 Paralympics – his fellow refugees at the Mahama Refugee Camp in Rwanda.
"They are very happy for me. I have more respect now in the camp because yeah, they think I am going to achieve something great."
Hakizimana is attempting to do something that no Paralympic athlete has done before – going directly from a refugee camp to compete at the Tokyo 2020 Paralympic Games. He is hoping to be one of six prospective members of the Refugee Paralympic Teams in Tokyo.
His journey to get there is the epitome of persistence and resilience, leaving behind family tragedy and using the power of sport to give many people including himself hope.
Hakizimana lives in the Mahama Refugee Camp in Rwanda, near the border with Burundi.  It is the largest refugee camp in Rwanda with about 60,000 people living there.  In October 2015, Hakizimana joined thousands of others to flee the violence and unrest in his country, Burundi. 
"I was very scared to stay in Burundi to be shot like my mother. That's why I decided to leave the country."
Born in 1988, his life changed forever in 1996.  The internally displaced camp where he lived at that time came under attack.  His mother was killed, and he received a severe gunshot injury that rendered his left arm permanently debilitated. 
His father, who was in the army, took him to a hospital where he received treatment and stayed for two years.
"In Africa, the medical care isn't great, my arm was injured badly and it took a long time to heal."
Hakizimana tried different sports and that helped with his rehabilitation.
When he was 16, he was introduced to Taekwondo.  
"I really liked it.  It saved me and lifted my spirits."
In Taekwondo, he saw no separation, no differences between tribes, just unity.
Hakizimana had to deal with more tragedy when he was 20.  His father died in a motorcycle accident.
He lived with other family members and continued in sport.
Two years later in 2010, he got his black belt and opened a Taekwondo club in Burundi.
Because of the increasing violence in his country, in 2015, he fled the civil war in Burundi to go to Rwanda.
A year after arriving there, he used his previous experience to set up a Taekwondo club in his new home - the Mahama Refugee Camp.
He now trains around 150 people in the camp including children as young as six-years-old.
© UNHCR/Anthony Karumba
"It's a big community and it's kind of like my family of Taekwondo."
He's seen the impact sport has had on their lives.
"Refugees don't have a lot.  But sport helps them forget their troubles."
Hakizimana's own confidence has grown through sport and teaching it to others. When he was younger, he was bullied and felt excluded because of his disability but he no longer feels that way now. 
"Everyone respects Olympians and Paralympians, so I love showing others that don't know my abilities."
In 2017, Hakizimana participated in the Africa Para Taekwondo Championships where he lost in the quarter finals.  The following year he finished first in Rwanda's Ambassador's Cup, which is a regional competition featuring eight African nations.  He was selected the best player.  In 2019, he won bronze at that same tournament.
It's quite a feat considering what he's had to overcome to get there.
When he first arrived in the Mahama Refugee Camp, he lived in a tent like everybody else.  Fresh water was hard to find.  Things are a little better now.
Still, trying to get to the Paralympics from the camp is a challenge.
"I don't have a lot of resources.  There is not a lot of food or medical treatment.  It's not easy."
Thanks to the support of the Taekwondo Humanitarian Foundation, Rwanda Taekwondo Federation, and the International Paralympic Committee, at the beginning of 2021 he was able to access the Amaharo Stadium training facility in the capital city, Kigali.
He trains out of the national stadium with his coach, Zura Mushambokazi.  She says she has been impressed with Hakizimana's strength but also his courage, and determination.
When Hakizimana shares that his ultimate goal is to win a Paralympic medal, she smiles and nods her head.  She believes he can do it.
 
© UNHCR/Anthony Karumba
"He has the power through the hardship," Mushambokazi says.
She adds, "He brings hope to others.  He's constantly smiling now because he has this family through the sport.  But in the beginning, it was not easy."
She adds, "Overcoming all the things he has faced, no matter what happens (in Tokyo), he has already won."  
Hakizimana says he's learned that "having hope can improve his life and the lives of others."
After the games, Hakizimana will return to his home the camp to be with his wife and their one and a half year old daughter who lives with him there.
His long-term goal is to return to Burundi, which is more peaceful now, to set up a Taekwondo club back home, open to all the community.
He hopes his daughter will take up the sport too.  He wants her to learn that "a refugee is a person like anybody else in the world."  He adds, "You need to be courageous and patient and good things will happen."