Imagen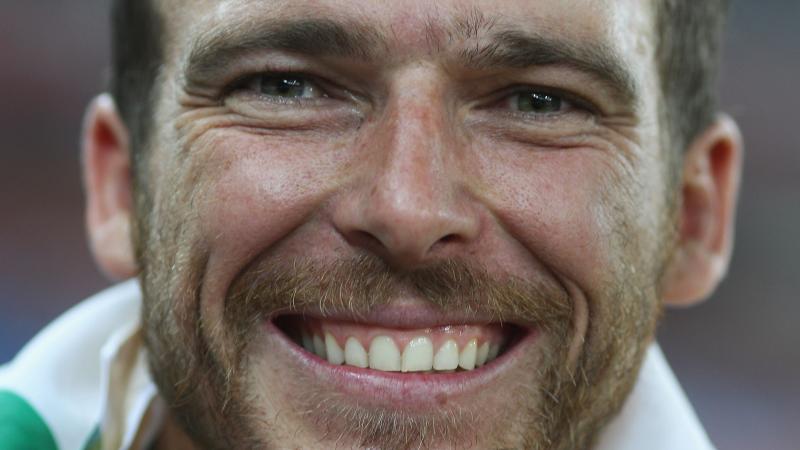 Photo Gallery
Imagen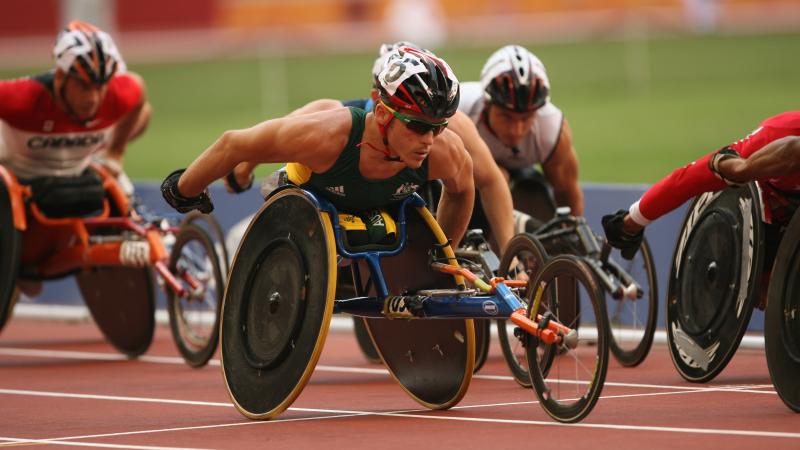 Imagen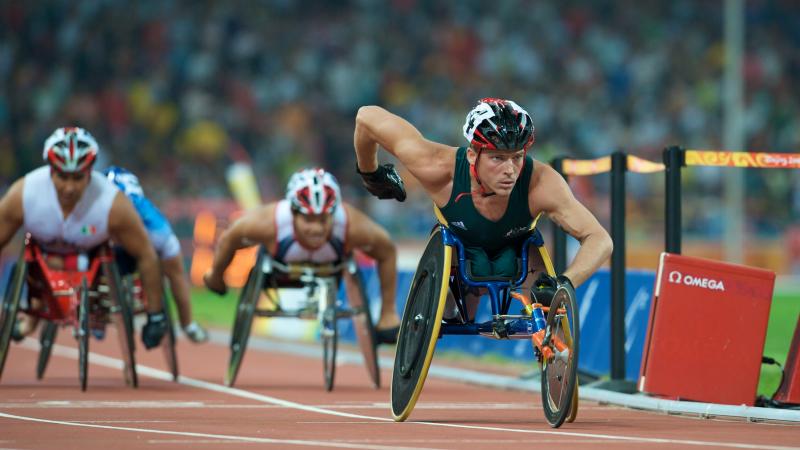 Imagen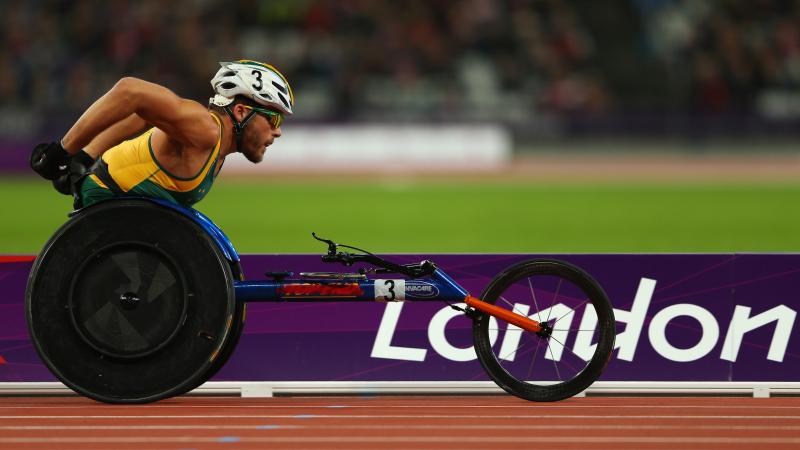 Imagen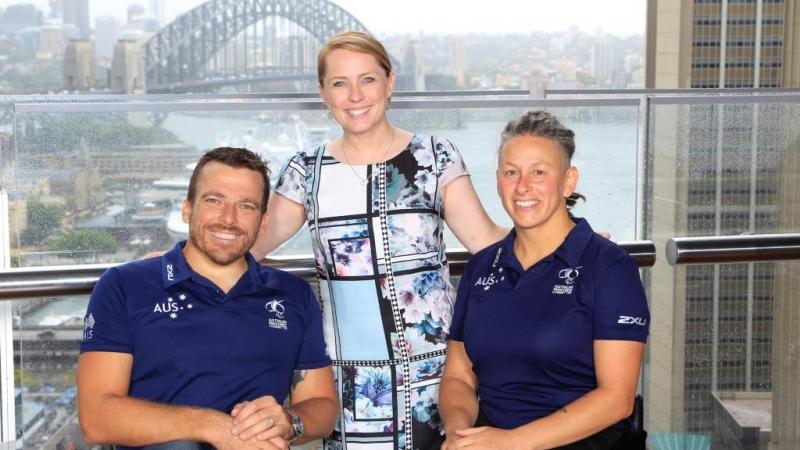 Imagen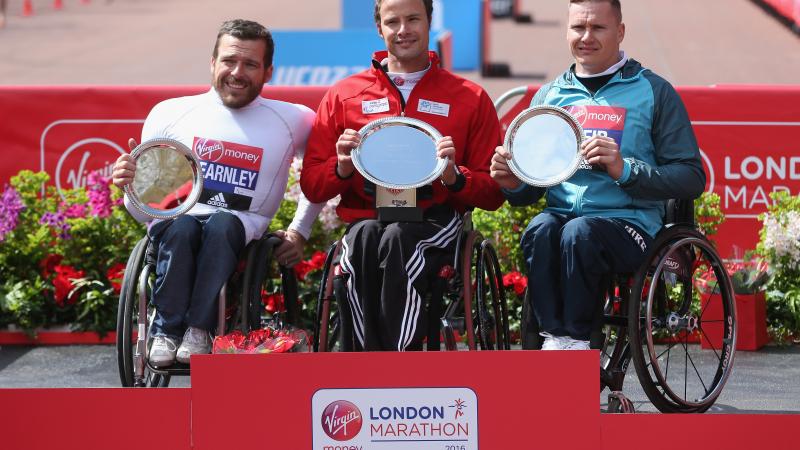 Biography
Impairment information
Origin of Impairment
Congenital
Further personal information
Family
Wife Sheridan, son Harry, daughter Emilia [2017]
Residence
Newcastle, NSW, AUS
Higher education
Physical Education - Charles Sturt University: Bathurst, NSW, AUS
Sport specific information
When and where did you begin this sport?
He first became involved in the sport at age 14 in Carcoar, NSW, Australia. While he was in high school the town raised money to buy him a wheelchair and send him to United States of America to compete.
Why this sport?
He realised wheelchair racing was what he wanted to do in the early 1990s while watching the Oz Day 10km race in Sydney, NSW, Australia. "I knew that I wanted to be on that start line. I had to be in that race."
General interest
Memorable sporting achievement
Winning gold in the T54 marathon at the Paralympic Games in 2004 and 2008, as well as the 2018 Commonwealth Games in Gold Coast, QLD, Australia. (paralympic.org, 12 Oct 2018; paralympic.org.au, 2016)
Most influential person in career
Coach Andrew Dawes. (paralympic.org.au, 23 Dec 2009)
Hero / Idol
Australian cyclist Cadel Evans. (abc.net.au, 15 Apr 2018)
Injuries
At age 17 he suffered a broken sternum [breast bone], nose and leg after being hit by a car during a training session in Switzerland. (paralympic.org.au, 01 Dec 2009)
Awards and honours
In 2018 he received 'The Don' Award in Australia. The honour is given to the athlete or team whose achievements are considered to have capacity to inspire the nation. It was the first time an athlete within the Paralympic Movement had received the award. (paralympic.org, 12 Oct 2018)

In June 2018 he was appointed Officer of the Order of Australia. (paralympic.org, 11 Jun 2018)

He was Australia's flag bearer at the closing ceremony of the 2018 Commonwealth Games in Gold Coast, QLD, Australia. (news.com.au, 16 Apr 2018)

In May 2017 the Newcastle Athletics Field in New South Wales, Australia, was renamed the Fearnley Dawes Athletic Centre in recognition of him, Australian wheelchair racer Christie Dawes, and their coach Andrew Dawes. (theherald.com.au, 15 May 2017)

He was named the 2014 Sport Personality of the Year at the Australian Institute of Sport [AIS] Sports Performance Awards in Melbourne, VIC, Australia. Also in 2014 he was inducted into the Path of Champions, which honours the best athletes from the region of New South Wales, Australia. (smh.com.au, 11 Feb 2015; sydneyolympicpark.com.au, 22 Oct 2014)

He won numerous awards between 2004 and 2010, including the 2009/10 Male Para Athlete of the Year in Australia, the 2009 New South Wales Young Australian of the Year, and the 2006 Pierre De Coubertin Award [Para Sportsperson of the Year]. He was also named the 2004 Male Paralympian of the Year by the Australian Paralympic Committee [APC]. (kurtfearnley.com, 27 Aug 2010; athletics.com.au, 18 Apr 2010; paralympic.org.au, 23 Dec 2009)

In 2005 he received the Medal of the Order of Australia [OAM] in recognition of his performance at the 2004 Paralympic Games in Athens. (paralympic.org.au, 23 Dec 2009)
Famous relatives
His uncle Terry was head coach of Australia's national rugby league team. Another uncle, Royce Simmons, won a National Rugby League [NRL] premiership with Penrith in 1991. (abc.net.au, 15 Apr 2018)
Ambitions
To compete at the 2018 Commonwealth Games in Gold Coast, QLD, Australia. (theherald.com.au, 29 May 2017)
Impairment
He has lumbar sacral agenesis and was born without the lower portion of his spine. (dailytelegraph.com.au, 22 Jul 2012)
Other information
RETIREMENT
Following the 2018 Commonwealth Games, he announced that he had retired from representing Australia in athletics. He revealed that he planned to work as a teacher and spend more time with his family. "I graduated from teaching in 2005 and for the past 25 years it's been nothing but racing, for the next couple of years I want to focus on my family and continuing supporting and advocating for people with a disability." (ministryofsport.com.au, 06 May 2019)

OTHER ACTIVITIES
In September 2016 he was elected to the International Paralympic Committee [IPC] Athletes' Council. He has also served as a member of the Board of the Australian Paralympic Committee, and in 2019 he was appointed to the Sport Australia Board. (insidethegames.biz, 20 Jan 2019, 18 Sep 2016)

BOOK
His autobiography named 'Pushing the Limits: Life, Marathons & Kokoda' was published in October 2014. (penguin.com.au, 19 Sep 2014)

CHALLENGES
In November 2009 he completed Papua New Guinea's Kokoda Trail, mostly crawling on his hands for 10 days across the 96km track over mud and rugged terrain. In September 2009 he ascended Sydney Tower [one of the tallest buildings in the southern hemisphere] on his hands, going up the 1504 stairs in about 20 minutes. (heraldsun.com.au, 18 Nov 2009; abc.net.au, 30 Sep 2009)
Results
IPC Athletics World Championships Assen 2006 (Assen, Netherlands)

| Event | Medal | Unit | Date | Rank |
| --- | --- | --- | --- | --- |
| Men's 5000 m T54 | | Heat 1 | | 1 |
| Men's 5000 m T54 | | Heat 2 | | 1 |
| Men's 1500 m T54 | | Final Round | | 3 |
| Men's 1500 m T54 | | Heat 3 | | 1 |
| Men's 1500 m T54 | | Heat 1 | | 1 |
| Men's 800 m T54 | | Final Round | | 1 |
| Men's 800 m T54 | | Heat 1 | | 1 |
| Men's 800 m T54 | | Heat 2 | | 1 |
| Men's 5000 m T54 | | Final Round | | 1 |
| Men's 4x100 m T53-54 | | Heat 2 | | 2 |
| Men's 4x400 m T53-54 | | Heat 1 | | 9999 |
| Men's Marathon T54 | | Final Round | | 1 |
IPC Athletics World Championships Villeneuve d'Ascq 2002 (Villeneuve d'Ascq, France)

| Event | Medal | Unit | Date | Rank |
| --- | --- | --- | --- | --- |
| Men's 800 m T54 | | Final Round | | 7 |
| Men's 800 m T54 | | Heat 2 | | 2 |
| Men's 400 m T54 | | Final Round | | 7 |
| Men's 4x400 m T53-54 | | Final Round | | 9999 |
| Men's 4x400 m T53-54 | | Heat 2 | | 2 |
| Men's 4x100 m T53-54 | | Heat 1 | | 3 |
| Men's 1500 m T54 | | Heat 2 | | 9999 |
| Men's 1500 m T54 | | Heat 2 | | 5 |
| Men's 400 m T54 | | Heat 1 | | 3 |
2011 IPC Athletics World Championships (Christchurch, New Zealand)

| Event | Medal | Unit | Date | Rank |
| --- | --- | --- | --- | --- |
| Men's Marathon T53/54 | | Final | 2011-01-30 | 1 |
IPC Athletics 2015 World Championships (Doha, Qatar)

| Event | Medal | Unit | Date | Rank |
| --- | --- | --- | --- | --- |
| Men's 1500 m T54 | | Heat 2 | 2015-10-23 | 18 |
| Men's 5000 m T54 | | Heat 3 | 2015-10-25 | 7 |
| Men's 5000 m T54 | | Final 1 | 2015-10-26 | 4 |
World Para Athletics Championships London 2017 (London, Great Britain)

| Event | Medal | Unit | Date | Rank |
| --- | --- | --- | --- | --- |
| Men's 1500 m T54 | | Final 1 | 2017-07-16 | 6 |
| Men's 1500 m T54 | | Heat 2 | 2017-07-16 | 10 |
| Men's 5000 m T54 | | Heat 2 | 2017-07-22 | 3 |
| Men's 5000 m T54 | | Final 1 | 2017-07-23 | 6 |