Derek Derenalagi made Fiji move to break barriers
'It will be a huge honour to wear Fiji's colours and see the flag at the Paralympics. It will be a great way to finish up and I believe could make a difference'
23 Aug 2020
Imagen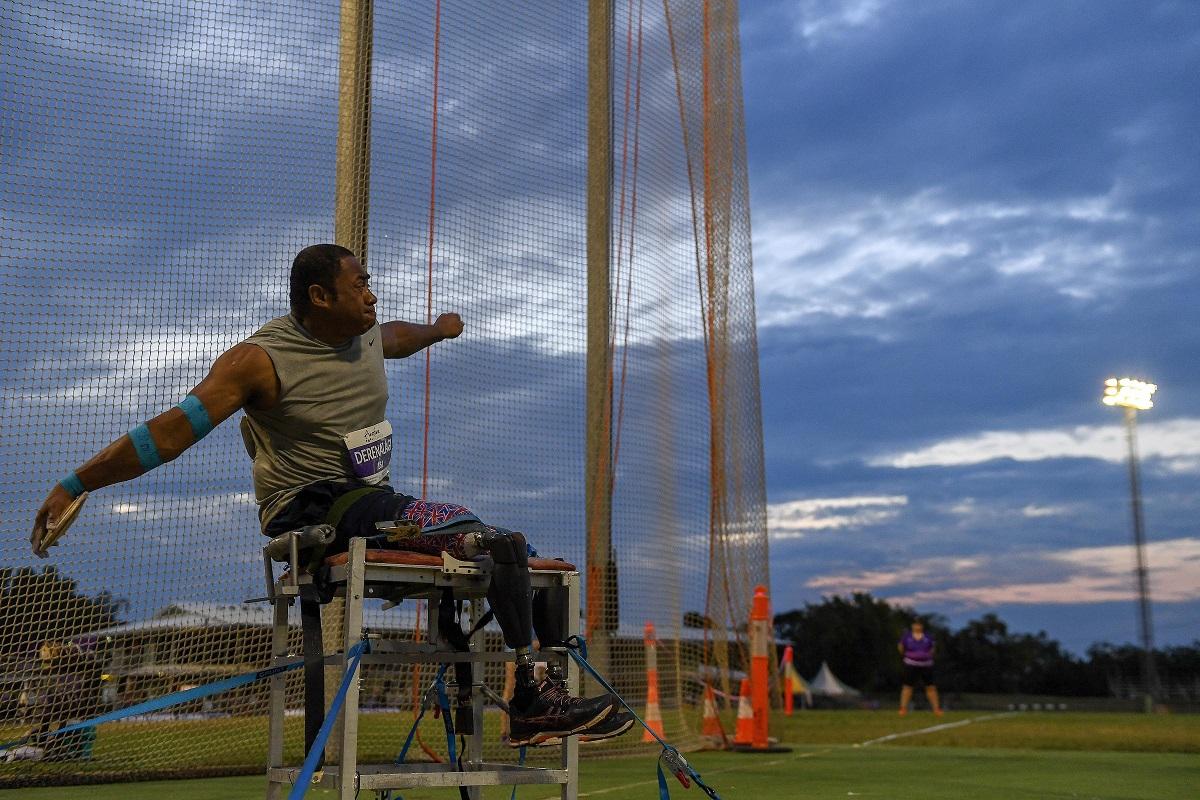 ⒸAustralian Paralympic Committee
By Sascha Ryner | For the IPC
UK Paralympian Derek Derenalagi has pledged his allegiance to his native Fiji in an effort to breakdown the taboo of disability across the Pacific Islands.
Derenalagi, who lost both his legs above the knee while on duty in Afghanistan, counts his lucky stars for the privileges he has received in his life.
He survived an IED blast, despite being pronounced dead on an operating table. He has been able to live and thrive in a first world country, and even went on to win gold for Team GB at the 2012 Para Athletics European Championships in Stadskanaal, the Netherlands.
With his wealth of experience giving him perspective, he believes there is no better time than now to encourage people with disabilities in his home country to strive for better lives.
"After my injuries, my wife and I went back to Fiji and it was clear that those with disabilities are classed as second class citizens. They're all discriminated against," said Derenalagi.
Having lived in the UK for more than two decades, Derenalagi has witnessed the societal change that the Paralympic Games brought to Great Britain and wants to see the cultural shift take place across the Island nations.
"People in Fiji, they don't really see disability the way that people in Australia or the UK see it. Fijians need to be educated in disability," he explained.
According to the Asia-Pacific Development Centre on Disability, the incidence of disability is 10 per cent higher in Fiji than in developed countries, yet the perception of people with disabilities is still so negative.
"People born with disabilities are not included in the mainstream schools in Fiji. They are set aside to go to a special school for disabled children, and that's where the problem starts.
"When children with disabilities grow up, they see themselves as being the outcast, being set aside from other children. They don't think they can gain employment or do well for themselves in the future, because they can't see that it's possible."
"I want to raise awareness and encourage people with disability in Fiji. I want them to know they can live a better life if you don't see your disability as a wall or a limit to achieving things."
Fighting for his cause
While swapping his country colours was an easy decision to make, the challenge for Derenalagi was the athlete funding he had to give up to fight for his cause.
"In the UK, a funded athlete basically has a job. It doesn't matter if you are able-bodied or have a disability, you are looked after well and treated equally," he said.
"But in Fiji and the Pacific region, there is a massive problem, there is a massive gap."
The gap, he says, not only highlights the cultural perceptions of disability, but just how far behind the Pacific region is from first world countries in giving those with disabilities opportunities to compete at the elite level.
"In the UK, you can go anywhere and compete. They don't just look after me, they look after my wife who is also my carer. Accommodation, travel allowance, everything."
"They take care of training, the physio programme, the diet programme, everything. An athlete going in to compete for Great Britain can focus on competing and getting to the best of his or her ability to be the top athlete in the world.
"Comparing that with a Pacific region athlete, there is so much more, and that is not right. They have to worry about their own service, worry about airfare, accommodation, food. It adds to the stress of an athlete."
Community boost
Having a greater appreciation for the support he has received thus far in his sporting endeavours, he recalls the first time he competed for Fiji at the Arafura Games in Darwin, Australia in 2019.
Understanding more than most the pride that comes with wearing one's country colours and uniform, Derenalagi was shocked that Fiji was unable to provide his new team members with uniform.
"We ended up wearing uniform but only because we were lucky. There is a Fijian community in Darwin, and a man called Sunia went out of his way to buy our uniforms," Derenalagi said.
"He bought the vests for us to wear and printed them because they had a printing company in Darwin. For someone to go out of his way like that, it was a massive boost and it put a smile on our faces and really encouraged the team."
But first before funding, comes participation and setting up programmes, Derenalagi says.
"I believe those athletes in the Pacific region can be elite athletes in the world for the region, with the right programme behind them.
"But if there is no right programme, no right coaches, no right funding, then it will be the same as in the past."
For now, Derenalagi is working hard to secure himself a spot for Fiji at the Tokyo Games next year.
"It will be a huge honour to wear Fiji's colours and see the flag at the Paralympic Games. It will be a great way to finish up and I believe could make a difference in Fiji."
The Fijian Paralympic Team consisted of two athletes at the Rio 2016 Paralympic Games, with hopes to increase this number for Tokyo.