Ruben Vanhollebeke cooks up world record
Belgian VI archer beat previous mark at Worlds
25 Jun 2019
Imagen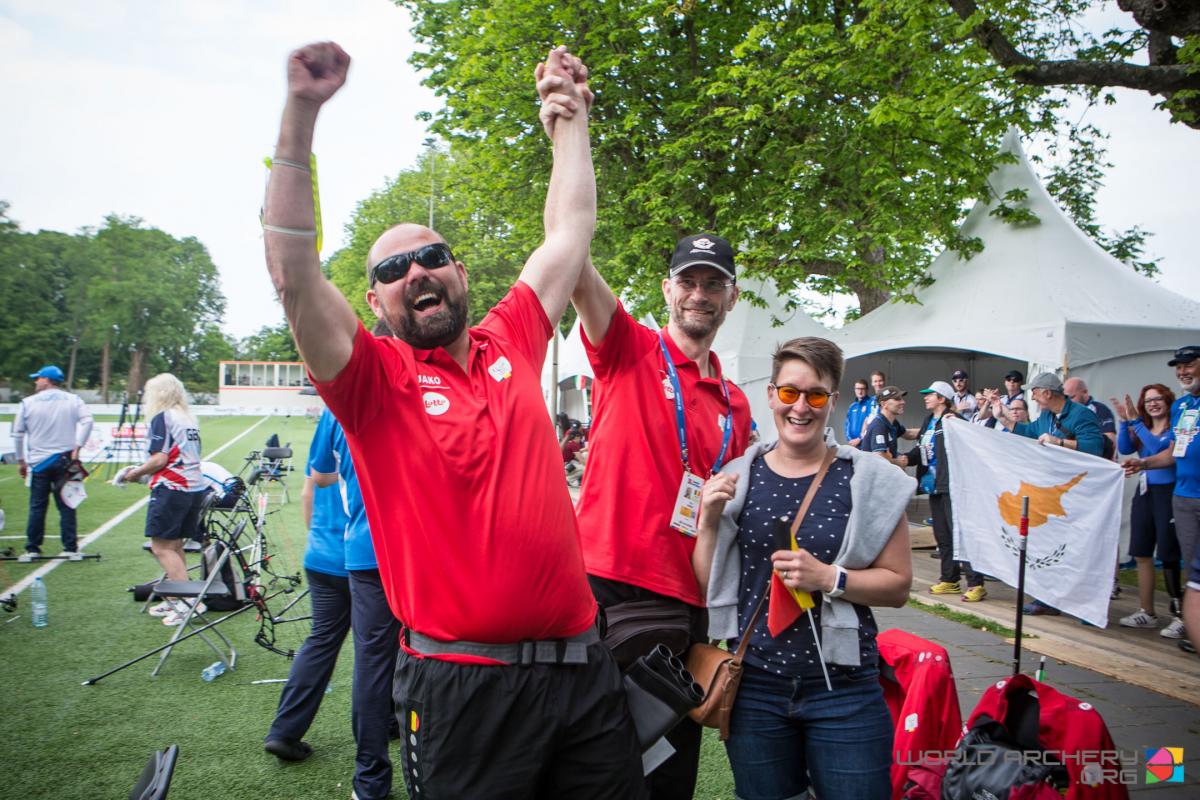 ⒸWorld Archery
By Lena Smirnova | For the IPC
"I'm crying, and I never cry. It makes me proud. He's like my son."
A full-time job and other obligations do not leave Belgium's Ruben Vanhollebeke much time to practise archery. Luckily for the newly crowned vision impaired world champion, his full-time job as a kitchen assistant actually keeps his archery skills sharp.
The 42-year-old archer, who works in a commercial kitchen in Bruges from 08:00 to 16:30, credits his mastery with knives for making him an accurate shooter.
"It requires concentrating. Always doing the same thing - it's just like archery," Vanhollebeke explained. "It's always doing the same thing, keeping your body steady, so it's really great."
Aside from his day job, Vanhollebeke trains twice a week at an archery club with his coach Paul Remaut, who also doubles as his spotter. Remaut was the one who originally taught Vanhollebeke archery, and the two have been a team for almost 15 years.
Like his protege, Remaut agrees that kitchen duty helps hone archery skills.
"He has to have a lot of coordination doing his kitchen work, cutting very thin slices. It's dangerous work, and coordination is a big part of archery," Remaut said.
These skills with chopping knives paid off big for Vanhollebeke when he started off his campaign at the 2019 World Archery Para Championships in 's-Hertogenbosch, Netherlands earlier in June.
The Belgian shot a world record on the first day of competition and secured the gold medal in the final two days later – his first gold after three silvers at previous World Championships.
"I'm really, really happy," he said. "I worked a lot for it. I trained a lot for it. I got a lot of kicks … from the trainer - thanks Paul! - and it's something unbelievable."
Vanhollebeke scored 428 out of a possible 720 points in the men's vision impaired 1 category, thus beating the previous record of Italy's Matteo Panariello by 61 points.
Perfect ingredients
Without eyesight since school, Vanhollebeke shoots using a sighting device and the help of his spotter Remaut. Aside from his other duties, Remaut also serves as a sports psychologist.
"I give a pep talk in the changing room, 'look out, pull straight, pull steady, in a fluid line'," but he has to do it. You can say what you want but he has to perform," Remaut said.
The pair have shot their world record result at training and local competitions, but never got official recognition for their efforts. In 's-Hertogenbosch, however, with judges carefully counting every arrow, there was no denying their achievement.
As the world record was announced over the loudspeakers at The Dukes ground, Vanhollebeke and Remaut shared a tearful embrace.
"I'm crying, and I never cry," Remaut said. "It makes me proud. He's like my son."
"I really didn't know how much the world record was until now," Vanhollebeke added with a laugh. "Now I definitely will remember it."
Remaut was not the only one who cried.
Vanhollebeke's wife rushed to the archer for a kiss as the scores were announced, while his Belgian teammates offered heartfelt congratulations.
"It's amazing," said recurve archer Chrystelle Cimetta. "When I heard the score, it was just 'wow', he's a champion! A real champion! It's a dream for me to achieve something like that."
Shooting for recognition
Vision impaired archery is not included on the programme of the Paralympic Games for Tokyo 2020. But for Para archers, including Vanhollebeke, it is a dream to someday represent their country at the biggest multi-sport competition.
"I really, really hope we could go, but it's not possible," Vanhollebeke said. "We dream that maybe one day it will be, maybe in 2024 (Paris), so we continue to hope.
"It would be the cherry on the cake."