Rene De Silvestro and Anna-Lena Forster top Europa Cup final rankings
Six-stop 2020-2021 Para alpine skiing season wraps up in Malbun, Liechtenstein with giant slalom and slalom races
12 Mar 2021
Imagen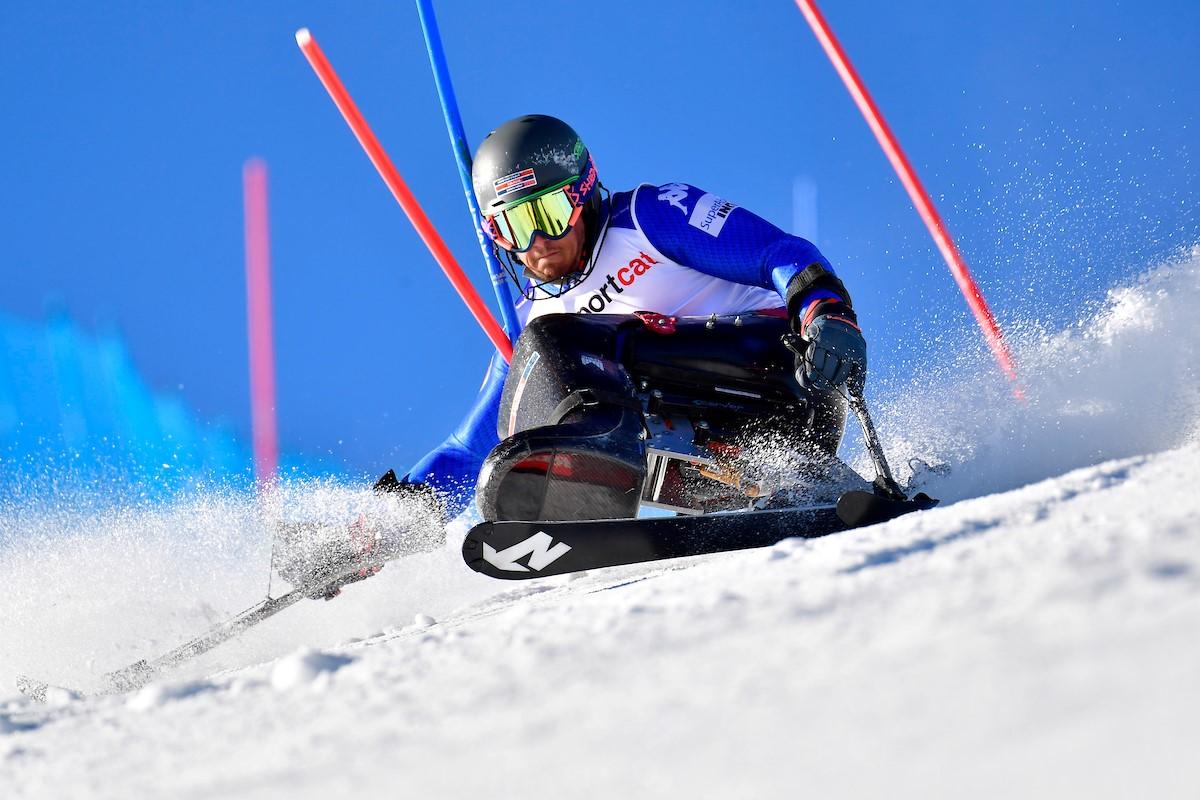 ⒸLuc Percival for World Para Snow Sports
By Lena Smirnova | For World Para Snow Sports
Rene de Silvestro's highlight last season was a victory in giant slalom at the World Cup opener and a silver in the discipline at the Europa Cup.
This season, the Italian sit skier's highlights reel was significantly longer: a career's first victory in a speed discipline at the World Cup, two silver and three bronze World Cup medals as well as five gold medals at the Europa Cup. Together with another three silver and a bronze, these five victories put de Silvestro on top of the overall Europa Cup ranking. 
"It has been a season that has given me a lot of confidence for next year," de Silvestro said.
De Silvestro's most recent wins came at the Europa Cup finals, which were held in Malbun, Liechtenstein on 10 and 12 March and consisted of one giant slalom and one slalom race.
The young Italian skier finished first in both events to win his career's first Europa Cup title.
This is yet another confidence boost for de Silvestro who went head-to head with the world's best sit skiers, the Netherlands' Jeroen Kampschreur and Norway's Jesper Pedersen, all year and outraced them on several occasions.
"The most important thing that I've learned is that next year I can be a really tough competitor and that there is hope of beating Jeroen and Jesper," de Silvestro said. "I was able to reach these results thanks to the great training I managed to do before the start of the season."
While Kampschreur and Pedersen did not race at the Europa Cup finals, there is still no denying that de Silvestro's top-notch skiing was worthy of a Europa Cup title. 
His progress was especially visible in the speed disciplines this season, culminating in gold and silver medals in the super-G at the World Cup. 
"I believe in super-G," de Silvestro said. "Now I know that I can compete at the top level in this discipline too."
De Silvestro's nearest rival in Malbun, Lou Braz-Dagand of France, was also able to finish the season with some positive gains. 
"I've improved technically because, despite COVID, we have managed to train well," Braz-Dagand said. "I've done a lot of work with my mental coach this season. It has had a very positive effect on my mind."
Braz-Dagand, who topped the Europa Cup ranking last season, won back-to-back silvers in the giant slalom and slalom races in Malbun, to make up for tougher racing days at the World Cup.
"My objective this season was to secure a place on the international circuit at the World Cup and to make the Top 5 at the World Cup," Braz-Dagand said. "Since there were fewer races due to COVID, it was not easy to achieve these objectives."
Tricolour triumph
France's Marie Bochet, Arthur Bauchet and Hyacinthe Deleplace won the giant slalom and slalom races in their respective classes.
Bochet's two victories in the women's standing class in Malbun boosted her medal total at the Europa Cup to seven this season, five of them gold. Germany's Anna-Maria Rieder and Andrea Rothfuss took two silver and two bronze medals, respectively, to hold on to their lead in the overall ranking.
Arthur Bauchet topped the rankings in the men's standing class after wrapping up the season with two victories. 
Thomas Pfyl also had cause for celebration in Malbun. The Swiss standing skier struggled to get on the Europa Cup podium since taking a silver in giant slalom in December and was happy to break the dry spell with two silver medals in the season's final competition. 
"Being back on the podium in Malbun made me very happy. It was not an easy season for everyone, with many postponements and cancellations," Pfyl said. "I was not always satisfied with my performance this season, but now with the podium I can look forward to Beijing 2022 with a lot of confidence. I will certainly use the time to get even stronger next season."
Hyacinthe Deleplace and his guide Maxime Jourdan took France's count of gold in Malbun to six medals as they won both races in the men's vision impaired class.
In the women's sitting class, Anna-Lena Forster completed her Europa Cup season undefeated in all 13 races. The German skier has gone either unchallenged in the races this season or else had large margins over her closest rivals. 
Her worst result this year was a silver in giant slalom at the World Cup in Leogang, Austria.
"It sounds strange because I have won so many races, but I am not really happy with my race performance this season. In training, I skied really well at times, but I couldn't translate this performance into the competition situation. It wasn't until the last races in Malbun that I was able to implement my training performance to some extent, and I'm saving that feeling now and taking it into the next important season," Forster said.
"That's also the big point I want to improve for next year. Translate my training performance into the races," the German skier added.
Among Forster's competition in Malbun was local skier Sarah Hundert. The Liechtenstein native is a newcomer to the international scene, but she still managed to hold her own against the German ace, finishing third in the giant slalom.
"This slope is my hometown slope. I live 15 minutes away and I train normally three times a week there," Hundert said. "I have to work harder and try to get better, but I'm on the right track and I get better every day, so my lesson is train hard and try to give every training session my best."
Forster's teammates Noemi Ristau and her guide Paula Brenzel took double gold in Malbun to solidify their ranking lead in the women's vision impaired class.
Full results from the Europa Cup races in Malbun, Liechtenstein are available on the World Para Alpine Skiing website.